The B&R Fund
We want to make sure the trips we run meet the needs of our travellers while also providing a positive economic, cultural and environmental impact on the communities we are so fortunate to visit. In practical terms that means making smart financial decisions at the trip planning level so that more of your travel dollars stay in the region. Whenever possible we prefer to stay at locally owned hotels, source quality supplies from the artisans we meet during our research trips, and partner with local guides who represent a diversity of connections. We are always looking for new ways to foster direct engagement and to promote long-lasting relationships.
To fully realize this value, we established the B&R Fund to support innovative projects that are reflective of the regions that inspire them. Whether through educational, cultural, or conservation and preservation initiatives, the Fund helps protect various forms of heritage and promotes the health of vibrant living cultures and the eco-systems that support them.
REPLANTING TREES WITH WOW NATURE
Eco-sustainability and environmental protection are core values of the people living in the Alta Badia in Italy's Dolomites region. One local organization, Wow Nature, is working to restore century-old forests that were damaged during Storm Vaia in 2018. Donations for Larch and Fir trees can be made on their website, and B&R will match every tree you adopt. Be sure to add "br" to the promo code section for a 10% discount and so that we can keep track of your donations (valid until December 31, 2020). The trees will be planted on the Campolongo Pass, just above the town of Corvara, where we hike and bike during our Dolomites trips. This summer, B&R guides will plant the donated trees and share GPS coordinates for you to see your tree. Better yet, join us on a future trip, and we'll include a visit!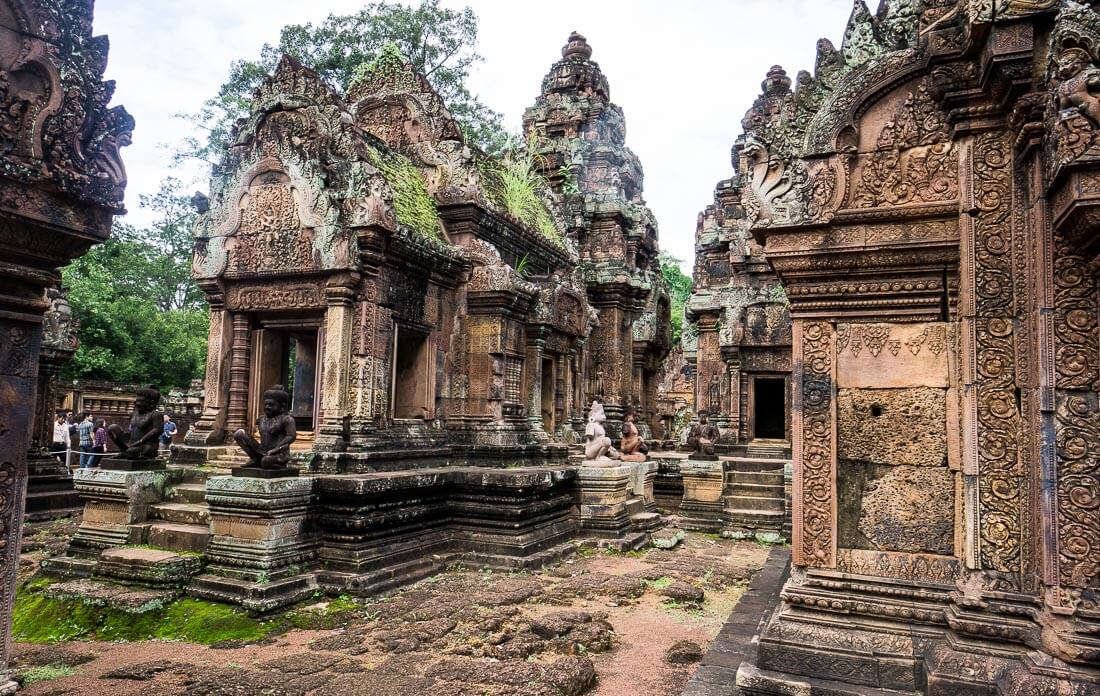 PRESERVING THE ANGKOR ARCHAEOLOGICAL PARK WITH WMF
Angkor Archaeological Park is one of the most culturally significant sites in Cambodia and a powerful symbol of its heritage. At the end of the 19thC, French archaeologists, art historians and architects thoroughly documented the buildings they found hidden mysteriously in the overgrown jungle. B&R and the World Monuments Fund (WMF) have had a long-standing relationship for many years. Through our fund, we are proud to support WMF's conservation efforts in Cambodia. WMF and many international teams have worked closely with Cambodian professionals and the APSARA Authority to document, conserve and protect these buildings. When we travel to Cambodia, we partner with WMF's program to tour the site and learn about the conservation efforts underway.
RICE PRODUCTION WITH OZUCHI VILLAGE
Nimaida Noboru is the sole rice farmer and caretaker of the all-but-abandoned site at Ozuchi village. He returned to the village he was raised to tend to his family's land, and his story of loyalty and dedication is an inspiring one. Nestled in the Noto mountains, the remote village of Ozuchi is a true preservation of historic, rural Japan.
The B&R Fund supports Nimaida's efforts and rice production practices and has included a stop at Ozuchi on our Japan Walking trip. Throughout the year, Nimaida welcomes agriculture students, volunteers, and tour groups to learn about how he helps preserve the heritage of the land. In helping Nimaida develop this visitors program, the B&R Fund both supports Ozuchi and educates visitors on traditional Japanese farming.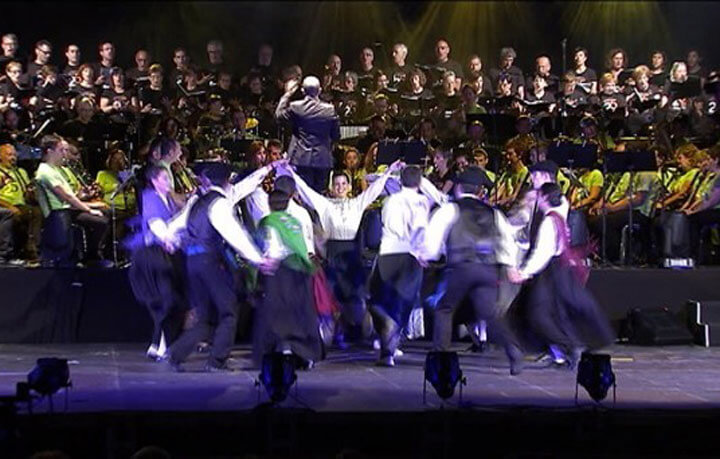 COMMISSIONING NEW INSTRUMENTS FOR MUSIKA ETXEA – ACADEMIA MUNICIPAL DE FOLKLORE
Focused on preserving the culture of traditional arts in the Basque region, the Musika Etxea Academia Municipal de Folklore is an important organization in Vitoria-Gasteiz, Spain. The academy is dedicated to teaching traditional Basque music and dance just north of Rioja. Through concerts, as well as Agurra dancing, the school has kept this slice of Basque heritage (from instruments to attire) alive throughout the city with its performances.
The B&R Fund supported the commissioning of new instruments for the Academia Municipal de Folklore, and the teaching of students on performing traditional Txalaparta, Alboka and Txirula music. B&R's travellers in the Rioja region are often treated to a private performance of traditional Basque music and dance.
SCHOLARSHIP FUND WITH KUSKA SCHOOL
The Kuska School is an alternative educational initiative in Ollantaytambo, Peru, where education, community and an appreciation for Mother Nature is fostered. While monthly enrollment fees are manageable for some families, equal opportunity for education is bolstered through a community scholarship fund, which B&R helps to support. This means that families who cannot afford to send their child to the Kuska School can still enroll their children in classes alongside their peers.
As the only local education offering in rural Ollantaytambo, the school utilizes the multi-cultural environment to nurture individual creativity for local children, and the curriculum is focusing on developing each child at their own pace. Kuska School offers a multi-grade educational environment, accommodation for visiting guest teachers, and a fully organic farm.
EMPOWERING FEMALE EDUCATION WITH EDUCATION FOR ALL
EFA is a foundation that helps young women from the Imlil Valley in Morocco pursue their studies up through high school and go on to study at University. In the High Atlas region of Morocco, more than 70% of young women have no access to education due to the vast distance to the closest school, high cost for transportation and the likelihood that family funds are often allocated to their male siblings instead. EFA has established five houses that provide lodging, meals and education to support nearby communities. Butterfield & Robinson sponsors three young women, allowing them to live at these houses, receive an education and nurture their spirit of togetherness and learning. In getting to know these women, they have shared their aspirations with us. They include becoming an engineer to build schools and hospitals, studying architecture abroad, and studying medicine to become a surgeon. Their stories inspire us, as they speak of representing females in male-dominated industries, as well as the importance of supporting each other and the communities that they come from.
SUPPORTING RESEARCH WITH UJUBEE PROJECT
The Ujubee project is a conservation effort focused on recording scientific data on wild honeybee populations in South Africa. Unlike many parts of the world where bee populations are managed by humans and live in manufactured hives, South Africa is home to honeybee populations where 80% remain wild and an integral part of their habitat's ecosystem. This provides an opportunity to study their natural habitat and behaviour, contributing valuable research that can help honeybee populations around the globe. In turn, Ujubee can take steps in order to protect the delicate biomes where these bees live, ensuring both the survival of the bees and the range of species their pollination helps to maintain—specifically, the fynbos region of South Africa, which is the smallest and most diverse floral kingdom in the world. Butterfield & Robinson is proud to support their research efforts. When possible, we bring our travellers through these areas in the Western and Eastern Cape, led by an ecologist to explain the importance of biodiversity and habitat conservation.
PAST PROJECTS
China: Baisha Naxi Embroidery Institute
The Baisha Naxi Embroidery Institute provides residency and embroidery lessons to women from farming families in the area, pregnant women, as well as mothers with developmentally delayed children. Once they are fully trained, they can produce tapestries from home and earn money from the sale of their work. Baisha Naxi is partially government-assisted but not fully funded, and the B&R Fund helped fill the gap in training and housing for students of the institute. Since full training takes many years to complete, the B&R Fund helps to subsidize the living costs for promising artists in training.
Australia: Kangaroo Island Wildlife Park
B&R's donation to the Kangaroo Island Wildlife Park helped fund the rescue and rehabilitation of animals on Kangaroo Island, a popular destination for B&R travellers, following the 2019/2020 Australian wildfires.
Ghana & Kenya: Partnership for youth literacy
In 2011 B&R created a new partnership with Worldreader to give children in the developing world access to digital books. Using e‑readers loaded with thousands of local and international e-books, Worldreader provides children with the books they want and need. B&R's donation supplied four schools in Ghana & Kenya with 400 ruggedized e-readers with at least 100 local and international books. For more information please visit www.worldreader.org
Zimbabwe: Protecting & Monitoring Against Trophy Hunting
B&R is proud to be expanding trips throughout Africa, and are dedicated to helping protect local wildlife. The Bushlife Conservancy's monitoring project will grow the amount of elephants being tracked, thus allowing for their protection from trophy hunters.B&R's donation will provide the funds for tracking on more elephants. For more information please visit bushlife-conservancy.org
Spain: Revitalising Historic Salting
Historic and artisinal practices are a way of preserving the integrity of a region, part of what makes B&R trips so immersive. B&R's donation helps the initiative of Salarte to manage, conserve, and educate the historic marine salinary methods of Spain. For more information visit www.salarte.org
South Africa: Providing Bikes to Further Education
B&R donated 10 bikes to senior students at Qhayiya High School. The students are contracted to take year-long responsibility for the bicycles. The intention is to reduce absenteeism days, teach accountability and experience the joy of having a great bike to ride.
Laos: Regional Artisan Grants
The B&R Fund has supported Big Brother Mouse, a Laos-based project that publishes books for all ages. Until now, few books were published in Laotian. Big Brother Mouse gives hands-on experience to young people as they learn new skills: writing, editing, translating, desktop publishing, business and organizing events. The B&R Fund also helped to support the creation of the book Beautiful Luang Prabang—an ongoing project supporting local writers and artists to travel through Laos to write a book about the local culture. For more information please visit www.bigbrothermouse.com
Myanmar: Support for GCSF
B&R has a long history in Inlé Lake in Myanmar and one of our guides was so moved by the people of Burma that he coordinated the house building efforts with the Global Community Service Foundation. Together with the GCSF, B&R supported the construction of five homes in Inlé Lake—with enough funds reserved to build several more next season. The families living in these new homes also received other necessities such as clothing, battery-operated lights, water filters and stationery for children. For more information please visit www.globalcommunityservice.org
Supporting Local Businesses and Independent Artists
Browse and shop artwork, crafts and local products from the places we love by the people who we love even more. Our B&R Artisan Marketplace promotes the small businesses and independent artists of our extended community—from our guides and staff members to the locals we meet on our trips.
Subscribe
Slow down to see the world
© 2021 Butterfield & Robinson Inc. All Rights Reserved