The B&R Fund
When we first started biking and hiking around Europe in 1966 we were ahead of the curve both in pioneering active luxury travel and in understanding that the best way to appreciate the region you are experiencing is to power yourself through it—truly understanding the geography, the local communities and the wildlife. Our motto, Slow Down to See the World, is rooted in that philosophy: we want travellers to be grounded and connected to the place they are.
STAYING LOCAL
We want to make sure the trips we run meet the needs of our travellers while also providing a positive economic, cultural and environmental impact on the communities we are so fortunate to visit. In practical terms that means making smart financial decisions at the trip planning level so that more of your travel dollars stay in region. Whenever possible we prefer to stay at locally owned hotels, source quality supplies from the artisans we meet during our research trips, and partner with local guides who represent a diversity of connections. We are always looking for new ways to foster direct engagement and to promote long-lasting relationships.
To fully realize this value, we established the B&R Fund to support innovative projects that are reflective of the regions that inspire them. Whether through educational, cultural, or conservation and preservation initiatives, the Fund helps protect various forms of heritage and promotes the health of vibrant living cultures and the eco-systems that support them
KANGAROO ISLAND WILDLIFE PARK
The Australian bushfires of late 2019 and early 2020 are becoming one of the most devastating natural disasters in modern history, affecting thousands of humans, and around one billion animals and their habitats. With Australia's already saddening mammal extinction rate, it is imperative to help these animals, and restore their habitats.
B&R's donation to the Kangaroo Island Wildlife Park will help fund the rescue and rehabilitation of animals on Kangaroo Island, a popular destination for B&R travellers, where unfortunately one of our partner hotels, Southern Ocean Lodge, has burned to the ground. Over half the land on this large island has been affected by fire, and the impact on the wildlife of the island has been shattering. The Park is leading a significant initiative for animal relief on the island.
OZUCHI VILLAGE
Nimaida Noboru is the sole rice farmer and caretaker of the all-but-abandoned site at Ozuchi village. He returned to the village he was raised to tend to his family's land, and his story of loyalty and dedication is an inspiring one. Nestled in the Noto mountains, the remote village of Ozuchi is a true preservation of historic, rural Japan.
The B&R Fund supports Nimaida's efforts and rice production practices and has included a stop at Ozuchi on our Japan Walking trip. Throughout the year, Nimaida welcomes agriculture students, volunteers, and tour groups to learn about how he helps preserve the heritage of the land. In helping Nimaida develop this visitors program, the B&R Fund both to supports Ozuchi and educates visitors on traditional Japanese farming.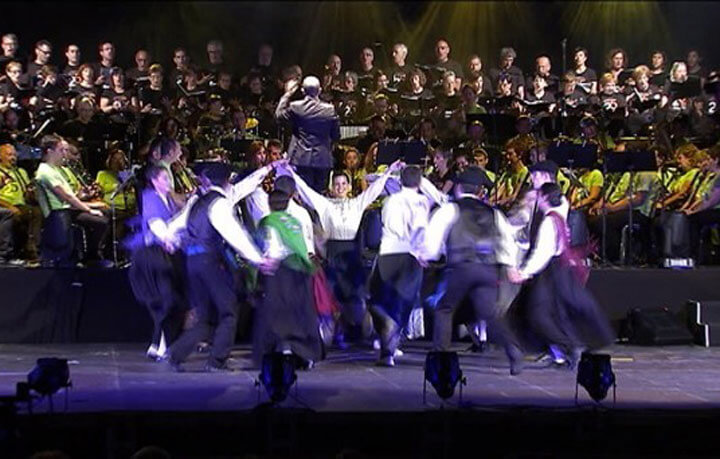 MUSIKA ETXEA – ACADEMIA MUNICIPAL DE FOLKLORE
Focused on preserving the culture of traditional arts in the Basque region, the Musika Etxea Academia Municipal de Folklore is an important organization in Vitoria-Gasteiz, Spain. The academy is dedicated to teaching traditional Basque music and dance just north of Rioja. Through concerts, as well as Agurra dancing, the school has kept this slice of Basque heritage (from instruments to attire) alive throughout the city with its performances.
The B&R Fund supported the commissioning of new instruments for the Academia Municipal de Folklore, and the teaching of students on performing traditional Txalaparta, Alboka and Txirula music. B&R's travellers in the Rioja region are often treated to a private performance of traditional Basque music and dance.
KUSKA SCHOOL
The Kuska School is an alternative educational initiative in Ollantaytambo, Peru, where education, community and an appreciation for Mother Nature is fostered. While monthly enrollment fees are manageable for some families, equal opportunity for education is bolstered through a community scholarship fund, which B&R helps to support. This means that families who cannot afford to send their child to the Kuska School can still enroll their children in classes alongside their peers.
As the only local education offering in rural Ollantaytambo, the school utilizes the multi-cultural environment to nurture individual creativity for local children, and the curriculum is focusing on developing each child at their own pace. Kuska School offers a multi-grade educational environment, accommodation for visiting guest teachers, and a fully organic farm.
BAISHA NAXI EMBROIDERY INSTITUTE
With a focus on traditionally embroidered tapestries and training for women in rural areas to become artists, the Baisha Naxi Embroidery Institute is a unique initiative in Yulong County, Yunnan Province, China. The school provides residency and embroidery lessons to women from farming families in the area, pregnant women, as well as mothers with developmentally delayed children. Once they are fully trained, they can produce tapestries from home and earn money from the sale of their work.
Baisha Naxi is partially government-assisted but not fully funded, and the B&R Fund has helped fill the gap in training and housing for students of the institute. Since full training takes many years to complete, the B&R Fund helps to subsidize the living costs for promising artists in training.
PAST PROJECTS
Ghana & Kenya: Partnership for youth literacy
In 2011 B&R created a new partnership with Worldreader to give children in the developing world access to digital books. Using e‑readers loaded with thousands of local and international e-books, Worldreader provides children with the books they want and need. B&R's donation supplied four schools in Ghana & Kenya with 400 ruggedized e-readers with at least 100 local and international books. For more information please visit www.worldreader.org
Zimbabwe: Protecting & Monitoring Against Trophy Hunting
B&R is proud to be expanding trips throughout Africa, and are dedicated to helping protect local wildlife. The Bushlife Conservancy's monitoring project will grow the amount of elephants being tracked, thus allowing for their protection from trophy hunters.B&R's donation will provide the funds for tracking on more elephants. For more information please visit bushlife-conservancy.org
Spain: Revitalising Historic Salting
Historic and artisinal practices are a way of preserving the integrity of a region, part of what makes B&R trips so immersive. B&R's donation helps the initiative of Salarte to manage, conserve, and educate the historic marine salinary methods of Spain. For more information visit www.salarte.org
Morocco: Supporting Education For All
B&R's donation helped EFA build and operate schools in the High Atlas Mountains, making education accessible to girls in the nearby villages. For more information please visit www.efamorocco.org
South Africa: Providing Bikes to Further Education
B&R donated 10 bikes to senior students at Qhayiya High School. The students are contracted to take year-long responsibility for the bicycles. The intention is to reduce absenteeism days, teach accountability and experience the joy of having a great bike to ride.
South Africa: Bee Research and Conservation
Protecting our natural surroundings is of vital importance to the longevity of the stunning landscapes that we travel to every year. B&R's donation to the Ujubee organization supports research and conservation efforts for the bees of South Africa. In turn this research will be shared globally to better understand and aid in bees around the world. For more information please visit ujubee.com
Laos: Regional Artisan Grants
The B&R Fund has supported Big Brother Mouse, a Laos-based project that publishes books for all ages. Until now, few books were published in Laotian. Big Brother Mouse gives hands-on experience to young people as they learn new skills: writing, editing, translating, desktop publishing, business and organizing events. The B&R Fund also helped to support the creation of the book Beautiful Luang Prabang—an ongoing project supporting local writers and artists to travel through Laos to write a book about the local culture. For more information please visit www.bigbrothermouse.com
Myanmar: Support for GCSF
B&R has a long history in Inlé Lake in Myanmar and one of our guides was so moved by the people of Burma that he coordinated the house building efforts with the Global Community Service Foundation. Together with the GCSF, B&R supported the construction of five homes in Inlé Lake—with enough funds reserved to build several more next season. The families living in these new homes also received other necessities such as clothing, battery-operated lights, water filters and stationery for children. For more information please visit www.globalcommunityservice.org
Subscribe
Slow down to see the world
© 2020 Butterfield & Robinson Inc. All Rights Reserved