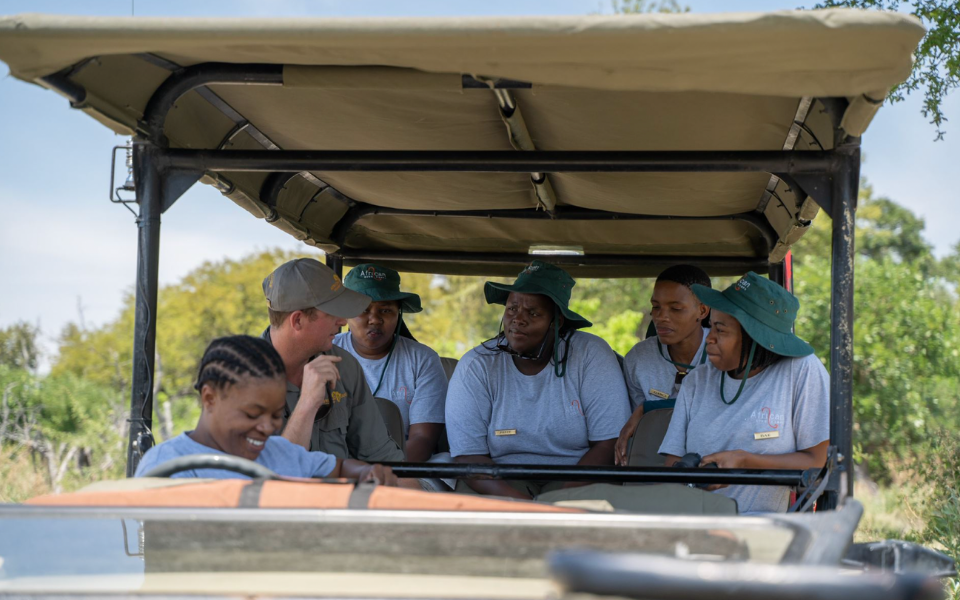 Supporting Gender Equality in the Safari Industry
Safari guiding across Africa is predominantly a male-dominated space. In Botswana over 90% of safari guides are men. Women in the region do not have access to the same career paths that tourism offers to their male counterparts. To date, there has been little active or ongoing investment, training and skills development in female guides that would empower them to pursue their dreams, open new career choices and provide for their families. The notable exception is Chobe Game Lodge with an all-female guide team, the Chobe Angels.
In November 2021, the African Bush Camps Foundation launched a female safari guide project that is targeted at creating job opportunities for local women. The project aims to develop female safari guides through skills training, mentorship, job shadowing and rotations at African Bush Camps lodges. The response was overwhelming with 350 applicants but only 5 positions were available for the first intake. The training is a two-year program that will provide theory, practical and on-the-job training at ABC camps as a safari guide.
This program will allow the new recruits to gain significant professional experience in travel and tourism, as well as hospitality. Once the training is complete the female guides will be experts in wildlife, conservation, safe practices, photography, natural history, tracking, communication, and patience! The female guides will join the renowned team of professional guides at African Bush Camps, who are an integral part of the safari experience.
The Slow Fund is proud to invest in the female guide training program through a partnership with The African Bush Camps Foundation. B&R has committed to sponsoring two female guides per year for three years, commencing in mid-2022. You can meet the trainee female guides during a stay at African Bush Camps Linyanti or Khwai properties, which we love to include when planning a Bespoke Botswana trip.
In 2023, the female guide training program is rolling out in Zambia, restricted to only 10 applicants, and only three new trainees will be selected. B&R's 2023 Slow Fund sponsorship will go to two new Zambian trainee guides, who will commence their 2-year safari guide training in March.
About African Bush Camps Foundation
The African Bush Camps Foundation is a registered non-profit organization that has been in operation since 2006. The Foundation's mission is to partner with communities that are located near our camps to improve quality of life and achieve long-term conservation through programs focusing on Education, Community Empowerment, and Conversation.
We have projects running in Zimbabwe, Zambia, and Botswana that focus on addressing challenges that include unemployment, food scarcity, poor education and healthcare infrastructure, low school attendance and dropouts due to financial constraints, wildlife poaching, and preserving natural resources.
The Initiatives
Current Project
Conserving Species & Iconic Landscapes Across Africa with African Parks
Akagera National Park, Rwanda
Current Project
Exploring the Power of Music with Music Beyond Borders
Cape Town, South Africa
Current Project
Protecting the World's Most Threatened Habitats with World Land Trust
South America
Current Project
Scholarship Fund with Kuska School
Ollantaytambo, Peru
Current Project
Rice Production with Ozuchi Village
Ozuchi, Japan
Current Project
Fostering Freedom Through Mobility with #BIKEYGEES e.V.
Berlin, Germany
Past Project
Replanting Trees in the Dolomites with WOWNature
Dolomites, Italy
Current Project
Supporting Research With Ujubee Project
South Africa
Current Project
Wolverine Research in the Columbia Mountains
British Columbia
Current Project
Commissioning New Instruments for Musika Etxea
Vitoria-Gasteiz, Spain
Past Project
Empowering Female Education with Education For All
Imlil Valley, Morocco
Past Project
Restoring Critical Saltpans in Andalucía with Salarte
Cadiz, Andalucía Spain
Past Project
Launching a Social Enterprise in Rwanda During a Global Pandemic
Musanze, Rwanda
Past Project
Preserving the Angkor Park with World Monuments Fund
Cambodia
How Your Trip Makes a Difference
Did you know – every time you travel with B&R, you contribute to the Slow Fund?
B&R contributes 5% of our annual profits to projects around the world that directly impact the environment and communities where you travel.
Go Further
You also have the option to balance your international flights through our partnership with C-Level.