"Those who seek paradise on earth should come to Dubrovnik"
—George Bernard Shaw
Smart man, that Shaw. Rich in history and boasting remarkable views, the city's reputation precedes it—and rightfully so. In the first of my three-part Insider's Guide to Dubrovnik, I've rounded up a few of my favourite things to do in Dubrovnik.
---
Things to Do in Dubrovnik
The Rector's Palace
A beautiful 15th c. building combining three styles of architecture: Gothic, Renaissance and Baroque. Restored rooms and exhibits recreate the centuries of the Dubrovnik Republic.
Sponza Palace
Formerly the custom's house of Ragusa, this 16th c. palace now houses the State Archives.
Maritime Museum (Fort St. John)
From the Latin seafaring community of Ragusium to the maritime activity of the Republic of Dubrovnik, this museum traces a fascinating nautical history.
Museum of Modern Art
This museum holds a large collection of 19th c. & 20th c. artwork, including the works of Vlaho Bukovac, Ivo Dulcic and Duro Pulitika.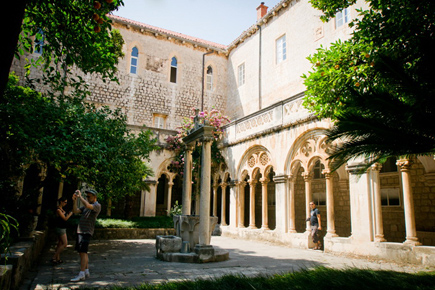 The Dominican Monastery and Museum
The Dominicans (known as Blackfriars elsewhere, and White Monks in Dubrovnik) also arrived in the 13th century from Italy. The monastery was built through several centuries (from the 14th to 16th centuries), remarkably and harmoniously blending architectural styles. The monastery museum holds a rich art collection including works from the Dubrovnik School of Painting of the 15th and 16th centuries.
The Gallery Sebastijan
Once part of the Dominican Monastery, this is where contemporary artists exhibit their work.