Our resident Vietnam expert (and Condé Nast award-winning travel specialist) Nathan Lane gives us nine more reasons why he's so sought-after for his expertise in the region. Here are a few of his hidden secrets for the best food in Saigon, Ho Chi Minh City. (The difference between Saigon and HCMC? It's similar to how New Yorkers distinguish the borough of Manhattan from the whole of New York City). Here are, in his words, some of his favourite restaurants, cafes, bars, and breweries in town.
Fine Dining
For over a century, vendors have sold produce, meat, fish, flowers, and countless other products in Ton That Dam street market. Visionary chef Peter Cuong Franklin has acquired a historic building overlooking the market and filled it with Saigon-inspired art and ambience to create Anan, where he serves his high-end interpretations of market classics, with fresh ingredients plucked straight from the vendors' stalls. The varied menu has something for everyone, including fun shared tasting platters. The desserts are not to be missed either! Enjoy signature cocktails on the rooftop bar and look at the bustling market below, with the Saigon skyline as the backdrop.
For a bit of historical context to go along with your meal, give the wonderful Chopsticks Restaurant a try. The restaurant is set in the former villa of South Vietnam's vice president, Tran Van Huong, who sided along with the US until Vietnamese reunification in 1975. The home has been exquisitely restored and the setting radiates sophistication, and the food couldn't be better. Here, it's all about beautifully prepared dishes and fresh ingredients, showcasing traditional Vietnamese cuisine. On a recent trip I guided, this was everyone's favourite meal of the trip!
Hidden away on a small street at the edge of District 1, Cuc Gach Quan bursts to life as soon as you walk through the doors. Set in a heritage building that has been beautifully maintained, the restaurant meanders through different rooms, courtyards, and ponds of the ancient house.  The overall atmosphere is that of sophistication and simplicity. The food follows suit—it's simple, fresh, traditional, and refined. You really can't go wrong with anything on the menu, which showcases what makes Vietnamese cuisine so incredible.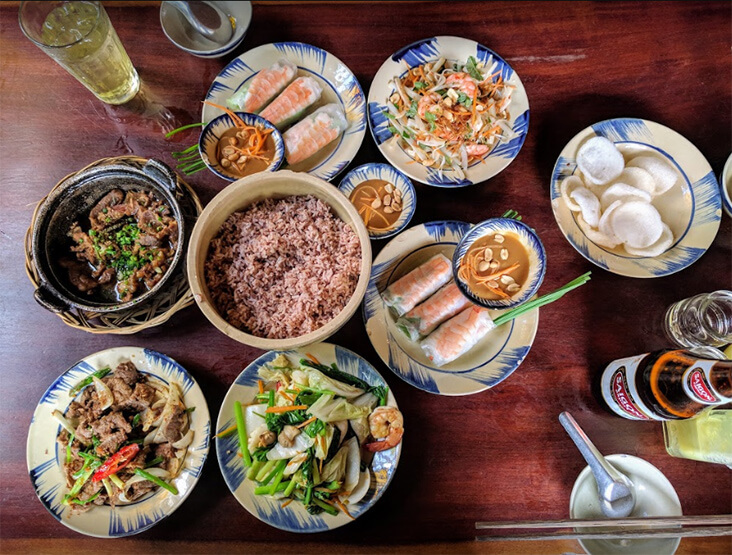 One of the newer restaurants in town, this chic and casual restaurant, with stylish patrons to match, is perfect for a light lunch. I really love the banh mi (Vietnamese sandwich) or a casual dinner with friends. Expect great local fare with a funky vibe. It's right around the corner from the chocolate shop I mention later on in this post, Maison Marou, so leave room for dessert afterwards!
Its name means 'poppy' in Vietnamese; an apt name for a restaurant housed in an old opium factory! Great high-end cuisine in a nice casual setting. Its prime location in frenetic Saigon features a tucked-away courtyard surrounded by greenery. Sit inside for air-conditioned comfort or outside for an almost European vibe with big fans and lots of chitter-chatter from the four restaurants in the same courtyard. My favorite dish is the green mango salad with crispy soft-shelled crab & crushed cashews. (Take me back…)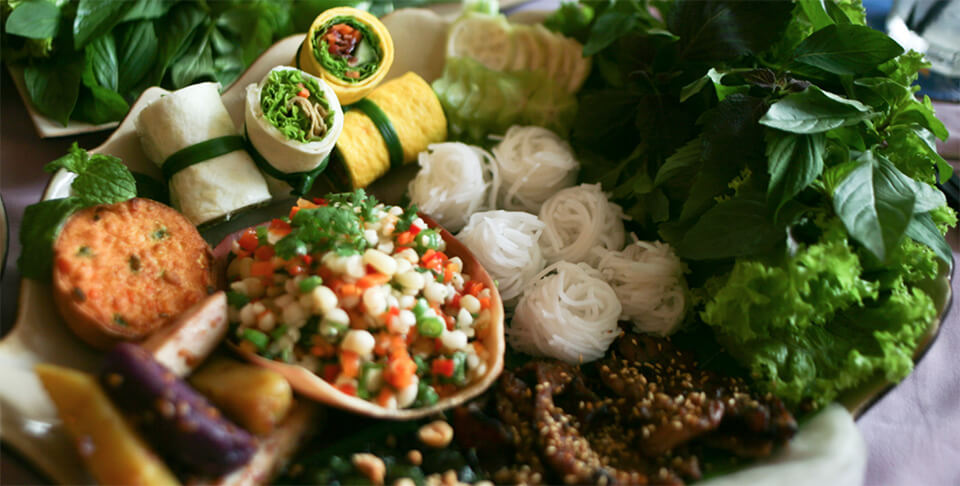 Only steps away from the Independence Palace, Propaganda Bistro embodies modern Vietnam. Young urban Saigonians flock here for cocktails in the evening and brunch on weekends. The restaurant is decorated in colourful war-era propaganda art, with the slogans altered to sentiments about healthy eating and lifestyle. The food here is just as fresh and colourful as the décor. Go for the fresh spring roll with tempura prawn & avocado, and the bun thit nuong – (vermicelli noodle bowl with grilled pork, herbs, vegetables, and fried spring roll).