"Discovering Sardinia is one of those incredible travel experiences where you can't believe what nature has produced. When visiting for the first time 20 years ago, I was amazed to find yet another completely distinct Italian region, this time boasting jewel-toned water, rocky coastlines, a mountainous interior and a fiercely proud population."
—Georgia Yuill, Experience Designer
of all italy's regions, sardinia is perhaps the most enigmatic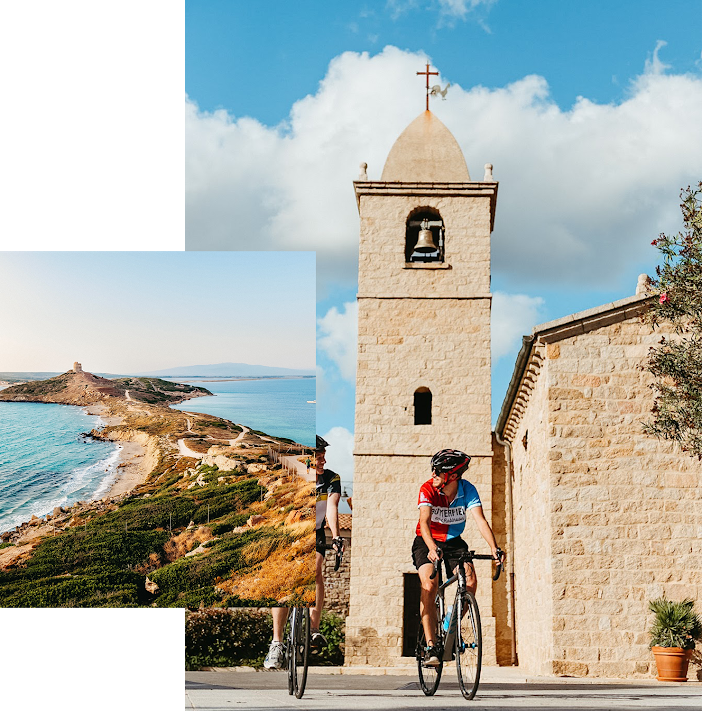 An ancient crossroads of civilization from the Phoenicians to the French, Sardinia's unblemished landscape is dotted with the enigmatic nuraghi, beehive-shaped stone megaliths, which tell a tale of its long-gone inhabitants. Discover this little-known island for yourself, blessed with unspoiled coastlines (and thrilling rides), a rugged interior and half of the country's sheep population—which means extra helpings of cheese, accompanied by the local Cannonau red (It'll be your little Italian secret).
Discover the possibilities:
Sardinia & Corsica biking
Pedal the coastlines of two vastly different islands and cultures. Wake daily with a fresh plunge into crystal clear waters before hopping on your bike for the on-land exploration of your journey. Sample fresh seafood and seasonal Mediterranean produce onboard as well as in the colourful harbour cafés you cycle through. Drop anchor in emerald-hued bays to swim, snorkel, kayak and paddle to your heart's content.
Sardinia & Corsica Multi Active
Conquer Corsica's undulating terrain and Sardinia's granite mountains during an active land-based trip that delivers the best of both islands. Far from similar, your journey across these islands will introduce you to distinctly different cuisines, customs and landscapes. A private boat crossing the Strait of Bonifacio mid-trip adds another memorable dimension to your days of biking, walking and kayaking.
Sardinia by Sea
To truly understand Italy's most enigmatic island, we explore it by sea, setting sail on an exquisite yacht or catamaran which will serve as our home during our voyage. Biking or hiking off your boat each day, we explore sheep-covered hills, vertiginous limestone cliffs that plunge into the cobalt sea, and the glam of Costa Smeralda.
Our Favourite Accommodation
Let's bring your travel ideas to life
These highlights are just a sample of what you can do and discover in Sardinia. Mix and match a little bit of everything and pair it with a few nights in nearby Corsica. Connect with your Experience Designer for Sardinia to start piecing together your perfect trip.
Notes From Your Designer:
Ideal trip length: 5 - 7 DAYS
Starting Price: US $900 Per Person/Day