<< Back to (un)Corporate Travel homepage | Go to Corporate Travel >>
The Key to Group Travel?
Never letting it feel like "Group Travel."
As part of a membership or alumni group, you want to travel with like-minded people in support of causes you're passionate about. And as a company whose long believed in both making friends along the road and giving back to them, we get it.
B&R helps a host of charities, academic institutions, museums, galleries and independent membership groups indulge in adventure with customized and pre-planned trips. We create successful travel experiences for affinity and alumni groups both large and small by doing things differently. In our experience, the best way to help an affinity or alumni group travel is by making sure it never feels like "group travel."
---
Groups Large and Small
We structure days to combine fixed group activities that bring people together with flexible options that provide variation for an individual or smaller group. We break larger groups into more intimate parties of 10-15, and assign each with a personal guide to facilitate the experience.
---
Total Cultural Immersion
We believe that engagement and immersion are the richest rewards for any journey. That's why we immerse our travellers in the very best the region has to offer. From exclusive access to a vintner's wine cellar to a pasta-making demo from one of our local friends, sharing a deep experience with one's peers never fails to strengthen relationships.
---
Go at Your Own Pace
Travelling on your own steam is rewarding. Being active biking, hiking, rafting, golfing, fishing refreshes the mind and invigorates the body.
We make sure each day fulfills your goals, whether it's finding the perfect balance of work sessions and physical activity, or pure enjoyment.
---
Contact Us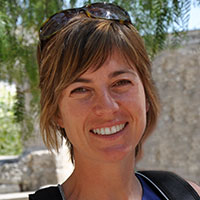 Director of Business Development Karen Dockrill has made a career out of bringing people together on the road and in the boardroom. After cutting her teeth as a B&R guide and trip planner, she transitioned into the world of loyalty marketing before returning to the B&R fold as our Director of Business Development. Call Karen at the number below, email her, or connect with her on LinkedIn to find out how we can help your group share in something extraordinary.
Karen Dockrill
1-866-551-9090 x 446
karen.dockrill@butterfield.com