Best Trips in New Zealand
Best Trips in New Zealand
Best Trips in New Zealand
Best Trips in New Zealand
Experience the Wild
Extremes of New Zealand
Down here, the wildest extremes occur every day: mammoth volcanoes tower over fetching farmlands; the mighty Pacific pounds the shores of peaceful coastal towns; centuries-old Maori traditions live on in communities flavoured with hints of colonial England.
Commune with birds (like the world's only alpine parrot), stroll the hills (to a majestic treehouse suite at Hapuku), and sample local delicacies (delicious lamb, exquisite seafood stellar wine and the fish'n chips in Kaikoura, all arguably the world's best).
Scroll down to see some of our favourite trips in the land of the Kiwis, or use our Tripfinder to explore our full portfolio.
New Zealand Bespoke
From resurgent Christchurch to the alabaster Southern Alps, coastal trails to the hippest capital (Wellington!), there's much to see and many ways to do it. From the tip of the far north to the depths of the wild south, the raw beauty of New Zealand can take some time to process (usually an hour; after that you stop trying).
See For Yourself
New Zealand Family Multi-Active Private
Explore New Zealand's breathtaking South Island with your family on this two‐wheeled adventure from Christchurch to Queenstown. Experience spectacular Christchurch, authentic NZ farming experiences and the stunning natural wonders of Lake Tekapo, Mt Cook and Wanaka. Finish your trip down in the 'Adventure Capital of the World', Queenstown.
See For Yourself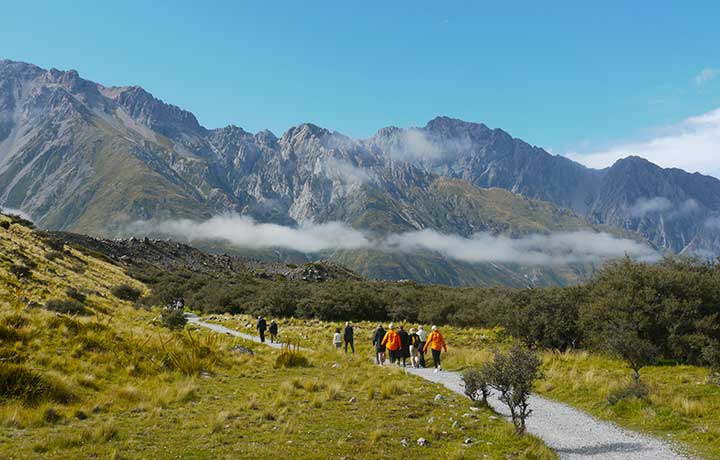 New Zealand Walking Private
Start in Wellington, "the Coolest little Capital in the World" (Lonely Planet), before heading to South Island to explore its gorgeous coastal trails and the towering Southern Alps. The only thing to compete with the scenery is our selection of hotels, including Fiordland and Hapuku Lodges. Spend a day with the dolphins in Kaikoura and end it sipping the best Sauvignon blanc on the planet.
See For Yourself
Subscribe
Slow down to see the world
© 2021 Butterfield & Robinson Inc. All Rights Reserved