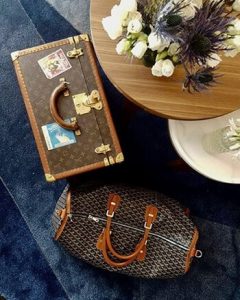 A trip to France inevitably includes spending time in Paris. Aside from it being your likeliest point of arrival into the country, there's something truly awe-inspiring about the city that lures you back time and time again, no matter how many times you've been.
There will always be a must-see museum you can't believe you never knew about, a restaurant taking on unheard of culinary feats, and burgeoning fashion designers opening the doors of their new boutique.
Any trip to Paris needs a perfect stay to match.
Here are my top picks for the best hotels in the city for every taste, from classic to contemporary: filled with glamour, history, impeccable service and style.
---
THE CLASSICS
La Réserve: The Best of the Best
Perhaps it's the 19th c. sophistication combined with a perfectly curated French decor—not too subtle, but not too stuffy, either—and the rich palette of gold, burgundy and marble touches. It could be the sight of the Tour Eiffel, piercing through the dove-grey Parisian sky, that catches the corner of my eye from the window of my room, firmly reminding me of where I am. Or perhaps, it's the white-glove level service that comes so naturally and, somehow, without pretension.
Whatever it is, La Reserve holds a special place in my heart—and that's why I keep sending my travellers through its crimson doors, located just off the Champs-Élysées. Equipped with everything you need for an immaculate stay, like a full-service spa, a restaurant with two Michelin stars, and a library bar (which happens to be one of my favourite spots not just in Paris, but the world over), you may find it difficult to leave. Accompanying the refined guestrooms and suites—with their marble bathrooms, brocade walls and plush fabrics—are fully serviced apartments, which are ideal for travelling in a group or with the family.
Le Bristol: A Parisian Institution
A Parisian institution since 1925, Le Bristol is often lauded as one of the most luxurious hotels in the city. Built within the walls of a former palace, it's easy to lose yourself wandering its hallways from both the sheer size and the whimsy of it all. Between the immaculate gardens that surround the terrace of the gastronomic restaurant to the rooftop pool area—reminiscent of a 1920s French beach resort and with views of the city skyline—to the adorable resident Burmese cat, Fa-Raon, who greets you at the concierge desk, a stay at Le Bristol is a sheer delight.
The guestrooms are dressed in a traditional but fresh look—awash in pastel hues, soft floral accents and Louis XV-inspired furnishings—and are generous in size (an impressive feat in Paris), comfortably fitting a king-sized bed and a living area in even the smallest category. As a family-run hotel, the experience at Le Bristol is just as special for your little ones as it is for you, with a kids' club adjoined to the La Prairie spa, offering a sweet playroom to keep the children entertained while you get pampered.
Le George V: A Culinary Constellation
A landmark on the avenue that lent the hotel its name since 1928, the George V is the epitome of Art Deco splendour, immediately remarked in its famous lobby with its tiled floors, a grand chandelier and the most extravagant floral displays you'll ever see.
Boasting three restaurants that, together, have accumulated a total of five Michelin stars, the experience here is equally about the cuisine as it is the hotel; in particular, Le Cinq Restaurant and its impressive three Michelin stars is an institution in itself. The remaining two restaurants hold one Michelin star each: Le George Restaurant, featuring a Mediterranean menu, and L'Orangerie, complete with a beautiful greenhouse dining area. Guest rooms are just as lovely as the hotel's common areas would lead you to believe—decorated in hushed tones of cream, pink and blue—and a five-star spa rounds out the decadent experience that a stay at the George V all but guarantees.
The palatial Hotel Le Crillon, with its stately Neoclassical exterior, has firmly held its position overlooking the Place de la Concorde since 1758. It wasn't until 1909 when the mansion's owners, the Counts of Crillon, sold their private residence to turn into the exalted hotel it is today.
After closing for restoration, the hotel reopened in 2013 with a modern makeover, while still preserving its 18th c. opulence through glittering chandeliers, hand-painted walls, and gold gilded finishings, playing up the theatrics of an abode that has hosted the most elite of guests over the century. New additions include the Rosewood spa and its sky-lit pool, refreshed guest rooms and their marble bathrooms and the Les Ambassadeurs champagne bar; a super-stylish rendezvous for DJ nights and live music.

Right in the heart of Saint-Germain-des-Prés, Hôtel d'Aubusson is ideally located between Ile de la Cité and the Luxembourg Gardens, in an esteemed area known to play a central role in the intellectual and artistic development of the city. Each of its 50 newly-renovated suites offers elegant period furnishing against the backdrop of cozy cream-coloured palettes—all while preserving the charm of centuries past. With its Versailles parquet, exposed beams and antique-filled lobby perfectly complimenting the buzz of its weekly literary talks and live jazz music, Hôtel d'Aubusson embodies an elegant and intellectual Paris experience that you've probably dreamt about at least once in a lifetime.
Known as the only château-hôtel in Paris, The Saint James is set in a pristine location next to Avenue Foch and just a five-minute drive from the Arc de Triomphe. This grandiose Relais & Châteaux property is surrounded by 5,000 square metres of verdant green garden—a true pastoral rarity in the city that combines classic Parisian charm with a unique poetic atmosphere. The hotel's dedication to preserving the area's biodiversity is illustrated through its on-site beekeeping practices as a means to provide an organic habitat for Earth's pollinators and harvest fresh honey for their palatable dessert menu.
Each nature-inspired guestroom in The Saint James combines art deco with geometric patterns and floral accents—the brainchild of interior designer Laura Gonzalez. And when you're not taking in the beauty of its poetic greenery, stop by the Guerlain spa (opening in September 2021) for a signature treatment or to stock up on the exclusive perfumes and cosmetics on offer.