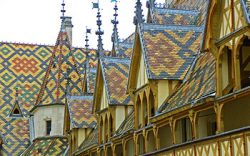 Have you never been to the most glorious region (in our humble opinion) of all of France? Or perhaps you've been here countless times, to savour the incredible wine, soak up the atmosphere of those magical vineyards, and enjoy equally exquisite Burgundian food. Either way, if it's your first time or your fiftieth, I'm here to sing the praises of our spiritual second home.
David Butterfield—son of our co-founders George and Martha—makes wine here in Beaune and likes to say that while Toronto is B&R's 'heart', our European operations office in Beaune, is the 'soul' of B&R. After making my way there, I must confirm that it's true. Here's why this wonderful region keeps producing trips of amazing vintage year in and year out—and why you should make your way here—especially if it's your first time.
Why Burgundy?
Diving back into over fifty years of Butterfield lore and legend, it's our Burgundy Biking trip which paved the way (or pedalled the way?) for thousands of bike trips to come, in regions as far-flung as Morocco and Vietnam (and anywhere else that looks great by two wheels).
Burgundy is the grande dame, the original, the classic, the quintessential B&R trip, and it doesn't get any better than pedalling through the vineyards and vistas, and sipping Grands Crus in the very region where they were grown. (We also know pretty much everyone in town, so getting that last-minute table at Les Caves de la Madeleine shouldn't be a problem).
You Never Forget Your First (Bike Trip)
Believe me, first-timers and non-bikers, when I say you can do it. Caveat: I am not a professional biker by any means: I am a professional sitter. (As the Content Manager in the Toronto office, I'm most often found behind a desk than behind a set of handlebars). I'm also a mere commuter biker—I don't travel more than 10 kilometers (a little over 6 miles) per day. I was a little intimidated at the prospect of going—gasp!—as far as 30 or even 50 kilometres, the average daily ride in Burgundy.
But I'm pleased to say I made it 55 kilometres, with the moral support and encouragement of my guide (merci mille fois, Chris Litt!). I felt fine the next day, even embarking upon another 30-kilometre lunch ride through the rolling hills with our French team. Toronto is wonderfully flat as a pancake, but those Burgundian hills had me working harder than I was used to. But that sense of accomplishment? Well worth it.
Don't Fear the E-Bike
Another excellent option when testing your mettle on a bike trip is simple—just choose an e-bike! It's an incredible thing, especially if you and your travelling companions are of differing abilities. I tested out an e-bike on another ride, and I loved it. (Tip: 'Turbo' mode will have you zipping up hills while other folks are huffing and puffing). With an adjustable electric assist, you're still 'working' as little, or as much as you want to, as you can adjust how much boost you get with the click of a button. Easy-peasy.
A Note on French Drivers
For those who may be wondering, riding in the French countryside and on side roads is quite safe. Even in places where there may be cars, such as at roundabouts, busier streets, or back roads with the occasional car or van passing, you needn't worry: French drivers have a general respect for bikers and will give you a safe 'buffer' distance or pass you with ample space, leaving you plenty of room to ride. (This is the land of the Tour de France, after all).