Boasting stunning beaches, iconic architecture, remarkable wildlife and a compelling history, Australia captures the wandering hearts of many—and holds on tight.
From the bustling streets of Sydney to the sweeping landscapes of the Outback, prepare to be charmed by this country's carefree attitude and incredible appetite for adventure.
In this post, I've narrowed down the (many!) reasons to visit Australia to compile a list of the country's many highlights.
---
1. Incredible Hotels
In a country as diverse—and sprawling—as Australia it only makes sense that the range of accommodations suits; how else to keep a well-travelled guest on their toes?
In the sparkling city of Sydney – the arrival point for most travellers – the Park Hyatt Sydney is a keen favourite. This place is surely why the phrase "location, location, location!" was created in the first place.
Situated right by the shores of Sydney Harbour, in the shadow of the Harbour Bridge and with views directly across to the Opera House, there's no way you would wake groggily in the morning after a long journey and think "where am I again?" Polished, stylish, but with that relaxed Aussie feel of a welcome haven, it's very Sydney.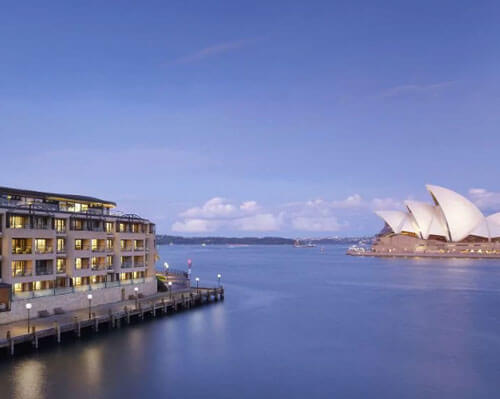 In the slightly less-populated city of Brisbane, you can opt for a more intimate experience by slipping into the atmospheric and entirely charming Spicers Balfour hotel, for a taste of art-deco. Here, the stylish interior, inconspicuous size and chirpy rooftop patio makes your stay feel a little less temporal.
If you're seeking a more remote solitude, then you're absolutely spoilt for choices with Australia's amazing collection of Luxury Lodges. Think stunning small lodges in wild, far-flung locales, where the experiences, food and wine are centred around the uniqueness of the area.
Places like the stunning Saffire lodge on Tasmania's east coast where you can stand waist-deep in waders amongst oyster beds while sampling this local delicacy, before trying a tasting-flight of Tassie-grown gins, finishing off the evening with a visit to see Tasmanian Devils (a feisty little carnivorous marsupial) with the in-house Naturalist.
2. Sydney (and its Stunning Surroundings)
No trip to Australia is complete without a stop in what many agree is one of the most beautiful cities in the world: Sydney. This one-of-a-kind metropolis sits on a harbour of epic proportions, with waterways that wind into hidden coves and lap at picturesque sand beaches.
Yes, you've likely heard of our famous Bondi Beach and if you haven't I can sum it up in three words: sun, sand, and the-very-Australian-obsession-of-chilling-and-watching-the-world-go-by (it counts as one word if there are hyphens, right?). This is where Sydney, and every tourist on earth, comes to worship the sun, but there is plenty of room for all. It's practically a right of passage to get up on these famous breaks and a private surf lesson is the best way to scratch the experience off your bucket list.
Meanwhile, in the stunning Blue Mountains hikes lead up to expansive views and, conveniently, to delicious bistro restaurants.
Back in the heart of the city I often suggest a bike ride as the best way to admire the architecturally stunning city; bike over the bridge, and dodge the jetlag, or take a cruise on the Harbour aboard a private yacht–this is the quintessential Sydney experience.
I share a few more insights from this incredible city in the video below. Check it out!