The first time I visited the island of Mallorca in August 2010, for the first of many tours that I was to lead here, I was immediately enchanted by this amazing region.
The city of Palma is vibrant and really elegant. It hosts the biggest marina of the Mediterranean Sea, the best-preserved medieval walls of any harbour city in Europe, sandy beaches, great restaurants and hotels, a labyrinth-like city centre and one of the most impressive cathedrals in all of Spain. (It is definitely worth spending a few days in Palma before or after your trip!)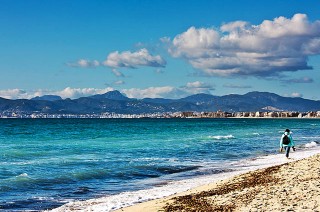 Even though Mallorca is world-famous for the deep-blue water and the white beaches, I truly believe that the centre of the island is as fascinating as its coasts. It's authentic, quiet, clean and serene. The locals on this part of the island speak Mallorcan instead of Spanish, and they are incredibly friendly and welcoming.
Reaching the countryside is easy. As soon as you leave the city and head toward the centre of the island, you find yourself surrounded by olive trees, almond orchards, vineyards and charming little towns that have not been discovered by tourists yet. The blossoming of the almond trees of Mallorca is world-famous, comparable to the cherry trees blossoming in Japan, and the Mallorcan olive oil is among the best in the world.