In Cuisine 101 we introduced you to the stars of the Charente-Maritime department, oysters and mussels. But if seafood's not your thing, you'll hardly go hungry: Atlantic France is home to numerous gastronomic delicacies, including the prized Barbezieux chicken, decadent black truffles and a wide variety of specialty local goat cheeses.
---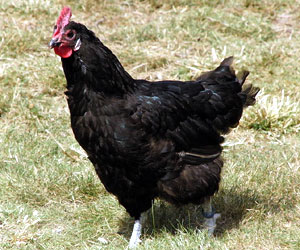 Barbezieux Chicken
This highly revered breed from the town of Barbezieux in Atlantic France's Charente department has been bred since the Middle Ages. It had nearly disappeared by 1997, until a small group of enthusiasts began raising them again. There is now an association devoted to raising and protecting these highly respected chickens: ASPOULBA (Association Pour la Sauvegarde de la Poule de Barbezieux). Farmers must follow stringent guidelines for raising the birds, including strict rules governing diet, fresh air and the amount of grassy space allotted to each bird, as well as guidelines for slaughter. The Barbezieux chicken now features the Signé Poitou-Charentes regional quality designation. The result according to the famous French food guide, Gault Millau, which ranked the chickens third out of a class of 20, is extraordinary: "The skin is nice and golden, with a fine aroma of wheat. The meat is firm with a pronounced almost gamey flavour."
Sea Urchins
Oursins have been a specialty cultivated on Île de Ré for years. The excellent quality of the water and algae surrounding the island is a feast for sea urchin, allowing them to thrive. You'll find these delicious creatures on plates of fruits de mer in many restaurants along the coast. The top is sliced off, revealing succulent golden roe with a creamy, briny sweetness.
Île de Ré Potatoes
Pictured above, the island's potatoes are famous for their incredible flavour and are the only potatoes to receive AOC (appellation d'origine contrôlée or "controlled designation of origin") status in recognition of the dedication required to grow them. Five varieties are grown. They are delicious boiled and topped with pats of butter and sprinkled with local salt. When in season, they can be found in markets throughout Île de Ré as well as in La Rochelle.
Goat Cheese
It has been said that the Moors left their goats behind when they vacated the area in the eighth century AD.  Today, goat cheese is a specialty in Deux-Sèvres and throughout the entire region. Available in numerous flavours, sizes, shapes and styles, Poitou-Charentes is a goat cheese lover's paradise!