Azure blue waters that lap sandy beaches and cradle limestone cliffs, a rainbow of colourful homes that drape the hillsides and seemingly endless heat and sunshine; it would be difficult to not feel seduced by the effortless beauty of the Amalfi Coast, a stretch of paradise along the Tyrrhenian Sea. Artists, designers and craftspeople have long captured the essence of Amalfi in myriad ways; through perfume to paper, wood inlaying to ceramics, and creating trendsetting, yet timeless, fashions.
What continues to make Italy so special are these devoted artisans that protect its spirit and keep age-old traditions intact. Of course, the stunning scenery doesn't hurt, but anyone who hails from the coast of America or any other seaside town knows you're not here just for a day at the beach.
You visit to learn about the history, engage with the people and discover what makes this corner of Italy different from the rest of the country. When it's time to board your plane back home, it always feels best when you're bringing back something to commemorate your visit, and even better when you know you can't find it anywhere else. Below, we've outlined our favourite shops on the Amalfi Coast that highlight the talents of the region and will ensure your souvenir is the real Amalfi deal.
UNIQUE FINDS
There's no shortage of Amalfi Coast artisans; here are a few special items that the region is renowned for.
With 500-odd years of papermaking under their belt, this is one of the few mills still in operation in the Amalfi. Find holiday cards, albums, notebooks, invitations, business cards and more from these masters of the trade. While they've upgraded their equipment since the business first started in the 15thC, their pulping and pressing process remains much the same, using a combination of cotton and mountain water to make paper that is smooth, creamy and highly durable.
A sweet little boutique and brunch spot all in one, dine on fresh and healthy Amalfi fare in a bright dining room adorned with greenery before scoping out fun souvenirs like painted ceramic pots and crisp home linens.
Carthusia
Since 1948, Carthusia has been capturing the scents of the Amalfi in bottled form. Their dreamy fragrances draw inspiration from the region's most memorable spots like Via Camerelle, named after the famous boutique-lined boulevard of Capri, and Teatro di San Carlo, an ode to the oldest opera house in the world in Naples. If you can't make up your mind, you can always pick up one of their sample sets that offers a selection of favourites.
Chantecler
Chantecler is renowned for crafting playful jewelry as dazzling as the land it hails from since 1947. Their pieces trimmed with white diamonds and encrusted with semi-precious stones are inspired by different elements of Capri, from the cobblestone paths that lead to the ocean to the waves crashing on the island's rocks.
With galleries in Capri and Positano, view artworks by up-and-coming talents hailing from across Italy and the globe, from contemporary painters to photographers to sculptors. All the works are for sale, so if you see something you like, you can request a price and have it shipped home.
This is a wonderful paper store where we often take our travellers! Pick up pure cotton-based paper that's perfect for drawing and watercolour painting, invitations with carved-out lace patterns or writing paper made using ancient techniques. Make your letters and invitations look official with a custom brass stamp engraved with your initials and a sleek wax seal.
The art of intarsia (wood inlaying) has been one of Sorrento's fine crafts since the 14thC.
The original designs of Stinga Tarsia have been made by the same family for three generations and still use techniques adopted in the 19thC. Jewelry boxes, photo frames, and mirrors come in a range of classic and contemporary looks, from traditional Sorrentine inlaid patterns and Baroque styles to Mondrian-inspired and geometric shapes.
FASHION & ACCESSORIES
The look of the Amalfi is iconic and glamorous, turning the heads of fashion lovers worldwide—think of the classic stars like Brigitte Bardot and Sophia Loren, who frequented it in the 1960s. These years were defined by the idea of la dolce vita—easy, simple and sweet living.
The clothing that came along with it reflected this notion; think relaxed and Bohemian pieces like long, flowing skirts, breezy cover-ups and linen dresses, combined with an uncomplicated glamour. The pastel hues and vibrant colours borrowed from the surrounding palette are reminiscent of the 'Flower Power' era that inspired the style and are often matched with crisp, white pieces that add a dimension of elegance. Known as Moda Positano, this Italian beach style has offered ideas to major Italian fashion houses over the decades, most notably in the coastal flair of Dolce & Gabbana. Whether you opt for vintage Hollywood or hippie chic, discover your Amalfi style at these boutiques.
Le Sirenuse is an Amalfi institution. The burnt-red, 5-star property watches over the Tyrrhenian Sea from its hilltop location in Positano with a level of sophistication that can't be rivaled. Its eclectic boutique is no exception. Located in the lobby, discover unique pieces of clothing, shoes and fragrances reflective of the hotel's character and hand-picked by the owner, Carla Sersale, a woman of impeccable taste.
Laura Urbinati
Mediterranean glamour at its finest! Laura is the daughter of an art collector, which explains her discerning eye. If you're feeling like a bathing beauty, scope out her collection of one-piece, color-blocked bathing suits and high-waisted two-pieces in gorgeous prints. Off the sand, stand out from the crowd on the streets of Capri with shirtdresses, robes and pajama-style pants in lively geometric patterns.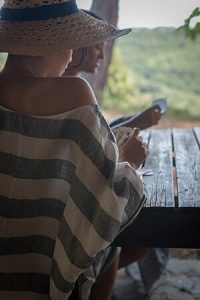 La Bottega di Brunella
For that perfectly imperfect (yet chic) look, La Bottega di Brunella thrives on elegant, loose-fitting pieces in natural fabrics like linen, cotton and silk. Playsuits, overalls, dresses and kimonos come in soft, earthy tones with simple patterns like stripes and checkers, and are all designed and made in Positano.
Maria and her husband Alfonso opened one of the first shops in Positano, back when it was still a fishing village and facing a challenging economy after the end of the Second World War. A sign in their front window read "Made-to-Measure Trousers" and came with the guarantee that once your measurements were taken, your perfectly tailored pants would be ready after an afternoon at the beach. She was so quick that she earned the moniker lampo, the Italian word for lightning. Fifty years later, Maria has broadened her samplings to offer women's clothing in bold patterns and vivid colours in addition to clothing for men.