Discernment is crucial componentry for any Trip Designer; in the case of Nathan Lane it's never been lacking. Below he lays into a few of his least favourite bucket-list items in Vietnam.
---
Skip:
Halong Bay—Outside of Hanoi
Images of Catherine Deneuve floating on a boat surrounded by towering limestone pinnacles in the old movie Indochine is part of my original pre-visit visual image of Vietnam. For sure, that Halong Bay is a place of Beauty.
It's current state, however, is a far cry from that representation. In my opinion, it has been severely mismanaged; the Bay is overwhelmed with boats and the idea of floating in a tranquil setting is long gone. In its current, over saturated state it is a bit of a circus with hundreds of boats (overnight Junks—a type of Chinese sailing ship) churning out every day, and cruise ships docking with their tenders buzzing all over the place. The garbage in the water is painfully visible and a thin film of oil shimmers on the surface, a byproduct of all the diesel engines. Swimming is entirely undesirable.
Additionally, while onboard the junks, you are captive audience to the numerous vendors hawking 'pearls' and other tourist tchotchkes, most of which are replicas produced in a nearby factory. The drive to Halong Bay (from Hanoi) is 3.5 hours each way so it is a hectic one day tour (7 hours in a car and 3 hours on a boat), making an overnight stay in the region a must.
The Alternatives:
If you feel strongly about visiting the region, I suggest chartering a float plane as a way to bypass the long travel-times. But, in general, I strongly suggest avoiding the mad crowds and look to the (current) best alternative that offers a similar experience and that would be Lan Ha Bay. Honestly, not as stunning as Halong Bay would have been 70 years ago, but, I believe, under today's conditions, a better overall experience.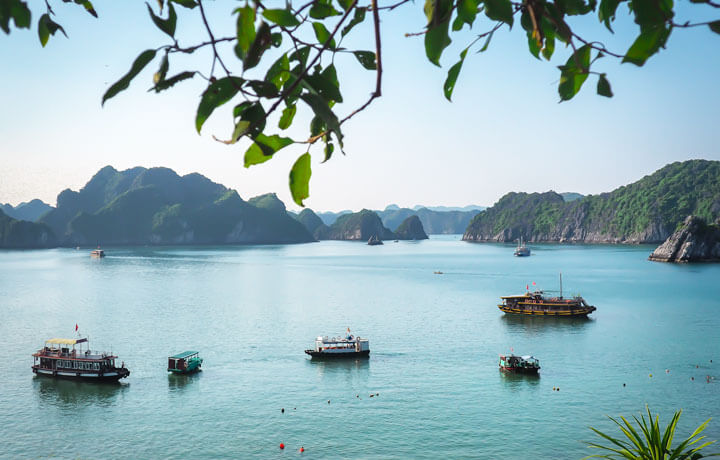 Another option I love to suggest is Ninh Binh. Often referred to as the "Halong Bay of the land," it is the geological continuation of the limestone pinnacles that mark Halong Bay. In Ninh Binh travellers can find exhilarating options for biking and walking, alongside a few delightful hotel gems tucked within the mountains.