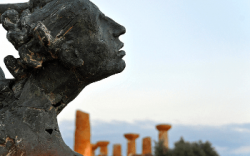 At the crossroads of culture, Sicily has seen countless civilizations come and go over the centuries, from Greeks and Romans to Phoenicians and Arabs, the French and the Spanish, all leaving their mark on the island.
From architecture, the arts and even gastronomy, these influences come together to create an aesthetic that is uniquely Sicilian.
The largest and most diverse island in the Mediterranean, Sicily is also the place where many legends and myths were born. From monsters to maidens, we can look to the ancient Greeks and their mythology to see how this island has served as the backdrop to the classic stories of antiquity. It's proof of just how important a role Sicily played in the ancient world.
Sicily: home of gods and heroes
In the archaic Greek world, Sicily and the Aeolian Islands belonged in the realm of Myth. To the early Greeks, it was a place where gods and heroes lived, earthbound yet somehow otherworldly.
Demeter and Persephone
It was on the island of Sicily that Demeter and her daughter Persephone were picking flowers when the god Hades stole Persephone away to the depths of his underworld kingdom. From Sicily, Demeter, the goddess of corn and wheat, set out in search of her daughter and so, in mythology, the seasons were born. Persephone's time in the underworld correlates to the fall and winter season, and her return symbolizes the advent of spring and fertile lands.