Real Provençal cuisine is high-spirited but simple, focusing on preserving the taste and texture of seasonal, fresh ingredients like tomatoes, garlic, saffron, peppers, anchovies, olives, olive oil and wild herbs.
It is above all Mediterranean and "familial"—la cuisine de grand-mère. It isn't restaurant cooking, la haute cuisine, for which France is justly famous. So the obvious question is: can this cooking be found in restaurants? The answer: Yes, if la grand-mère happens to be in the kitchen.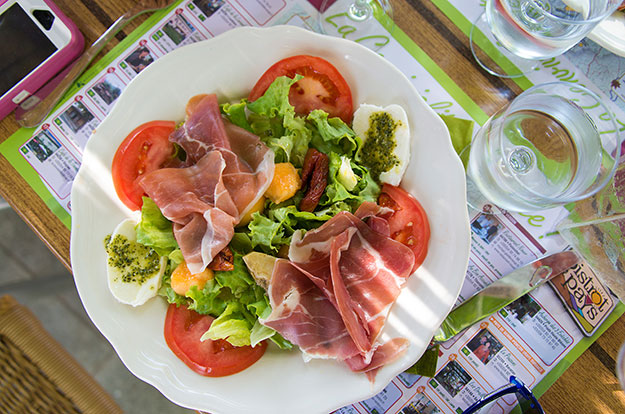 We don't necessarily recommend demanding a kitchen tour to confirm the presence of a little old lady before booking restaurant reservations. But Reine Sammut at La Fènière in Lourmarin—one of the most creative yet traditional chefs in Provence—says she learned everything from her own grand-mère, who can still be found poking around the kitchen, her fingers in all the sauces.
Below is a list of some of the more traditional dishes—but don't forget that most menus loyally respect the seasons. In early autumn, the first game and the wild mushrooms arrive. In January and February, truffles are in season, bringing their inimitable flavour to omelettes and pasta. Winter is also the season for the daubes—beef or lamb cooked slowly in a sauce of wine and vegetables. In April, asparagus appears, followed by broad beans, melons from Cavaillon and strawberries from Carpentras. Then come cherries in May and June, followed by peaches, nectarines, apricots, and eventually, figs, apples, pears and table grapes.