Home to the Côtes du Rhône and the world-famous Châteauneuf-du-Pape, in Provence the vineyards stand out as distinctly as (though more deliciously than!) the fields of lavender.
---
Côtes du Rhône
From Vienne to Avignon, the vine has thrived on the banks of the Rhône River for more than 2,000 years. The variety of soils, grapes and microclimates has made this one of the greatest and most interesting wine regions of France.
Wines here are classified into three groups. The first group comprises the 13 crus, the Grandes Appellations Locales. The northern Rhône crus are: Côte Rotie, Condrieu, Château Grillet, Hermitage, Crozes-Hermitage, St-Joseph, Cornas and St-Peray. The southern Rhône crus are: Châteauneuf-du-Pape, Gigondas, Vacqueryas, Lirac and Tavel.The middle group comprises the 16 villages with Côtes-du-Rhône-Village status, such as Cairanne, St-Gervais and Laudun. The last group comprises the generic Côtes du Rhône wines, which make up over 80 percent of the region's production.
Birthplace of Syrah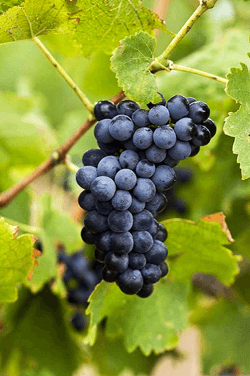 The northern Rhône is the original home of the syrah grape, the only red grape permitted in northern Rhône red wine. Viognier is the defining grape of Condrieu and Château Grillet white wines. Other white northern Rhône wines are made from marsanne and roussanne.
The Blended South
In the southern Rhône most wines are blends. Grenache is the most commonly used red grape, and makes up the body of most wines (accounting for anywhere from 40 to 80 percent of the region's volume).
Syrah, mourvedre, carignan and a host of other ancient varietals, are blended in with the Grenache to give the wine structure and finesse. The most common white wine varietals in the southern Rhône are roussanne, marsanne, clairette and ugni blanc.