It's inevitable, really. Reminiscing about one's youth invariably leads us to the same few thoughts: those watershed moments that help shape who we are, and remain with us for life.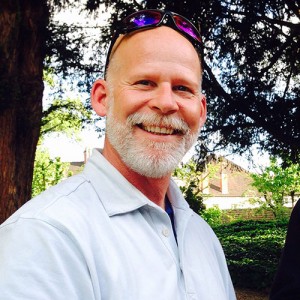 For some, it's when they bought their first car or graduated college. For at least three people I know, it was 1966—the year they guided their first bike trip. But for Geoff Sandquist, B&R's newly appointed Director of European Operations, it was a job interview.
"In early 1987, my older brother heard that B&R was looking for people to work in Europe, while I was studying in Quebec City. I contacted the office in late January and was told to come in for an interview," Geoff recalls. "You can't imagine the delight I felt about a month later when I learned that I was in. (Needless to say, for the rest of my final term, I was not the most focused student!)"
When the Toronto native moved to Beaune later that year to work from B&R's French office, he knew he had landed a great gig. What he didn't know is that he'd still be there nearly 30 years later. After working his way up through B&R's ranks in the late 80s and early 90s, Geoff continued in high-end travel before striking out on his own, founding his own tour company in 2005. Designing and leading trips as the head of Sandquist Europe, Geoff amassed a wealth of knowledge in the realms of private, active, cultural and gastronomic travel, while continuing to live and work in Beaune.
So when B&R began the search for a new Director of European Operations this past fall, we didn't need to look very far.
"To say that I am excited about this new opportunity and challenge would be an understatement. B&R is where I first started in the travel industry," Geoff says of his return to the company. "I'm thrilled to be re-joining this dynamic, highly qualified and energetic team. We share a common goal of enhancing traveller's lives, one unique and memorable travel experience at a time."
---
Vital Stats
Years in Travel Business: 26
Years with B&R: 8
Countries/Regions of Expertise: Western Europe, Canada
Countries visited: 20 (mainly Europe, plus USA, Jamaica, Japan, Taiwan, China,
Senegal and Tunisia)
Countries lived in: Canada and France
Trips planned: 350+
Trips guided: 173 (But who's counting?)
Q&A With Geoff:
Let's get the origin story out of the way. Everyone at B&R has their fair share of wanderlust. When/how did you first get bit by the travel bug?
My dad was a university history professor, so from a young age, we travelled to Europe to follow him in his studies while he was on sabbatical. A trip that still has clearly defined memories for me was travelling through France, Spain and Portugal for the Christmas holidays in 1969, during a year we lived in London.
You studied French as a second language in university and jumped at the chance to move to Burgundy shortly thereafter. What made you such a Francophile?
I went to university initially with science as a focus, wanting to go to medical school. The liberal arts college I lived in for residence, however, required I take two courses in-house, so I took French and history. The classes were smaller, and the profs were great, so I thrived in both disciplines, and changed my major for the second year. I didn't get to truly immerse myself until I moved to Quebec for my fourth year, so while my French is textbook perfect, my accent still sucks, unless I have a bad nose cold!
What's your preferred method for immersing yourself in a country or region?
Read as much as possible, initially, understanding it's only a jumping-off point.  Then keep my mouth shut, meet, hopefully befriend, and listen to the locals—preferably over traditional, regional food and wine. Iconic cultural sights, as well as local musical influences, add further nuance, and depth of understanding.
OK, lightning round. What's your favourite hotel in the world?
Four Seasons Milano
Favourite restaurant in the world?  
Troisgros in Roanne, France
Favourite bar/wine bar/watering hole in the world?  
This is constantly changing. Right now it's Le Bar du Square, here in Beaune.
You've worked and travelled primarily in France and other parts of Europe. What's a country or region you haven't visited, but would like to?
I've only been to Tunisia in North Africa, but would love to explore Morocco.  I have always been a huge fan of Casablanca, the film, and Morocco has always had an allure of mystery, exotic cuisine and centuries-old culture and tradition.
OK, it can't all be sunshine and roses. Fess up: what's your most embarrassing travel-related story?
In the early 1990s, at a B&R year-end gathering, I went to the bathroom down the hall in the middle of the night, then ended up going into the wrong room and trying to get into bed with a colleague and his girlfriend. I quickly realized my mistake and was inching my way towards the door when the lights went on. I turned around, in my undies, raised my arms and said: "How are ya?!"
What trips do you have in store for yourself: where are you headed in the next 12 months? I'll be in the Netherlands in a couple of weeks, with my kids. Then I'll be guiding in Provence and Burgundy in June, the Bordeaux area in late September, then a family trip with friends and their families to Morocco next February.
George Butterfield actually interviewed you himself in your first, fateful encounter with B&R, and you've known him ever since. Do you have a favourite George story or moment?
Many, but here's the most recent: George just passed an important milestone birthday, turning 75. I had sent him a note, trying to let him know the role he has played in my life. He made a point to phone me directly and chat. Classic George—grace, style and substance.
And finally, do you have a favourite travel quote, mantra or words to live by?
"The world is a book, and those who stay at home read only one page." – St Augustine