It rains a lot in Vancouver. While this naturally leads to smiles among the city's sellers of raincoats and umbrellas, it's worked out pretty well for B&R, too.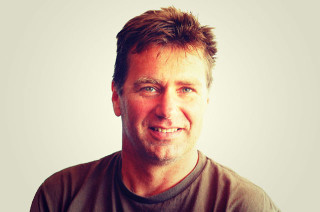 "When I was six or seven my parents gave me a giant National Geographic puzzle of India," recalls Trip Designer and Vancouver native Tom Abraham. "On rainy days I would put that puzzle together on the living room floor and stare at the depictions of tigers, the Taj Mahal, the Himalayas."
After many days spent on the living room floor (like we said—a lot of rain) an adventurer was born.
Given that wanderlust was ingrained in him early on, it was no surprise Tom found himself a partner in a British Columbia-based rafting and kayaking company that was purchased by B&R in the late 90s.
"I started with B&R by running rafting and sea kayaking expeditions, and after a year or so they decided I might scrub up well enough to guide some of their biking, walking and expedition trips," Tom recalls.
The life of a B&R guide followed, which is to say that Tom spent the next couple of years traipsing the globe, leading trips and conducting research around the world. In 2010 he transitioned into trip planning, returning to his home base in British Columbia—"With small kids around the house it was time to spend more time at home," he says—where he's come full circle.
Like his childhood self, he now spends his days staring at depictions of tigers, the Taj Mahal, the Himalayas and many more far-flung corners of the globe. Of course, this time he doesn't have to fantasize about them—just close his eyes and remember.
Vital Stats
Years in Travel Business: About 25
Years with B&R: 13 (plus or minus a few…)
Countries/Regions of Expertise: Bhutan, Nepal, India, Thailand, Myanmar, Cambodia, Mongolia, Western USA, Western Canada, Belize, Mexico, Croatia, Switzerland, Rwanda, Southern Africa
Countries visited: About 40
Countries lived in: Six—Germany, Switzerland, Nepal, USA, Australia and (of course!) Canada
Trips Planned: Really not sure.  Maybe 100?
Trips Guided: Ditto
Q&A with Tom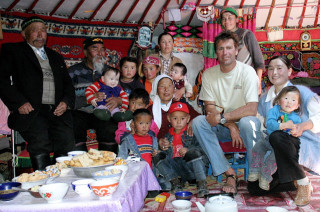 You've been to 40 countries. Is there any destination you haven't visited but would like to see?
I really want to visit the "stans."  In particular Taijikistan and Kazakhstan. Big mountains, unique culture, lots to experience and discover. I'd also like to visit Mergui Archipelago in Myanmar: undiscovered reefs and beaches, great diving, jungles, sea gypsies… what more could you ask for? Also, it will really annoy my friend, trip planning colleague and Myanmar expert, Tyler Dillon, if I get there before he does.
What's your preferred method for immersing yourself in a country or region?
One of the best things about working with B&R is that we also work with so many amazing locals, be they guides, experts, vintners, taxi drivers, hoteliers, etc. This is bar-none the ultimate way to get to know a region: make friends, ask questions, listen closely, repeat.