Before we say anything else, a disclaimer: as a general rule, we don't often advocate eating a food whose name derives from the words "thorn" or "spike." But when staring down pintxos in Rioja, well… what is it they say about rules?
Pintxos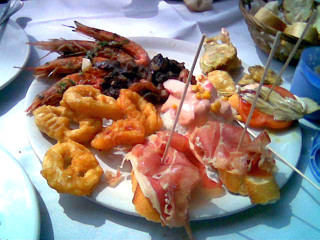 Fortunately, in Rioja and Navarra, the thorn isn't in our sides (sorry, had to), it's impaling a delicious combination of bread, meat and seafood. The Basque word for "spike," pintxo refers to the toothpick used to skewer fish, seafood or meat and keep them attached to a piece of bread.
Similar to the better-known tapas tradition found across Spain, these small snacks provide diners an excuse to socialize. Served as appetizers and accompanied by a small glass of white wine or beer, they free eaters from the typical conventions of a full meal and encourage conversation and conviviality. Often a group will hop from one bar or restaurant to the next, sampling the skewered concoctions (and the accompanying libations) as they go.