In North America, our conception of Nordic cuisine owes largely to IKEA and The Muppet Show's Swedish Chef. But when chefs Claus Meyer and René Redzepi launched Noma in an old warehouse on Copenhagen's waterfront in 2004, they not only opened a restaurant, they ushered in a veritable food revolution in Denmark and other parts of Scandinavia that's become the talk of the culinary world. Ranked "World's Best Restaurant" three years running, today Noma embodies and perpetuates the cuisine movement its founders are credited with pioneering: the "new Nordic" cuisine.
---
The New Nordic Cuisine:
Paradoxically Traditional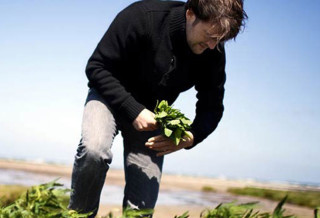 Somewhat paradoxically, "new Nordic" cuisine puts a heavy emphasis on tradition, and its practitioners employ its principles devoutly. Complete with its own manifesto calling for "purity, freshness, simplicity and ethics," it focuses on seasonal Scandinavian ingredients like potatoes, fish, berries and even moss, prepared using traditional methods such as smoking, fermenting, pickling and curing.
Of course, the movement is perhaps most famous (or infamous, depending on your tastes) for its emphasis on foraging, a practice Redzepi has made famous at Noma. Striving to provide a sense of terroir in each dish, Redzepi personally scours the woods in search of gooseberries, wild plants and just about anything else he can find in the woods, up to—and sometimes including—insects.
Redzepi and his acolytes insist that the freshly foraged, hyper-fresh, ingredients provide each dish with a uniqueness born of that particular moment in time, distinguishing it not only from other dishes, but from the same dish made at different times.
If the high-concept conceit of the new Nordic craze sounds a little exotic, Redzepi insists it will enlighten more than it confounds.
"They had an experience they couldn't get at home," he wrote of Noma's foreign diners in his 2010 book Noma: Time and Place in Nordic Cuisine. "Several have said it was like hearing a new language and being able to understand what was being said."