Frequently Asked Questions – Family Trips
What's a typical day on a family trip like?
Adults and kids will arrive for breakfast ready to ride or participate in the day's events. On most days kids and adults will take part in the morning's activity together—a bike ride, a walk, a chance to explore a city, that kind of thing. (Note that adults must ride with/accompany their children in the morning.)
Most days, we'll all meet for lunch, splitting up afterwards as some of the guides take the kids for a fun afternoon activity, while the other guide will stay with the adults. We'll rendezvous with the adults back at the hotel in the afternoon, and have a special early dinner for the kids.
On most nights, the adults will eat a bit later, unless we have a family meal planned for the night. In terms of the menu, kids' meals will usually be simpler, with more straightforward options. If you would prefer to join the earlier dinner and eat with your kids, please let us know so we can make the arrangements.
What kind of "fun afternoon activity" will the kids do?
It depends on the region you're visiting, but we try to engage kids in activities that will be both interactive and educational. Whether that's fencing in the Loire Valley, weaving hats in Vietnam, or a ropes course in Morocco, we engage kids in activities they won't soon forget.
How are hotel rooms allocated on trip?
We do our best to put children's rooms as close to their parents' rooms as possible or to accommodate your request for your children to share your room. In most cases we are able to ensure that your children will have a room very nearby your own, but please note that we are often not the only guests staying in our hotels and securing rooms next to each other may not always be possible.
Is babysitting available at night?
Some travellers would like a babysitter at night, and we can arrange for these sitters through the hotel. You can let us know of your requests for a sitter when you book the trip, but please note that you will pay the sitter directly. While these are babysitters the hotel uses, they may not be certified caregivers and English may not be their first language. Their role is to be in the room with the kids while they sleep; they are supervising the kids, but not entertaining them. Travellers will be responsible for putting their kids to bed.
For children who can remain in the room by themselves and don't require a babysitter, one "contact guide" will be on call and reachable through the hotel's reception to relay messages to the parents at dinner. (Note that this service is only available to older children who can be left in their room without supervision.) This guide will remain on call until all parents have retired for the night.
What else should I know about safety and supervision while on trip?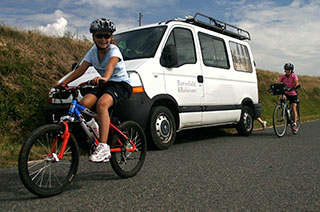 Biking: Adults and kids will participate in the morning's activities together—a bike ride, a walk, a chance to explore a city, that kind of thing. Remember that although B&R guides provide support for each activity, adults must ride with/accompany their children throughout these activities.
Driving: The van support during biking and afternoon children's events may require guides to drive children in the van, or to travel in a separate transfer vehicle. We have car seats for younger kids and will make sure everyone is wearing a seat belt. Note that children under the age of 12 may not sit in the front seat of the vehicle. If you have concerns about letting your children ride in the van in your absence, please let us know in advance.
Activities: Every afternoon and night, guides will organize child-specific events. Please let us know if you have any concerns about a particular event or if you do not wish your child to participate. Of course, if any adults want to come along, we'd be happy to have you. Do keep in mind that we will be heading off to the activities right after lunch so if you plan to join we ask that you come along at the same time.
Food & Allergies: We have tried our best to ensure your children will be eating well-balanced meals and healthier van snacks. We realize that kids can be difficult eaters and therefore cannot be responsible for feeding your child. Please also let us know of any food allergies or other food preferences.
Medical: Please remember that you will not be with your child at all times during the trip. Please let us know of any specific medical conditions or concerns you as parents feel we should know about.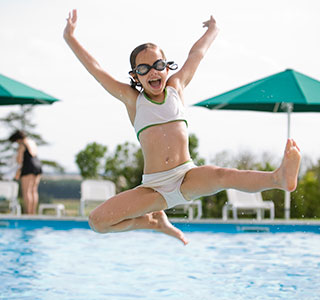 Swimming: The reality of our hotel visits is that while many of them have pools, none have qualified lifeguards. We recognize that there will be times when the children will want to go swimming, and our guides may be put in a position to supervise. However, our guides are not necessarily trained lifeguards, so please let us know if you are not comfortable with this arrangement.
Rules: Even on vacation, rules are important. We may not be the only guests at our hotel, and while we love to see enthusiasm, please remember that we are sharing the hotel space with other guests. We would also like to know where each child is at all times, so please remind your children to let you or their guides know where they are going at all times.
Will it be fun?
We're inclined to say yes, but we're pretty biased. Maybe ask these guys?
Subscribe
Slow down to see the world
© 2021 Butterfield & Robinson Inc. All Rights Reserved