Luxury Vietnam Holiday
A Vibrant Cultural Feast
Vietnam is a country with a rich history and fast-developing future. This vibrant country is known for its pristine beaches, lush mountains, Buddhist pagodas and bustling cities. Even with its great economic growth, Vietnam is still as charming, picturesque and wondrous as the first time we came here more than a decade ago. Certainly, the country is thriving and there are even more luxurious hotels scattered along the coast. However, the people have remained the same; they are as gracious, warm and infinitely inviting as ever.
Vietnam By Bike
Price per person per night from US$1,100 to $1,300
Vietnam and Cambodia with the Kids
Price per person per night from US$1,100 to $1,300
Walking Vietnam in Style
Price per person per night from US$1,100 to $1,300
What is bespoke with B&R?
Your dreams—realized. Your expectations—exceeded. And your mind? Totally and utterly blown.
We craft extraordinary experiences, tailor made to meet your every need, with every stitch of every day crafted just the way you want it.
Tell us your dreams and The World's Best trip designers will craft a journey exclusively for you.
Fill out the form to have one of our expert trip designers get in touch—and start planning your perfect adventure
TRIP IDEAS
Vietnam by Bike
Vietnam offers views for miles as you ride along the scenic coastal and rice paddy-lined roads. You'll take in all the highlights on this epic journey from Hanoi to Ho Chi Minh City, including the colonial marvel of Hanoi and the ancient Imperial Tombs of Hue.
Enjoy magical Hoi An, the perfectly preserved and pedestrianised town in central Vietnam. Hoi An is an atmospheric riverside town that's a pleasant place to wander on foot.
Ride through rural villages and the hill country of Vietnam's central highlands
Explore the Imperial City of Hue by bike
Enjoy mango mojitos and passion rumbas at our favourite restaurant which is owned by our friend, Duc.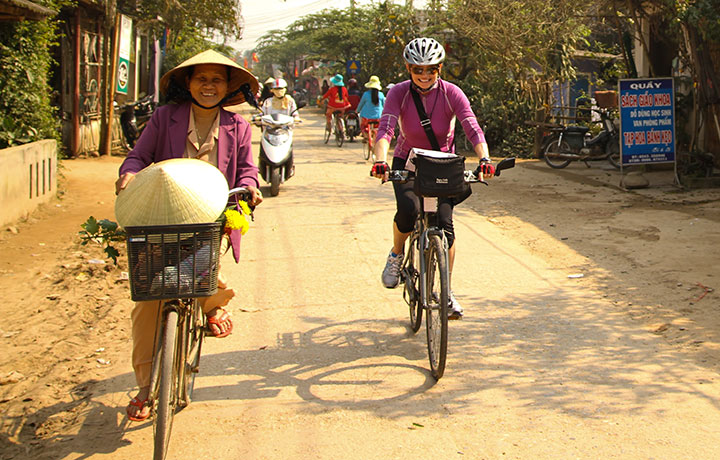 Inspired? Craft a similar Bespoke trip starting from US$1,100-$1,300 per person per night.
Vietnam with the Kids
A magical and diverse combination in South East Asia. We start in Cambodia and enjoy the wonderful Khmer culture. Civilizations from the past built gigantic religious monuments, many which were lost, forgotten or destroyed during wars. There is an abundance of history to learn here, and the jungle scenery is straight from a picture book. Vietnam is a land of immense variety, and we will see so much of it! From the absolute tranquility of Hoi An and China Beach to the hustle of Hanoi, we will explore Cambodia and Vietnam through the back roads, local markets and temples less frequented by most.
Enjoy great biking through the coastal plains around Hoi An.
Try the flight of the Gibbon zipline in Angkor Wat.
Take an early morning visit to the fish market to see fishermen trawl ashore their night's catch.
Climb the ancient ruins of Angkor Wat.
Enjoy a game of badminton with the locals around the central lake in Hanoi.
Inspired? Craft a similar Bespoke trip starting from US$1,100-$1,300 per person per night.
Walking Vietnam in Style
Vietnam has a wonderful recipe for the perfect walking holiday: luxurious hotels, sumptuous cuisine, pleasant climate and charm. Enjoy what this country has to offer on two feet by hiking along riverside paths past local markets and through UNESCO Archaeological Sites. Vietnam has something for everyone as you explore the customs, traditions and way of life this breathtaking country has offer.
Walk through the gardens of Dalat in the central highlands.
Relax beside the golden beaches and explore the UNESCO World Heritage Site of Hoi An.
Experience a great cooking school and try your hand at rolling your own spring rolls.
Explore the stunning ruins of the Cham civilization in central Vietnam.
Inspired? Craft a similar Bespoke trip starting from US$1,100-$1,300 per person per night.
FEATURE HOTELS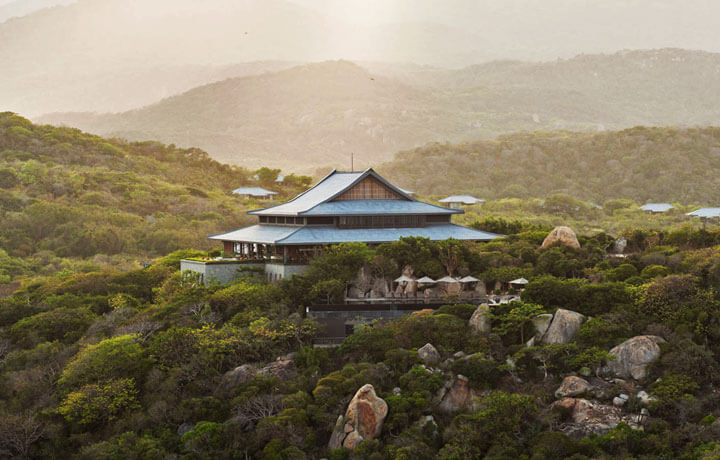 Amanoi, Vinh Hy Bay
Amanoi is a tranquil retreat situated on a beautiful white-sand beach overlooking spectacular Vinh Hy Bay. Inspired by a traditional Vietnamese communal hall, the Central Pavilion occupies the hilltop and houses the Restaurant, Bar and an expansive terrace, all making the most of the breathtaking views. View hotel website »
Six Senses, Ninh Van Bay
This remarkable boutique hotel has undoubtedly raised the standard of luxury resorts throughout the country. Accessible only by water, the hotel's 58 private villas, each with a private plunge pool, sit on dramatic Ninh Van Bay, with its impressive rock formations overlooking the East Vietnam Sea, pristine white sand beach and towering mountains behind. View hotel website »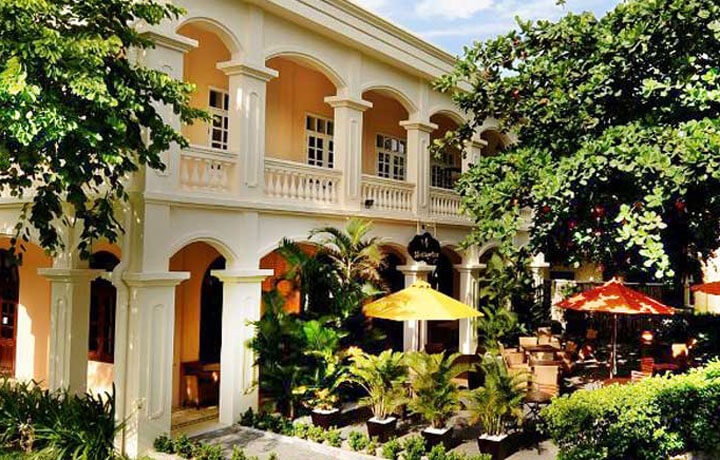 Anantara Resort, Hoi An
Located along the scenic Thu Bon River, Anantara Hoi An Resort is only a short stroll from the colourful and bustling Ancient Town, a UNESCO World Heritage Site. Touches of French, Dutch, Chinese and Japanese cultures make up the distinct ambiance. The luxurious spa treatments and breathtaking gardens are just the icing on the cake. View hotel website »
TRIP DESIGNERS
Our Trip Designers are a special breed. Part guru, part collaborator, part mind-reader, they have the full breadth of B&R resources at their fingertips. Our talented team is the best in the world at what they do—and what they do is turn fantasies into reality. (We thought about changing their title to "Dream Weavers," but we didn't want to re-print all those business cards.)
"Our most memorable moments were those that involved interaction with the people we encountered.  We were thrilled to interact with school children, and we were invited to share a beer in one house and look at the bonsai garden in another! There was little more you could ask for from B&R."
Diana Jacobs, Vietnam Walking
Notes from the Road
Related Trips
Hanoi to Ho Chi Minh Walking
10 Days / 9 Nights
Recreational
Hanoi / Ho Chi Minh City
Price from: $9,475 USD
Vietnam Biking Expedition
Bike through the quiet tree-lined country paths, incredible beaches, banana plantations, and thriving local markets of vibrant Vietnam.
Cambodia Biking
5 Days / 4 Nights
Recreational
Siem Reap / Siem Reap
Price from: $2,895 USD