SOUTHWEST FRANCE LUXURY CUSTOM TRIPS
Past the vineyards and through the forests
Whether it's walking the medieval pilgrims' trail through Conques and Lot, exploring the vineyards and cobbled streets of St. Emilion, or biking the gently rolling valley roads of the Aquitaine, a getaway to Southwest France will leave you with little to be desired.
Dordogne: The heart of French life
Price per person per night from US$500 to $1,000
Conques & Lot: La France Profonde
Price per person per night from US$1,000 to $1,500
Bordeaux: Legendary Vines
Price per person per night from US$1,500 to $2,500
What is bespoke with B&R?
Your dreams—realized. Your expectations—exceeded. And your mind? Totally and utterly blown.
We craft extraordinary experiences, tailor made to meet your every need, with every stitch of every day crafted just the way you want it.
Tell us your dreams and The World's Best trip designers will craft a journey exclusively for you.
Fill out the form to have one of our expert trip designers get in touch—and start planning your perfect adventure
TRIP IDEAS
Dordogne: The heart of French life
It is the France that many imagine but few truly experience. You'll go to the very heart of French life, where culture and history mingle with exceptional food and outstanding local vintages, and the entire experience is set against a backdrop of breathtaking beauty. The gentle landscape reveals its share of stunning vistas and the sheer, simple beauty of everyday life as it ambles along in this most remarkable of regions.
Ride your way through the forest and farmland of the beautiful Dordogne.
Taste some of the vintage wines Bordeaux is famous for
Lose yourself in the grounds of a medieval château
Inspired? Craft a similar Bespoke trip starting from US$500-$1,000 per person per night.
Conques & Lot: La France Profonde
Whenever we pass through the hamlet of Lacalm at the "entrance" to the region, we can't help but smile—as this is a true description of the way in which people live here—as it appears to have been for hundreds of years. With sweeping visits at every turn, complimented by delicious meals, and good people—whether you bike or hike (or both), a refreshing lack of pretense here cannot but bring you much happiness!
Be welcomed like family by one of France's celebrated chefs.
View a moving and unforgettable recital in the Abbaye.
Bike and hike along quiet roads, bike paths and nature trails.
Inspired? Craft a similar Bespoke trip starting from US$1,000-$2,000 per person per night.
Bordeaux: Legendary Vines
From Thomas Jefferson to Robert Parker, the critics agree—Bordeaux is something special. Though what's given this region the ability to produce wines that captivate our imagination is nothing short of mythical terroir and proud tradition. The bike rides transport us through the centuries, past scenic appellations, manicured vineyards and remarkable chateaux—visiting extraordinary locals, bistros and spectacular wines along the way.
Enjoy your own private "blending" class in wine school.
Experience tastings and learn culinary skills with a master.
Explore the scenic views of Bordeaux by bike.
Inspired? Craft a similar Bespoke trip starting from US$1,500-$2,500 per person per night.
FEATURE HOTELS
Hotel du Palais, Biarritz
Formerly the summer mansion of Napoleon III and now one of Europe's great palace resorts, Hotel du Palais is situated on a cliff overlooking the pristine sands of Biarritz's main beach on the Atlantic Ocean. The hotel features a luxurious spa, a Michelin-starred restaurant, two bars, a tearoom and a heated saltwater pool. View hotel website »
Relais et Château Michel Bras, Laguiole
The stunning Bras property is hidden away within gorgeous mountainside and untouched Laguiole terrain, creating a surreal contrast with the minimalist decor. Huge glass windows surround the lounge offering breathtaking views and all guest rooms provide a private and relaxing garden terrace. Run by Michel Bras, the hotel's restaurant prepares food deeply rooted in the French countryside. View hotel website »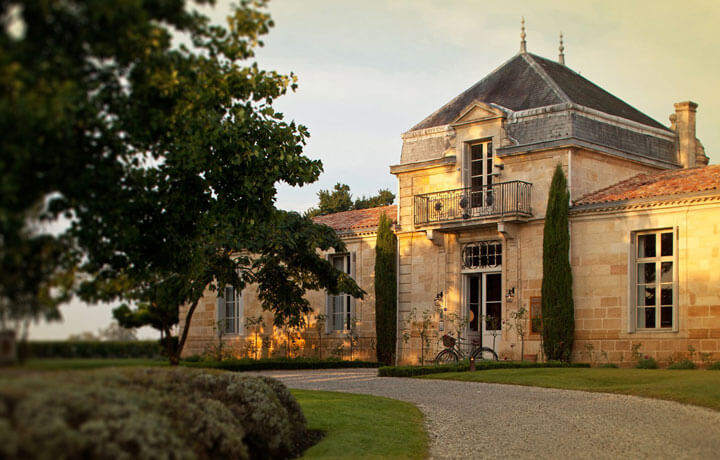 Château Cordeillan-Bages, Pauillac
This 17thC chartreuse was turned into a Relais & Châteaux hotel by a family of neighbouring Château Lynch-Bages. Contemporary décor set the stage for the real event: a restaurant that is definitely worth a trip across the Atlantic. Chef Jean-Luc Rocha kept both of his mentor Thierry Marx's Michelin stars. View hotel website »
TRIP DESIGNERS
Our talented team of Trip Designers are the best in the world at what they do—and what they do is turn fantasies into reality. (We thought about changing their title to "Dream Weavers," but we didn't want to re-print all those business cards.)
Accolades
"Our guides were exceptional and the hotels were fabulous! Each day exceeded the last in beautiful scenery, delicious food, wine and fun! Thank you B&R!"
— Romero Marcello, Bordeaux to Dordogne Biking
Notes from the Road
These are the 5 best luxury hotels in Burgundy, as chosen by our expert Trip Designer. The single most spectacular property in Burgundy is...
more »
Related Trips
Southwest France Biking
Cycle the rolling hills through the vineyards of Cahors, relish in the incredible lush scenery of the Lot Valley and explore the immaculate fields of the Aubrac.
Bordeaux to Dordogne Biking
6 Days / 5 Nights
Enthusiast
Bordeaux / Trémolat
Price from: $4,995 USD
Subscribe
Slow down to see the world