SICILY CUSTOM LUXURY TRIPS
Let the land seduce you
A collection of various cultures' most famous cuisine, Sicily's kitchen is a collection of all the different civilizations that have passed by, sharing their delicious yet diverse recipes. Beyond the food (and the limitless pasta noodle shapes) lays the islands of the Sicilian coast, where the last of ancient Mediterranean traditions are practiced: farming and fishing.
Family Vacation
Price per person per night from US$1000 to $2,000
Walking Adventure
Price per person per night from US$1,000 to $2,000
Biking Journey
Price per person per night from US$1,500 to $2,500
What is bespoke with B&R?
Your dreams—realized. Your expectations—exceeded. And your mind? Totally and utterly blown.
We craft extraordinary experiences, tailor made to meet your every need, with every stitch of every day crafted just the way you want it.
Tell us your dreams and The World's Best trip designers will craft a journey exclusively for you.
Fill out the form to have one of our expert trip designers get in touch—and start planning your perfect adventure
TRIP IDEAS
Family Vacation
Everything that makes Italy loveable is magnified on Sicily, and on this journey, we explore the best of this unforgettable region: myriad dialects, dozens of different pasta shapes, sparkling salt pans beside blue lagoons, Greek temples, mouth-watering food and wonderful wines.
Descend into the hidden gem of Modica for up-close exposure to the area's famous Spanish baroque architecture.
Embark on a family catamaran trip from Marina di Ragusa.
Explore Ragusa Ibla's superb old quarter, boasting a rare mix of medieval streets and baroque architecture.
Inspired? Craft a similar Bespoke trip starting from US$1,000-$2,000 per person per night.
Walking Adventure
Discover the artistic, architectural and culinary mementos of the welcoming Sicilians as we travel deep into the lesser-known corners of the largest Mediterranean island to appreciate its true possibilities on foot. Walk through coastal towns and savour Sicily's unique charms in its Greek ruins.
Visit the famous Greek settlements of Siracusa.
Travel back in time to one of Sicily's oldest archeological sites: Pantalica and its Anapo River valley.
Taste Modica's distinctive chocolate (one of Europe's earliest recipes) at Dolceria Bonajuto.
Inspired? Craft a similar Bespoke trip starting from US$1,000-$2,000 per person per night.
Biking Journey
Cruise the less travelled routes of Sicily's west coast, rolling over vine covered hills and descending into cozy seaside villages. Between explorations of Greek temples and a private wine tasting, we reward our appetites with an incredible array of classic Sicilian cuisine.
Go snorkelling and swimming among the panoramic views of Siracusa Bay.
Cruise beautiful vineyards leading to a charming seaside village.
Visit a family wine estate for a memorable tasting.
Navigate the beautiful streets of Noto.
Inspired? Craft a similar Bespoke trip starting from US$1,500-$2,500 per person per night.
Luxurious Adventure
Featuring 2 helicopter rides, a private yacht in the Aeolian Islands, bike rides through the Val di Noto, kayaking along the southern coast, hiking on Stromboli and river trekking in the gorge, the question is: what DON'T you experience on this Sicilian escapade?
Witness gorgeous aerial views of the Aeolian Islands on a private helicopter ride above Mount Etna
Visit Stromboli and watch sprays of colour shoot out from a volcano that has been in almost continuous eruption for 2,000 years.
Hop on board B&R's private catamaran and explore the islands Vulanco, Lipari and Salina. Stop on the way for some snorkelling in Sicily's most precious coves.
Helicopter from Panarea to Linguaglossa, hop on your bikes and ride to the Alcantara Gorge, then slip into wetsuits and river trek through the gorge.
Inspired? Craft a similar Bespoke trip starting from US$2,000 per person per night.
FEATURE HOTELS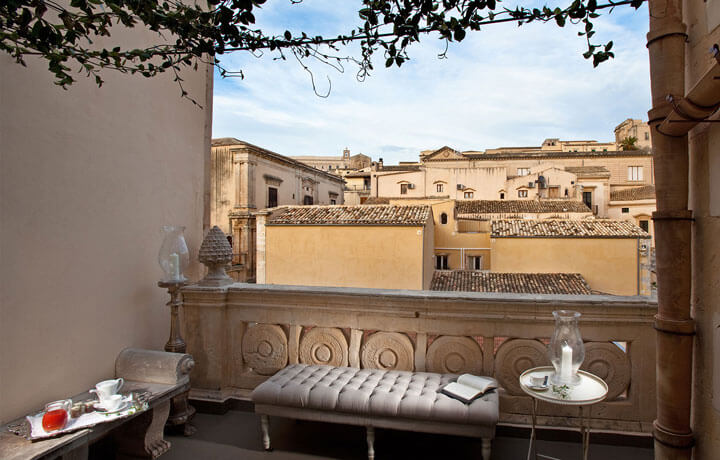 Seven Rooms Villadorata, Noto
In the heart of historic Noto, Seven Rooms Villadorata is an exclusive Sicilian guesthouse, occupying part of a 17thC palazzo. Decorated with precious textiles and exquisite items of furniture by Italian and French designers Villadorata's bedrooms offer a charming combination of old world luxury and contemporary comfort. View hotel website »
Palazzo Failla, Mòdica
This property offers guests an unforgettable time in a place where the old traditions combine with modern comforts. With just 10 rooms and the characteristics of a noble Sicilian building, its intimate scale and exquisitely attuned staff make guests feel pampered and at ease. View hotel website »
Algila Ortigia Charme Hotel, Siracusa
Located in the center of the UNESCO protected town of Siracusa, Algilà Ortigia has charming written all over it. From the antique furniture, the canopied beds, the local handicrafts and the precious fabrics, this former palace is the place to stay in Siracusa. The refined historic building that houses the hotel is the result of a fusion of two buildings with recent restoration. View hotel website »
TRIP DESIGNERS
Our talented team of Trip Designers are the best in the world at what they do—and what they do is turn fantasies into reality. (We thought about changing their title to "Dream Weavers," but we didn't want to re-print all those business cards.)
Accolades
"We love the experience of biking around Europe and seeing the world from that perspective. We have always had great experiences, met wonderful new friends and thoroughly enjoy the travel with you. Keep up the great work!"
— Cynthia White
Notes from the Road
While the flavours of Sicily are unmistakably Italian, over the centuries they've acquired Greek, Spanish, French, and Arabic influences, resulting in a cuisine that's (almost) as diverse as it is delectable.
more »
Related Trips
Puglia Biking
6 Days / 5 Nights
Recreational
Brindisi / Bari
Price from: $4,995 USD
Sicily Biking
7 Days / 6 Nights
Enthusiast
Catania / Catania
Price from: $6,495 USD
Subscribe
Slow down to see the world