PUGLIA CUSTOM LUXURY TRIPS
A truly authentic Italian experience
Located in the heel of Italy's boot, Puglia is not one of Italy's traditional tourist destinations—yet. But it's well on its way. One visit to this truly authentic slice of Italia (and its 800-km long coastline) and you'll find yourself falling for its charms in no time.
Family Biking
Price per person per night from US$500 to $1,000
Puglia Homebase
Price per person per night from US$1,000 to $2,000
Biking the Coast
Price per person per night from US$2,000 to $3,000
What is bespoke with B&R?
Your dreams—realized. Your expectations—exceeded. And your mind? Totally and utterly blown.
We craft extraordinary experiences, tailor made to meet your every need, with every stitch of every day crafted just the way you want it.
Tell us your dreams and The World's Best trip designers will craft a journey exclusively for you.
Fill out the form to have one of our expert trip designers get in touch—and start planning your perfect adventure
TRIP IDEAS
Family Biking
Where else will your family get the chance to cliff jump, excavate ancient Roman ruins and explore the largest cave in Europe? Combine this with fantastic food, incredible wine and a bottomless supply of memorable moments.
Take in the sights of Alberobello and its mysterious buildings and architecture.
Discover the underground world of stalactites at Grotte Castellana.
Take a refreshing dip in the sea, experiencing the unique thermal springs dotting the coastline.
Inspired? Craft a similar Bespoke trip starting from US$500-$1,000 per person per night.
Puglia Homebase
Unpack once and truly get to know a magical corner of this still undiscovered region. Base yourself from one property and bike, swim, boat, braid mozzarella, throw pizza…all key activities to dive into the culture and your sunny surroundings.
Roll up  your sleeves for a memorable lesson in the fine art of the pizza toss.
Enjoy freshly caught sea urchins over lunch along the water's edge in Savelletri.
Cycle through olive groves and on down to the beach club for a refreshing dip.
Inspired? Craft a similar Bespoke trip starting from US$1,000-$2,000 per person per night.
Biking the Coast
Endless olive groves, whitewashed villages, friendly locals and mouthwatering food, sampled against the stunning aquamarine Adriatic Sea, all play a part in this delightful trip through idyllic Puglia and its enchanting, historic towns.
Enjoy a privately catered meal in a 12thC castle, serenaded by traditional music.
Meander the winding alleys of Ostuni with a local historian and lunch at her remarkable home.
Sip apertivi on the rooftop terrace of the region's finest hotel and dine under the stars.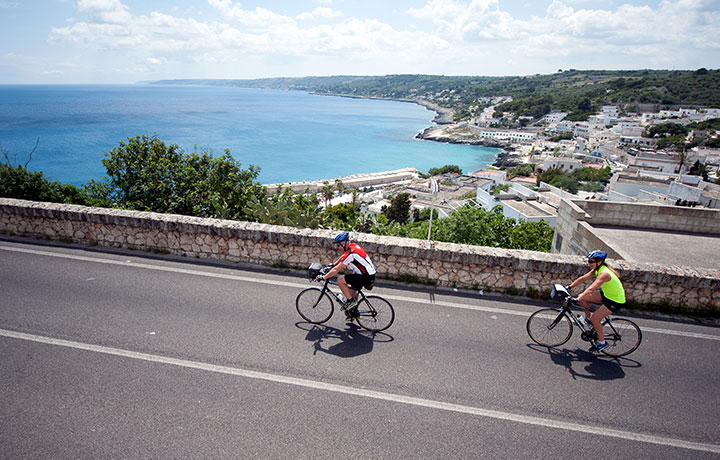 Inspired? Craft a similar Bespoke trip starting from US$2,000-$3,000 per person per night.
FEATURE HOTELS
Masseria Torre Coccaro, Savelletri
This beautifully renovated masseria (fortified farmhouse) is an oasis among the olive groves, with its spacious rooms, tranquil pool and panoramic bar. Aside from the splendid common areas of the main masseria, an Aveda spa is available for those seeking extra pampering, while the hotel's private beach club is only a short shuttle away. View hotel website »
Furni Russi Tenuta, Otranto
This newly opened estate is situated in the heart of the Grecìa Salentina and just a few km away from Otranto, the famous "Porta d'Oriente" (Eastern Gate). Tranquilly set in the countryside the hotel is surrounded by a 20-hectar fig plantation with more than 4500 trees. Composed of 26 Jr Suites, it incorporates contemporary design with styles from around the Mediterranean. View hotel website »
Masseria Trapana, Lecce
Situated ten minutes from Lecce and ten minutes from the Adriatic coast, Masseria Trapanà is an ideal location from which to visit all the wonderful places of interest such as, Alberobello, Martina Franca, Ostuni, Gallipoli, Otranto, Porto Cesareo and Santa Maria di Leuca. View hotel website »
TRIP DESIGNERS
Our talented team of Trip Designers are the best in the world at what they do—and what they do is turn fantasies into reality. (We thought about changing their title to "Dream Weavers," but we didn't want to re-print all those business cards.)
Accolades
"B&R does it right in every way, from the hotels, routes, tours, variety and especially the guides! They even manage to find the hidden treasures and people unavailable to the typical tourist."
— Kristin Turner, Puglia Biking
Notes from the Road
Related Trips
Puglia Biking
6 Days / 5 Nights
Recreational
Brindisi / Bari
Price from: $4,495 USD
Rome & Puglia Family Adventure
10 Days / 9 Nights
Recreational
Rome / Brindisi
Price from: $8,995 USD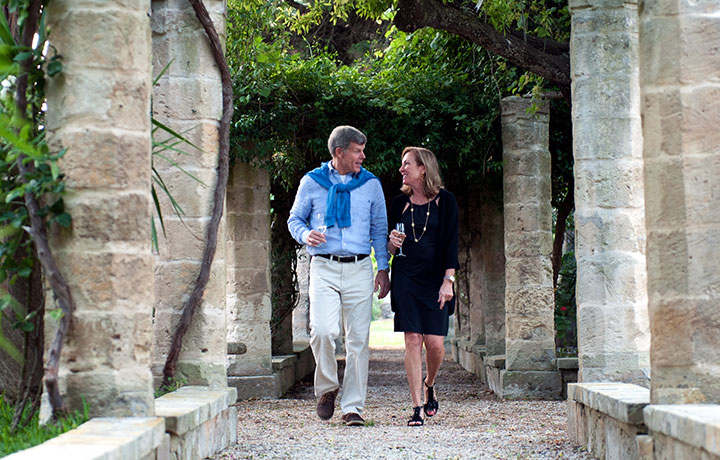 Puglia & Basilicata Walking
7 Days / 6 Nights
Recreational
Otranto / Bari
Price from: $7,995 USD