PATAGONIA LUXURY CUSTOM TRAVEL
The End of the Earth
The end of the Earth is really just the beginning. Patagonia, a rocky chunk of southern Argentina shaped by glaciers and conquered by a precious, hardy few, is where adventure goes to get away from it all.
Patagonia Classic
Price per person per night from US$1,000 to $2,000
Patagonia Family
Price per person per night from US$1,000 to $2,000
What is bespoke with B&R?
Your dreams—realized. Your expectations—exceeded. And your mind? Totally and utterly blown.
We craft extraordinary experiences, tailor made to meet your every need, with every stitch of every day crafted just the way you want it.
Tell us your dreams and The World's Best trip designers will craft a journey exclusively for you.
Fill out the form to have one of our expert trip designers get in touch—and start planning your perfect adventure
TRIP IDEAS
Patagonia Classic
Boots laced, walk wind-swept steppes to Lago Argentino as condors patrol the skies above. Crampons firmly affixed, ascend Perito Moreno Glacier to gaze 61 metres (200 feet) down at crystal-clear lakes. From the saddle, cross glacial streams to a picnic lunch and mind-blowing mountain vistas far outside cellphone range. "Remote access" has a new definition and the options are limitless.
Arrive by private boat for a visit to the Bosque de Arraynes, a forest known for its rare and unusual trees with cinnamon-coloured bark.
Indulge in gourmet meals and spa treatment at a spectacular lakeside resort surrounded by rain forests and high peaks covered with eternal snow.
Strap on crampons and climb Perito Moreno Glacier, towering 200ft. above crystal-blue waters.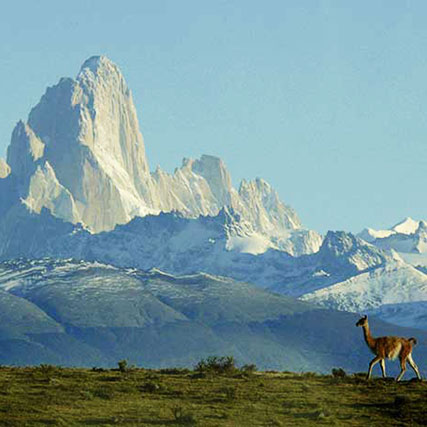 Inspired? Craft a similar Bespoke trip starting from US$1,000-$2,000 per person per night.
Patagonia Family
Patagonia may be vast and nearly deserted, but it's bursting with things for the family to do. Coast past icebergs and the glaciers one day, grab a sweater (and ice-cleats) and walk across one the next. Ride with cowboys all day and snack on barbecued asado at night. Kayak and rappel in Nahuel Huapi National Park. For a place famed for its emptiness, the days sure seem full.
Hike or ride horses across a glacial stream to a picnic lunch in the shadow of the mountains.
Sleep over at an Estancia, a cattle ranch-turned-luxury-resort deep in the mountains.
Hike Lake Sofia and keep your eyes peeled for traces of the ancient Saber-toothed tiger!
Dine on a traditional asado lunch, prepared by genuine gauchos at our working estancia.
Inspired? Craft a similar Bespoke trip starting from US$1,000-$2,000 per person per night.
FEATURE HOTELS
Eolo, La Anita Valley
This comfortable country lodge pays tribute to ancient Patagonian estancias and provides guests with the modern comforts of 17 spacious suites, each offering amazing views. Strategically located in La Anita valley, Eolo stretches over a 3,000 hectare property, creating a unique retreat embodying the spirit of Patagonia. View hotel website »
Estancia Cristina, Santa Cruz
Located on the northwest shore of the Argentine Lake, Estancia Cristina provides exclusive access to the most stunning sights of the Upsala Glacier. It offers 20 elegant rooms distributed throughout 5 cabins, exquisite Patagonian gastronomy, a museum and a variety of activities to enjoy of this wonderful region. View hotel website »
TRIP DESIGNERS
Our talented team of Trip Designers are the best in the world at what they do—and what they do is turn fantasies into reality. (We thought about changing their title to "Dream Weavers," but we didn't want to re-print all those business cards.)
Accolades
"B&R travel is seamless. The pre-trip informational packet was amazing, the guides were awesome, the food was delicious and the wine was flowing. We loved our experience and would definitely return."
— Julianne Major
Notes from the Road
From the peaks of some of the world's most impressive (and hardest to climb) mountains to the depths of the breathtaking lakes and rivers below, here are just a few of our favourite things to do in Patagonia that prove the end of the earth is just the beginning.
more »
Related Trips
Patagonia Expedition
9 Days / 8 Nights
Enthusiast
El Calafate / Punta Arenas
Price from: $10,495 USD
Argentinian Glacier Walking
9 Days / 8 Nights
Enthusiast
El Calafate / El Calafate
Price from: $9,995 USD
Argentina Biking
7 Days / 6 Nights
Enthusiast
Salta / Salta
Price from: $6,795 USD
Subscribe
Slow down to see the world