MADAGASCAR LUXURY TRAVEL
Barefoot Paradise in the Indian Ocean
Most conversations about Madagascar will centre around talk of the famous lemur—the country's signature animal—but truth be told those perplexing eyes are only a portend of what's to come; in fact, there are many more weird and wonderful animals to discover. With a smattering of gorgeous peripheral islands bleeding out from the main one, Madagascar is a true island country with an unprecedented wealth of biodiversity. Skip from island to island exploring the riches of the flora and fauna while falling deeply in love with the wild variety of landscapes: within the span of 300 km you can move from lush rainforest to desert! Equally impressive are the never-far views of the ocean—at once wild, idyllic and hauntingly azure. 
Eco-luxury Island Retreat
Price per person per night from US$1,500-$3,000
Remote Active Adventure
Price per person per night from US$1,500-$3,000
Wildlife & Conservation Journey
Price per person per night from US$1,500-$3,000
What is bespoke with B&R?
Your dreams—realized. Your expectations—exceeded. And your mind? Totally and utterly blown.
We craft extraordinary experiences, tailor made to meet your every need, with every stitch of every day crafted just the way you want it.
Tell us your dreams and The World's Best trip designers will craft a journey exclusively for you.
Fill out the form to have one of our expert trip designers get in touch—and start planning your perfect adventure
TRIP IDEAS
Eco-luxury Island Retreat
Drop into Nosy Ankao Island where you'll get properly acquainted with the term 'barefoot-paradise.' Bordered by 15,000 hectares of marine protected territory, the island boasts a wealth of biodiversity. Via the helm of marine safari you'll be introduced to whales, dolphins, turtles, and an array of reef life. Trek for lemurs on the mainland, snorkel coral reefs, scuba-dive azure seas, windsurf or just soak up the sublime views. Later, delve into the island's heritage through the curated museum collection at the Cabinet des Curiosities.
Observe turtles nesting on the beach, or if you're lucky – catch a hatchling's long walk to the sea
Helicopter excursion to Amber National Park
Experience barefoot island life & marine safari outings with a naturalist
Location location location – remote, pristine island in this small archipelago of Madagascar
Inspired? Craft a similar Bespoke trip starting from US$1,500-$3,000 per person per night.
Remote Active Adventure
Fly southeast to Mandrare River Camp to explore remaining remnants of spiny and deciduous gallery forests—home to Verreaux's sifakas and ring-tailed lemurs and the nocturnal sportive and grey mouse lemur. Meet the local Atandroy, 'people of the thorns' who are part of this arid landscape. Fly and drive eastward to the coastal ecolodge of Manafiafy. Canoe the mangroves, beachcomb long stretches of remote coast, go for night walks in the protected rainforest and visit local markets.
Night walks through the spiny forest – a strolling meditation in search of nocturnal life
Watch lemur antics – graceful, sleek and mesmerizing
Plunge into the ocean – 10 steps away from your beach bungalow
Nature walks in the rainforest – by night find sleeping chameleons and shy mouse lemurs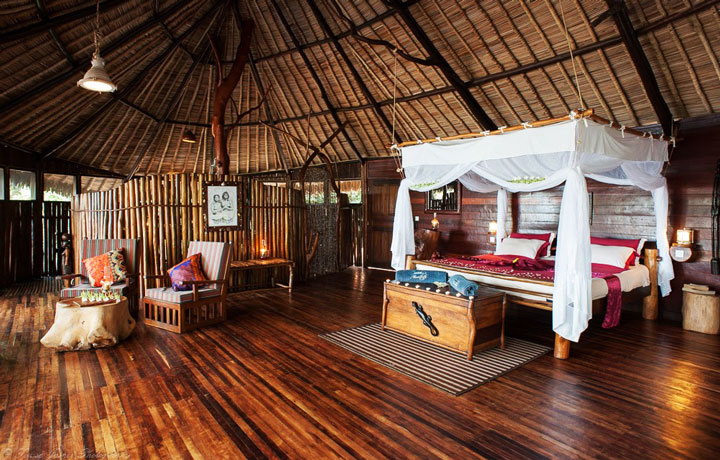 Inspired? Craft a similar Bespoke trip starting from US$1,500-$3,000 per person per night.
Wildlife & Conservation Journey
East of Tana is Madagascar's most accessible and most popular National Park—Andasibe-Mantadia. Hike the montane forests with a naturalist in search of lemurs, endemic birds and reptiles. Visit Mitsinjo to learn about their conservation and reforestation programs. North, towards Anjajavy, discover a diverse environment of tsingy limestone, mangroves, forests, marine baobabs and sandy beaches. Anjajavy's list of activities is extensive, you could spend a week and still have more to discover!
Trek the Mantadia rainforest – hear the eerie early-morning call of the Indri Indri lemur
Kayak through mangroves
Explore a global eco-hotspot with passionate conservationists and the company of giant Aldabra tortoises – one of the longest-lived animals on planet earth!
Inspired? Craft a similar Bespoke trip starting from US$1,500-$3,000 per person per night.
FEATURE HOTELS
TRIP DESIGNERS
Our Trip Designers are a special breed. Part guru, part collaborator, part mind-reader, they have the full breadth of B&R resources at their fingertips. Our talented team is the best in the world at what they do—and what they do is turn fantasies into reality. (We thought about changing their title to "Dream Weavers," but we didn't want to re-print all those business cards.)
Accolades
"Visiting Africa the B&R way is the ONLY way to experience this beautiful, magnificent continent! Each day was filled with such memorable moments. Our guides were amazing!"
—Brian Armitage
Related Trips
Southern Tanzania Walking Safari
8 Days / 7 Nights
Recreational
Dar es Salaam / Dar es Salaam
Price from: $9,495 USD
Zimbabwe Family Safari
8 Days / 7 Nights
Occasional
Victoria Falls / Victoria Falls
Price from: $7,995 USD
Zimbabwe Active Expedition
9 Days / 8 Nights
Occasional
Bulawayo / Victoria Falls
Price from: $6,995 USD
Subscribe
Slow down to see the world