ITALY LUXURY CUSTOM TRAVEL
Mountain Peaks and Alpine Meadows
Glorious mountaintops wreathed in mists; fairytale villages with overflowing flower boxes; the bulbous domes of Baroque churches; log farmhouses dotting the valley floors—these are the images you'll encounter on the lightly travelled pathways of Italy's Dolomites, the mountains that divide the Venetian plain from Austria to the north.
Family Vacation
Price per person per night from US$750 to $1,000
Dolomites Biking
Price per person per night from US$900 to $1,200
Hiking Scenic Italy
Price per person per night from US$1,300 to $1,600
What is bespoke with B&R?
Your dreams—realized. Your expectations—exceeded. And your mind? Totally and utterly blown.
We craft extraordinary experiences, tailor made to meet your every need, with every stitch of every day crafted just the way you want it.
Tell us your dreams and The World's Best trip designers will craft a journey exclusively for you.
Fill out the form to have one of our expert trip designers get in touch—and start planning your perfect adventure
TRIP IDEAS
Family Vacation
We take the best of this fairy-tale setting—incredible scenery, rustic mountain huts and delectable cuisine—and weave them together with great activities. From hiking and rock climbing to learning about mountains, culture and history, there are plenty of options for kids and adults alike. And you'll find family activities that you can share together, as well as opportunities where kids can be kids and adults can find their own inner child.
Learn rock-climbing basics on the majestic Dolomites cliffs – recently designated as a UNESCO World Heritage Site.
Experience a via ferrata equipped with headlamps and led by an expert mountain guide.
Discover the role this incredible region played in the First World War.
Inspired? Craft a similar Bespoke guided trip starting from US$500-$1,000 per person per night.
Dolomites Biking
If you crave altitude, want to conquer the challenge of steep cycling ascents and enjoy breathtaking scenery racing by as you accelerate down off the mountain, then you're in luck. The Dolomites offer a high density of mountain passes within a relatively small area, affording steep ascents and descents on rural roads without traffic.
Cycle over seven breathtaking Dolomite mountain passes, enjoying fabulous descents into beautiful valleys.
Experience Italian, German and Ladin cultures, each with traditions that make this region unique.
Explore the must-see peaks: Tre Cime di Lavaredo, Alta Badia and Cortina d'Ampezzo.
Inspired? Craft a similar Bespoke guided trip starting from US$1,000-$2,000 per person per night.
Hiking Scenic Italy
Hike the gorgeous Alta Badia valley, gaining an intimate sense of why it is so magical and has such a remarkable history. Uncover this amazing region of Italy by getting off the beaten path, where people still speak their ancient Germanic-Romantic language and adhere strongly to Ladino culture. Experience diverse and amazing hikes, fabulous hotels and all of the spa-time one deserves after a day of invigorating walking in the mountains.
Spend an unforgettable night in the high alpine in a luxurious mountain lodge.
Journey through larch forests and meadows, passing the folk art Stations of the Cross.
Explore the open air museum of Cinque Torri that was at the head of WWI battle lines in Italy.
Inspired? Craft a similar Bespoke guided trip starting from US$2,000, $3,000 per person per night.
FEATURE HOTELS
Rifugio Averau, Dolomites
Majestically set at 2,413m this welcoming mountain hut holds the ideal atmosphere for mountain adventure combined with all the comforts of a fine hotel. Superb cuisine, warm hospitality and a truly breathtaking view are just a few of the memories that will stay with you long after your descent. View hotel website »
TRIP DESIGNERS
Our talented team of Trip Designers are the best in the world at what they do—and what they do is turn fantasies into reality. (We thought about changing their title to "Dream Weavers," but we didn't want to re-print all those business cards.)
Accolades
"This was truly the best vacation of my life. Each day's activity was varied, fun and unlike anything I had ever experienced before!"
— Gian Piero Garda, Bespoke Dolomites with the Kids
Notes from the Road
Tucked away in the most northern part of Italy lies the Dolomites, an Alpine land of stunning views and delicious food just begging to be discovered.
more »
Related Trips
Dolomites to Venice Active Journey
6 Days / 5 Nights
Enthusiast
Bolzano / Venice
Price from: $6,595 USD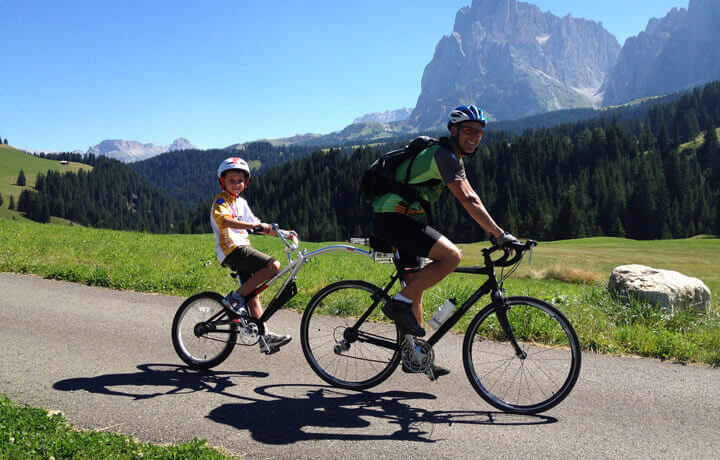 Dolomites Family Adventure
6 Days / 5 Nights
Recreational
Bolzano / Venice
Price from: $4,995 USD
Dolomites Self-Guided Hiking
6 Days / 5 Nights
Avid
Bolzano / San Cassiano
Price from: $4,295 USD
Subscribe
Slow down to see the world