Luxury Cambodia Holiday
Cambodia is waiting to be explored.
Cambodia is fast emerging from its turbulent past to embrace the world and welcome travellers with open arms. From enchanting archaeological sites, atmospheric colonial towns and tropical beaches, Cambodia has it all!  Phnom Penh is the bustling, compact capital, packed with historic architecture,  museums, local produce, standout shopping and fantastic Khmer dining. The smaller but ever growing Siem Reap is home to the gorgeous and spiritual Angkor Wat complex as well as a myriad of ruined temples reclaimed from the steaming jungle. With chic and stylish hotels and an excellent dining and retail scene, Cambodia is waiting to be explored.
Mekong River Bike
Price per person per night from US$1,250 to $1,500
Cambodia Bistro Getaway
Price per person per night from US$750 to $1,000
Laos and Cambodia Honeymoon
Price per person per night from US$1,750 to $2,000
What is bespoke with B&R?
Your dreams—realized. Your expectations—exceeded. And your mind? Totally and utterly blown.
We craft extraordinary experiences, tailor made to meet your every need, with every stitch of every day crafted just the way you want it.
Tell us your dreams and The World's Best trip designers will craft a journey exclusively for you.
Fill out the form to have one of our expert trip designers get in touch—and start planning your perfect adventure
TRIP IDEAS
Mekong River Bike
You'll start in Cambodia to visit the spectacular Angkor Wat and enjoy the wonderful local culture and people. You'll journey down the Mekong River and witness its diversity of life, teeming with classical images of Vietnam such as rice-paddies, water buffaloes, sampans, conical hats, ethnic worshiping temples and countless smiling locals.
Enjoy Ta Prohm, the so-called "Tomb Raider" temple, at sunrise with magnificent sights to behold and explore
Bike through the cultural park on the Grand Circuit, stopping at ancient temples along the way
Hop off your luxury river boat to explore small villages by bike from the and marvel at the kindness of the Mekong Delta locals
Enjoy sunsets on a private sandbar in the middle of the Mekong
Inspired? Craft a similar Bespoke trip starting from US$1,200-$1,500 per person per night.
Cambodia Bistro Getaway
The spectacular ancient Khmer temples at Angkor make up one of the most impressive and well-preserved temple complexes in the world. Many past civilizations built gigantic monuments to their religions, many of which were lost, forgotten or destroyed during wars. Not only is there is an abundance of history to learn here, the jungle scenery is straight from a picture book.
Try some fine cuisine at our favourite local restaurants
For a truly transportive experience, wander in and out of the largest religious monument ever built and bike to explore ruins that are set deep in the thick jungle.
Discover the bustling markets of Siem Reap, one of the best and most riveting ways to get a sense of daily Cambodian life
Inspired? Craft a similar Bespoke trip starting from US$750-$1,000 per person per night.
Laos and Cambodian Honeymoon
A truly luxurious holiday to combine both irresistible culture and natural beauty with some of the world's finest hotels, this is the most exclusive way to see the best of Laos and Cambodia. Choose the pace of your adventure, with down-time to appreciate Cambodia's blissfully undeveloped islands. Enjoy the best of the best in two of the most relaxing Buddhist countries in Asia.
Explore the spiritual old town of Luang Prabang with its charming streets lined with colonial houses, restaurants and delightful local markets.
Watch saffron robed monks emerging from the morning mist to collect their alms and make friends with smiley local school kids along rural bike rides
Enjoy a private helicopter ride above the ruins of Angkor Wat and nearby floating villages on Tonlé Sap Lake
Relax on the strikingly beautiful archipelago off the Cambodian coast
Inspired? Craft a similar Bespoke trip starting from US$1,750-$2,000 per person per night.
FEATURE HOTELS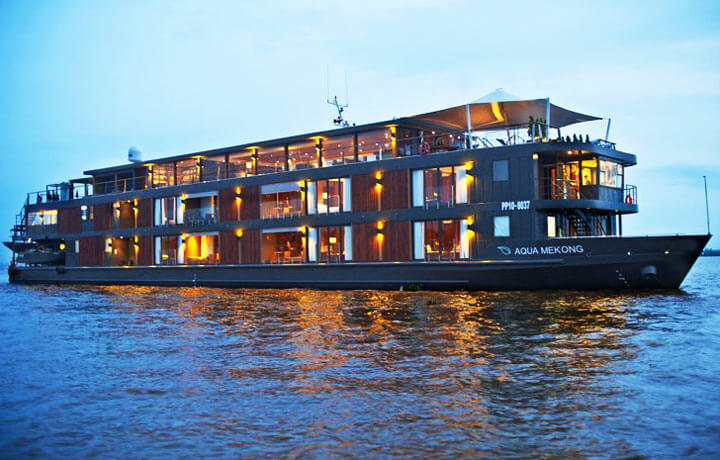 Aqua Mekong
At 62.4 metres (205 feet) the Aqua Mekong was designed by Saigon based Noor Design and embodies the aesthetic of a sophisticated five-star hotel. Local sustainable materials and artisanal touches of the Mekong's multifaceted cultures round out these generous interior spaces. Take in the spectacular views of the Mekong and life on the river from the luxury of the dip-pools on board. View hotel website »
Shinta Mani Angkor, Siem Reap
Shinta Mani is a sophisticated boutique hotel in the leafy French Quartier between the Royal Gardens and the Old Market Area. Each room is stylish and comfortable, featuring handcrafted accessories. All rooms have views over the shimmering pool or a private tropical garden. View hotel website »
TRIP DESIGNERS
Our Trip Designers are a special breed. Part guru, part collaborator, part mind-reader, they have the full breadth of B&R resources at their fingertips. Our talented team is the best in the world at what they do—and what they do is turn fantasies into reality. (We thought about changing their title to "Dream Weavers," but we didn't want to re-print all those business cards.)
"Our trip was really wonderful, fabulous sights, superb guides, very attentive, knowledgeable and fun."
— Stephen Straske, Vietnam to Cambodia Family Biking
Subscribe
Slow down to see the world