The 5 Best Luxury Hotels
in Holland
At Butterfield & Robinson, our hotels aren't prosaic—they're pure poetry.
From castles and riads to ryokans and monasteries, we source lodgings that aren't just places to crash, but one-of-a-kind spots as intimate, authentic and sublime as the rest of your journey—and packed with personal touches from our hotelier friends.
Below we've rounded up a few of the best luxury hotels in Holland, where you can do so much more than simply rest your head.
But be warned: there may be tears when it's time to say goodbye!
---
A former 19th century palace, Hotel Des Indes is located on the beautiful Lange Voorhout, near the medieval centre of the Binnenhof and the Mauritshuis.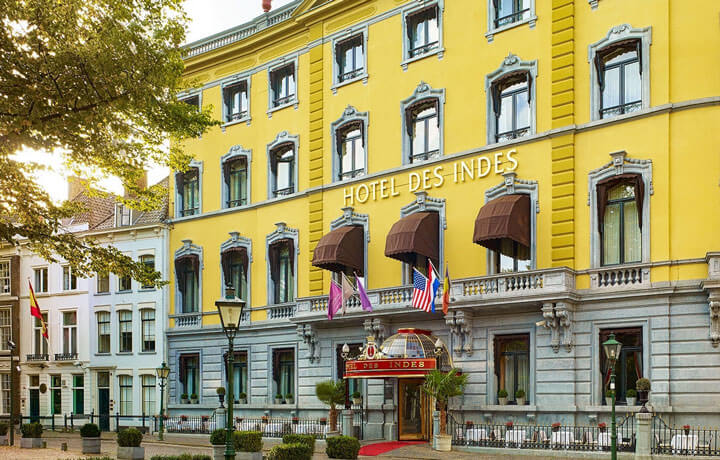 This is five star deluxe hotel is part of the history of The Hague with its yellow façade that embraces you before you enter. It offers 92 guest rooms and suites that blend contemporary amenities with iconic architecture.
---
This chic boutique hotel was born out of a clever renovation of the town's historic armoury. Visible beams meet contemporary design in each distinctive room.
The property's lively open-plan restaurant attracts many locals and the food served is locally sourced.
See For Yourself
Strolling is the perfect pace if you really want to slow down and smell those tulips. Our Holland Walking trip offers a masterpiece for every sense.
DETAILED ITINERARY
Inter Scaldes is one of the Netherland's few Relais & Châteaux, a simple and charming contemporary country retreat centred around its extraordinary cuisine.
Housing 12 stylish hotel rooms and a restaurant boasting three Michelin stars, the Manoir provides guests with the opportunity to visit Zeeland's coast and the countless surrounding picturesque towns and villages.
---
The Pincoffs Suite Hotel is a luxurious boutique hotel residing in a national monument built in 1879 in the Kop van Zuid area on the Wilhelmina pier overlooking the famous Erasmus Bridge and the Maas River.
The former customs office is full of atmosphere and unique authentic details, and offers charm, space and comfort throughout all guest rooms and suites.
---
All B&R cabins on the S.S Antoinette boast French balconies affording wide views of the riverscapes and feature high-quality beds and linens, marble bathrooms with Hermes and L'Occitane accessories.
The restaurant, often resupplied with fresh regional ingredients en route, offers an array of beautifully prepared starters and entrées, as well as a sumptuous daily buffet breakfast, all in a panoramic setting.
JOIN MORE THAN 70,000 FELLOW WANDERERS