The 11 Best Luxury Hotels
in Morocco
At Butterfield & Robinson, our hotels aren't prosaic—they're pure poetry.
From castles and riads to ryokans and monasteries, we source lodgings that aren't just places to crash, but one-of-a-kind spots as intimate, authentic and sublime as the rest of your journey—and packed with personal touches from our hotelier friends.
Below we've rounded up a few of the best luxury hotels in Morocco, where you can do so much more than simply rest your head.
But be warned: there may be tears when it's time to say goodbye!
---
Located within the palm groves of Skoura, this relaxing kasbah features serene guest rooms, a gorgeous turquoise pool and soaring views of the mighty Atlas Mountains.
Our Regional Expert for Morocco reports that the property is possibly the best he's seen in his 18 years in the country.
---
Once owned by an Italian antique collector, this unique mountain retreat is tucked away in the midst of the Imlil Valley.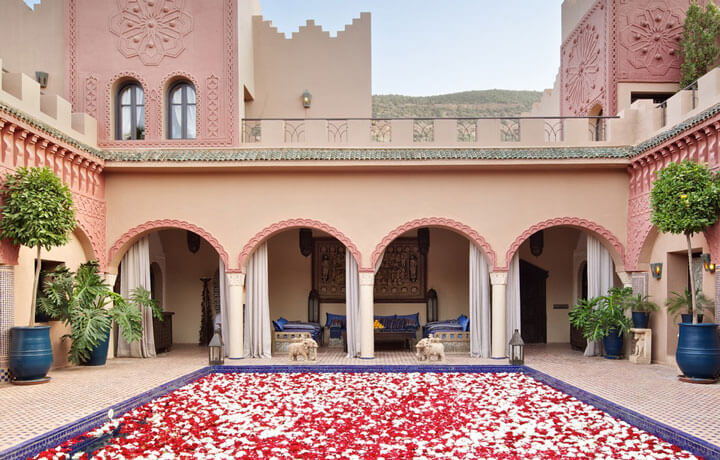 Surrounded by the High Atlas Mountains, rose gardens, almond groves and fruit trees, B&R is proud to be the only biking company accepted at this impressive property.
---
Located just 12 km away from Marrakech's ancient Medina, in the heart of a 231-hectares estate planted with olive trees.
Boasting 4 restaurants led by multiple-starred Michelin chef Philippe Jourdin, a 2,000 sqm heated pool, Clarins Spa and a private golf course with incredible views of the snow-capped Atlas Mountains.
Experience Morocco With B&R
Scheduled Group E-Biking Trip
This Morocco E-Biking trip will bring you from souk to kasbah to remote Berber village to mountain pass. One authentic experience after another. Unleash your inner nomad (on two electric-assist wheels)!
DETAILED ITINERARY
Explore Morocco with Your Tribe
On our Private Morocco Walking Journey trip, we give you its very best: vibrant Marrakech, Berber villages, stunning oases, fabulous food, a Kasbah hotel, and the High Atlas Mountains
DETAILED ITINERARY
This palace is formed by four riads with different character and charm. Craftsmen and local artists worked three years to give this property all the authenticity and luxury Morocco could offer.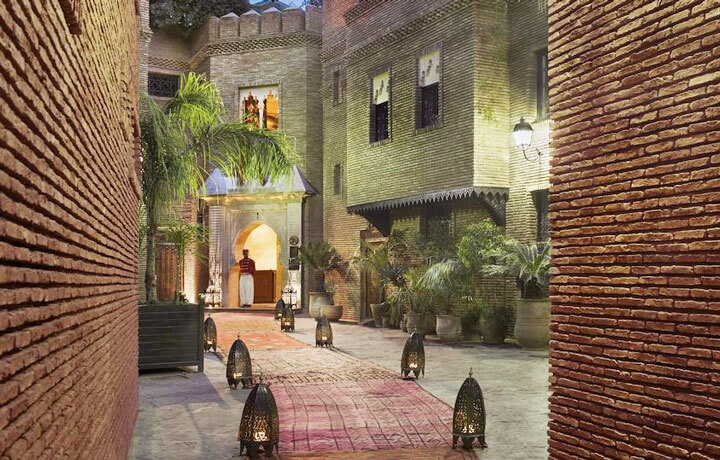 Located in the heart of the medina inside the wall near the Royal Palace in the Kasbah neighborhood, you can see and almost "visit" the Saadians Tombs from the rooftop!
---
With 360-degree panoramic views of the Ourika Valley and the snow-capped Atlas Mountains, the Bab Ourika receives warm sunlight all day, ending in spectacular sunsets.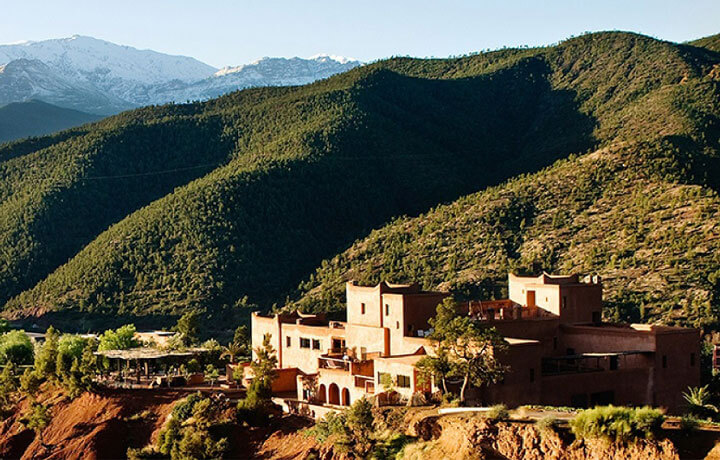 From its unique eyrie-like position, it offers a bird's-eye view of the Atlas range, traditional Berber villages and the lush river valley below.
---
Located a few meters from the beach, the Villa de l'O is a 18thC palace which been tastefully restored a few years ago.
The theme here is a mix between a very original Colonial style and a certain idea of Moroccan luxury. The rooftop terrace offers the most beautiful views on the bay and enjoying a breakfast is a pure delight!
---
Surrounded by wilderness in the sandy Agafay hills of the Marrakech Desert, this rustic-chic ecolodge offers adobe-style quarters with wood beams, mosquito nets and wood-burning stoves. 
Meals are served by candelight, outdoors overlooking the desert. Note that there is no electricity at this camp.
---
Villa des Orangers offers luxurious accommodation situated in a former palace at the heart of Marrakech.
A 5-minute walk from Jemaa el Fna Square, the property features 3 patios surrounded by orange trees, multiple swimming pools and a wellness centre on site.
---
A Night in the Desert, Iriqui Lake
Our private Berber Camp in the middle of the desert is not just magical and romantic—it's also very comfortable.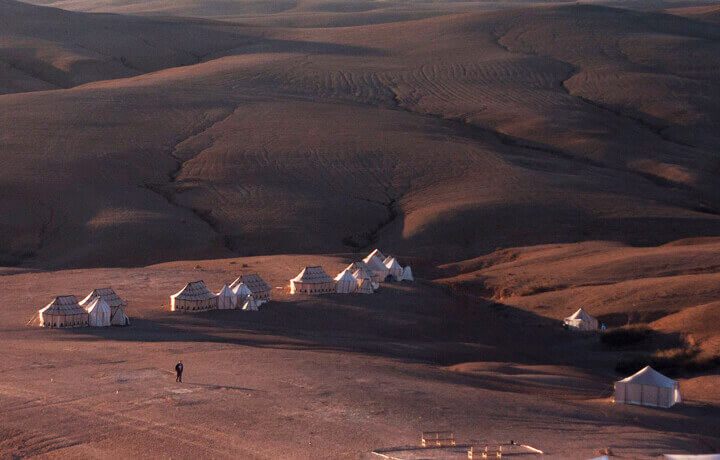 The camp features double and twin private tents furnished with rich carpets, warm blankets and very comfy beds, so you'll sleep like a Berber and a baby at the same time!
---
With only 9 suites, this boutique Riad boasts elaborate Moroccan design and unique works of art. It is renowned as a calm refuge—with all the modern conveniences—from the frenetic pace of the city around it.
Craftsmen and local artists worked for three years to give this property all the authenticity and luxury Morocco could offer. Your biggest  dilemma will be whether to wander into the souks or lounge poolside with a long cool drink.
---
Renovated by the French interior designer Jacques Garcia, La Mamounia offers everything you'd expect from the lap of luxury. The pool and spa are out of this world and the location is unsurpassed.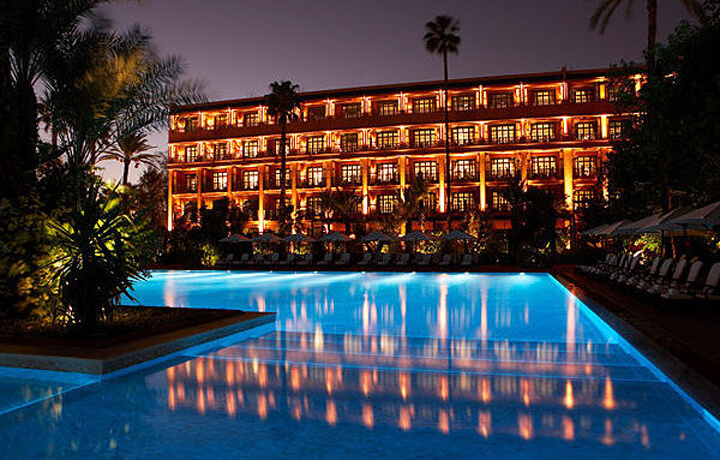 The leafy 18th-century park surrounding the property was created for a local prince, Mamoun, whose name inspired the title of the hotel.
JOIN MORE THAN 70,000 FELLOW WANDERERS