The 17 Best Luxury Hotels
in Vietnam
At Butterfield & Robinson, our hotels aren't prosaic—they're pure poetry.
From castles and riads to ryokans and monasteries, we source lodgings that aren't just places to crash, but one-of-a-kind spots as intimate, authentic and sublime as the rest of your journey—and packed with personal touches from our hotelier friends.
Below we've rounded up a few of the best luxury hotels in Vietnam, where you can do so much more than simply rest your head.
But be warned: there may be tears when it's time to say goodbye!
---
Amanoi is a tranquil retreat situated on a beautiful white-sand beach overlooking spectacular Vinh Hy Bay.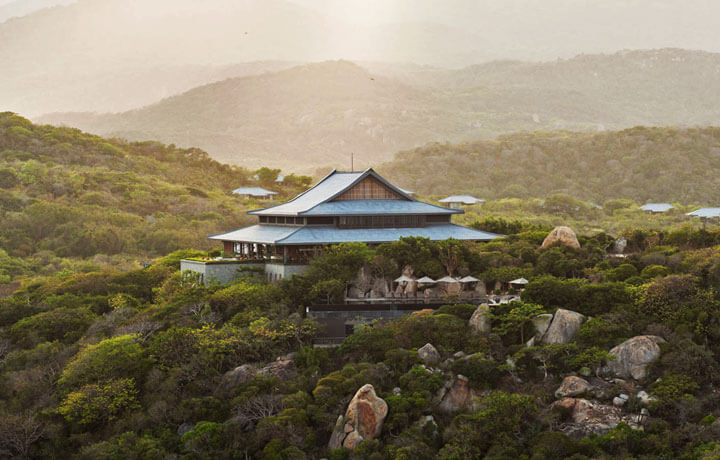 Inspired by a traditional Vietnamese communal hall, the Central Pavilion occupies the hilltop and houses the Restaurant, Bar and an expansive terrace, all making the most of the breathtaking views.
---
This remarkable boutique hotel has undoubtedly raised the standard of luxury resorts throughout the country.
Accessible only by water, the hotel's 58 private villas, each with a private plunge pool, sit on dramatic Ninh Van Bay, with its impressive rock formations overlooking the East Vietnam Sea, pristine white sand beach and towering mountains behind.
---
Located along the scenic Thu Bon River, Anantara Hoi An Resort is only a short stroll from the colourful and bustling Ancient Town, a UNESCO World Heritage Site.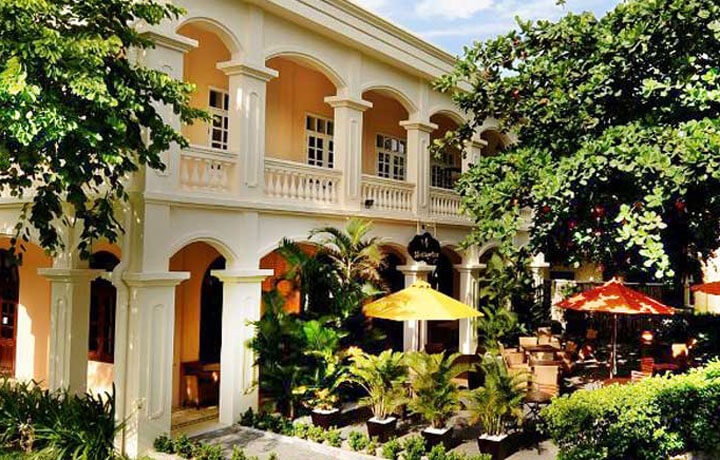 Touches of French, Dutch, Chinese and Japanese cultures make up the distinct ambiance. The luxurious spa treatments and breathtaking gardens are just the icing on the cake.
See for Yourself
Watch the sun rise in Hoi An and the sun set in the Forbidden City. In between, take a truly marvelous stroll through one of the most beautiful places in the world, and sip on its traditions. On our epic Vietnam Walking trip, we take in all the highlights.
DETAILED ITINERARY
This luxurious retreat is located in the peaceful countryside, yet still just 4 km (2 mi) from the centre of Hué.
You'll come to appreciate this after learning that the Vietnamese love to make use of the horns on their mopeds early in the morning! The rooms reflect the Vietnamese taste for simple, elegant luxury.
---
Built in 1901, this gorgeous French colonial-style accommodation is in the heart of Hanoi.
It offers colonial and modern rooms complemented by a choice of three restaurants (French cuisine, Vietnamese specialties and Italian flavours), lush gardens, a heated swimming pool, health club and the luxurious Le Spa du Metropole.
---
The elegant Park Hyatt Saigon is conveniently located at Lam Son Square in bustling Ho Chi Minh City.
The Hyatt's luxurious Xuan Spa offers a large outdoor swimming pool nestled in a beautifully landscaped tropical garden, relaxing and therapeutic massages, and a well-equipped fitness studio.
---
Accessible only by boat, this stylish hotel is built on a verdant islet on the Hau River. The rooms were made using local materials, blending in seamlessly with the tropical setting.
Facilities include an infinity pool, tennis courts, gym, and pilates studio as well as a yoga and meditation centre to keep you both entertained and zen during your stay.
---
Neighbouring Ninh Binh's Van Long Nature Reserve, the lush grounds of Emeralda offer breathtaking views of the surrounding tropical forest and mountain range.
The resort supports its local roots, designed with traditional Vietnamese materials and offering fresh local produce at all three restaurants.
---
Built upon a UNESCO site, this former Governor's mansion is a beautifully redesigned oasis of calm.
Centrally located, this boutique hotel offers tastefully designed suites in addition to a spa and pool, blending classic colonial design and contemporary Asian style. This is serenity and magic in the heart of Luang Prabang.
---
The perfect combination of old-world charm, culinary splendour and modern-day luxury.
Located in the heart of Siem Reap, this central oasis offers world-class facilities, the finest rooms, exquisite food and tranquil tropical gardens. It sits close by to the renowned 12th-century ruins of Angkor Wat.
---
A sanctuary amidst the hubbub of Phnom Penh, the Raffles name is synonymous with unabashed luxury. Blending Khmer, French colonial and Art Deco designs, this landmark hotel has since the 1920s provided flawless service and superior accommodations.
Indulge an aromatic massage, dine on traditional French and Cambodian dishes, and rediscover the true meaning of tranquility.
---
The Grand Hotel d'Angkor is the area's finest colonial landmark and provides the perfect base for our temple visits. At the end of each day's explorations, your elegant guestroom awaits you—not to mention the historic Elephant Bar, fine restaurants, a beautiful pool and spa.
The Grand is tastefully appointed with Art Deco-style furnishings and Khmer art objects.
---
At 62.4 metres (205 feet) the Aqua Mekong was designed by Saigon based Noor Design and embodies the aesthetic of a sophisticated five-star hotel.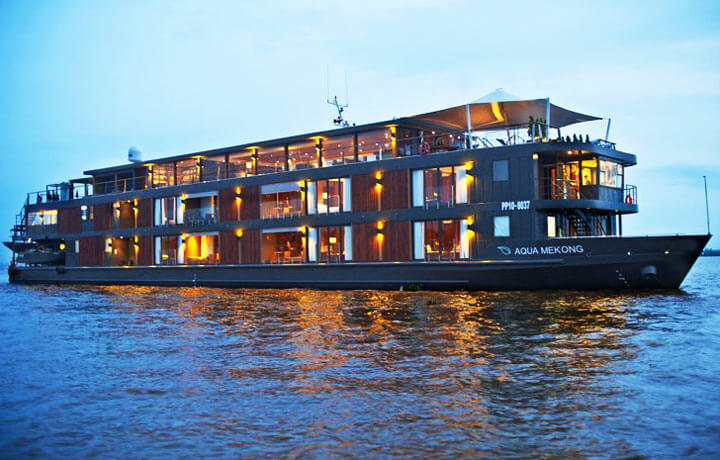 Local sustainable materials and artisanal touches of the Mekong's multifaceted cultures round out these generous interior spaces. Take in the spectacular views of the Mekong and life on the river from the luxury of the dip-pools on board.
---
Soaring high above the heart of Phnom Penh's business district, Rosewood Phnom Penh occupies the top 14 floors of Vattanac Capital Tower, the city's most iconic modern structure. 
The tasteful rooms blend traditional refinement with sophistication, and each offers unparalleled views of the city. Perhaps opt for a refreshing plunge in their sunlight-drenched pool to keep jet-lag at bay.
---
Embark with MGallery on a journey back in time to French colonial Vietnam. With feminine lines standing in striking contrast to the neighbouring office, the building is a modern work of art unto itself.
Each room showcases chic, modern Indochinese design. This magnificent hotel is complete with a rooftop pool bar, spa, fitness centre, garden and terrace.
---
Victoria Express Train
Equipped with all of the amenities required for a comfortable trip, the Victoria Express is one of the most deluxe trains on the Hanoi route, accommodating up to 40 passengers. 
Cabins are designed with individual reading lights, baggage storage, and air conditioning. The train also features its own restaurant and bar.
---
Nestled amongst the slopes of Northern Vietnam's this traditional chalet boasts stone and wood construction, blending seamlessly with the surrounding environment.
Unwind after an active day with a libation at their Ta Fin Bar, or pamper yourself with their signature Victoria Sapa Massage, which incorporates traditional Thai massage and reflexology.
JOIN MORE THAN 70,000 FELLOW WANDERERS