The 8 Best Luxury Hotels
in Costa Rica
At Butterfield & Robinson, our hotels aren't prosaic—they're pure poetry.
From castles and riads to ryokans and monasteries, we source lodgings that aren't just places to crash, but one-of-a-kind spots as intimate, authentic and sublime as the rest of your journey—and packed with personal touches from our hotelier friends.
Below we've rounded up a few of the best luxury hotels in Costa Rica, where you can do so much more than simply rest your head.
But be warned: there may be tears when it's time to say goodbye!
---
This upscale boutique hotel is walking distance from some of the top sights in San Jose. Modern, elegant rooms feature antique wooden furniture and handmade tile flooring.
There's an upscale restaurant on site with a cozy bar and lounge and (our favourite part) a gorgeous open-air terrace.
---
This unique jungle getaway is nestled alongside the Pacuare River and best accessed by river raft. The lodge epitomizes experiential travel with fan-cooled wooden bungalows and thatched palm roofs hiding beneath giant tropical trees. 
Note that there is no electricity at the lodge, allowing you to experience the quiet candlelit ambiance at night and the sounds of nature right outside your door.
---
Accessible only by boat, this lodge is nestled in the tranquil waters of Golfo Dulce. The surrounding Piedras Blancas National Park protects some of the last remaining stretches of undisturbed old-growth rainforest in Central America. 
Enjoy ocean-view lodging mere steps from the beach, and use of kayaks, stand-up paddle boards and snorkelling gear for self-exploring the nearby bay.
Costa Rica
Active Expedition
Experience the thrill of pura vida on our Costa Rica Active Expedition as you hop from jungle to cloud forest, volcanoes to lakes, Pacific to Caribbean coasts via kayak, on foot, or zipline!
DETAILED ITINERARY
Decorated with original art and custom furniture, these spacious villas are hidden away on a 40-acre coffee and fruit plantation.
Each villa features a panoramic view of coffee fields and the Central Valley, along with a private terrace and garden. Cool off in the swimming pools, or relax in the Jacuzzi.
---
El Silencio Lodge is an eco luxury hotel ideally located for every nature lover in Costa Rica's tropical cloud forest.
This upscale and comfortable Costa Rican hotel features five hundred private acres of carbon-offsetting tropical cloud forest, hidden waterfalls, a nature-immersed spa, relaxing yoga, magnificent hiking, meditation, and healthy organic cuisine.
---
Nayara is a peaceful retreat immersed in tropical rainforest gardens that line the foothills of Arenal Volcano. 
Each spacious casita benefits from a private garden with an outdoor shower, Jacuzzi and terrace, perfect for gazing out over the national park. Facilities include a full-service spa, Altamira Restaurant, Sushi Bar Nostalgia, Wine Bar, and an outdoor pool.
---
Rancho Humo's peaceful location on the Tempisque River is a little-visited corner of the beautiful Nicoya Peninsula of Northern Costa Rica. 
The ranch provides 10 quaint guestrooms, expanding from the original Hacienda infrastructure. The hotel features a refreshing swimming pool surrounded by beautiful gardens and walking trails.
---
Overlooking the Pacific Ocean and surrounded by rainforest and mangroves, the Lagarta Lodge provides the perfect base for exploring.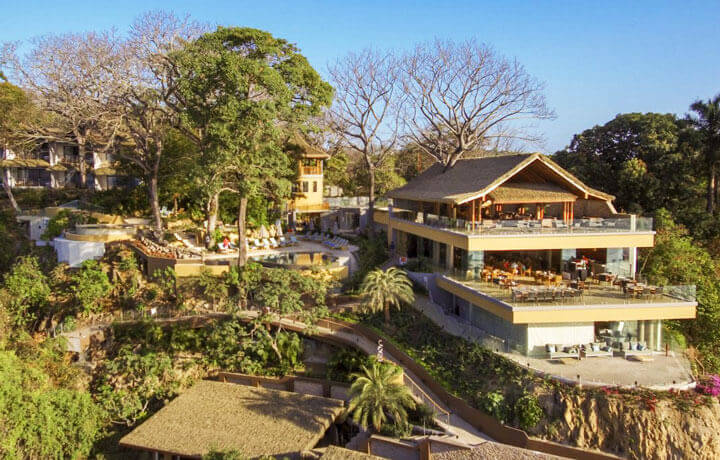 Its intimate setting is complete with infinity pools, a spa and lounges, making it the perfect place to relax after a day out.
JOIN MORE THAN 70,000 FELLOW WANDERERS