The 9 Best Luxury Hotels
in Bhutan
At Butterfield & Robinson, our hotels aren't prosaic—they're pure poetry.
From castles and riads to ryokans and monasteries, we source lodgings that aren't just places to crash, but one-of-a-kind spots as intimate, authentic and sublime as the rest of your journey—and packed with personal touches from our hotelier friends.
Below we've rounded up a few of the best luxury hotels in Bhutan, where you can do so much more than simply rest your head.
But be warned: there may be tears when it's time to say goodbye!
---
Situated north of the grand Punakha Dzong and across a suspension bridge over the Mo Chhu, the Amankora Punakha has eight suites in three rammed-earth buildings, with wood-panelled interiors, traditional wood-burning bukharistoves, and king-sized beds.
The surrounding citrus orchard has views across the nearby rice paddies and up the Punakha Valley.
---
Nestled in the beautiful Gangtey Valley, this hotel offers sweeping views of the lush Himalayan landscape. Complete with a fireplace and wall to ceiling windows, each guestroom is furnished with earthen tones and warm fabrics to echo the natural surroundings of Bhutanese heritage.
During warmer weather, hot air balloons launch from the lodge and float amongst mountain peaks.
---
The Taj Tashi offers an indescribable experience of both Bhutanese culture and breathtaking beauty. Set in the heart of the Thimphu Valley, elegant, spacious guestrooms offer panoramic views of green mountains, and hand-drawn Bhutanese murals adorn every interior.
Its location in the capital city also provides an excellent base to explore vibrant local markets, spectacular monasteries, and the traditional fiery cuisine.
Experience Bhutan With B&R
Private Bhutan Active Expedition
We're lucky enough to be among the 14,000 visitors granted permission to enter Bhutan each year—and we're happy to share our good fortune with you. On our Bhutan Active Expedition, life-altering moments and Gross National Happiness await at every turn.
DETAILED ITINERARY
Private Bhutan Cultural Expedition
The vivid richness of Bhutanese culture, from daily Buddhist rituals to centuries-old temples, is one to witness firsthand. On our Bhutan Cultural Expedition, marvel at the astonishing Tiger's Nest monastery and other wonders in the Land of the Thunder Dragon.
DETAILED ITINERARY
Uma Punakha is an intimate luxury lodge located at the far western end of the lush Punakha Valley. From its picturesque base overlooking a bend in the Mo Chu river, this hotel is ideally located for exploring this remote Himalayan Kingdom.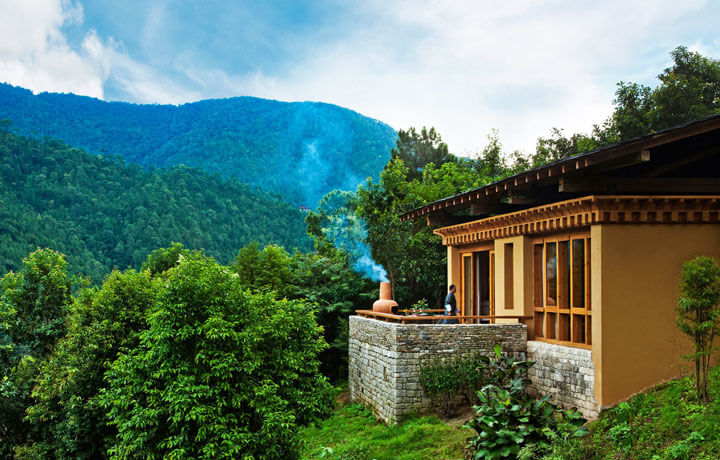 Delivering breathtaking views from its eight spacious rooms and two villas, Uma provides luxury in the wilderness, alongside its restaurant and Shambhala spa.
---
This exclusive 29-suite operation in the Paro Valley embodies those essential Bhutanese qualities that promote Gross National Happiness.
Traditional craftsmanship combines with modern amenities, superb cuisine and generous hospitality in a location that not only provides spectacular views but is also within easy access of the famed Tiger's Nest monastery.
---
Situated next to the palace and temple, the Amankora Bumthang has a location others can only dream of.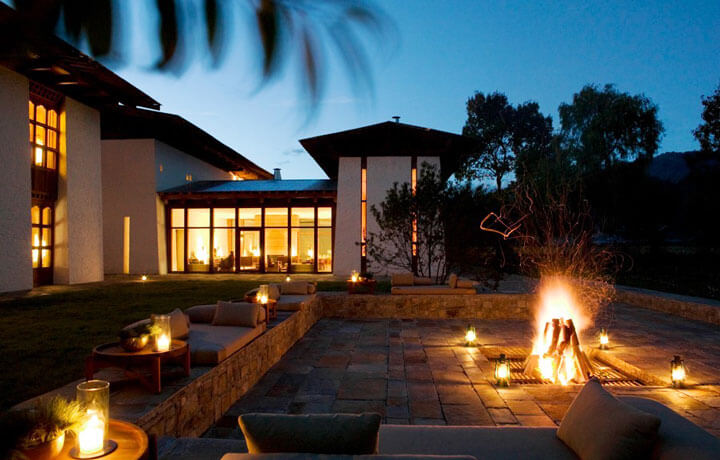 The hotel features comfortable lounges and decks, with cozy chairs and family-style dining tables, an intimate yoga and meditation room and full spa services.
---
Located in a quiet setting, encircled by pine forest just below the Tiger's Nest in the Paro Valley, this lodge serves as a gateway to the pilgrimage hike to Taktsang Monastery.
Built of natural rammed earth construction, the rooms boast bukhari stoves and wood panelled interiors. There are spa services and a steam room, perfect for relaxing after a satisfying day of trekking.
---
Aman Kora Thimphu lies just outside of Thimphu secluded by a lush pine forest. The hotel is built along traditional lines, featuring rammed earth walls, bukhari stoves in every room, and wood panelled interiors.
The combined living/dining room adjoins a large outdoor deck with views onto a nearby stream and wooded hillside. The spa includes three treatment rooms and a steam room.
---
Druk Trek Deluxe Camp
Prepare for an incredible experience camping in the Himalayas. Your mountain guides here are trained in everything from first aid to altitude sickness and guide hundreds of travellers each year through this exciting experience.
Horses are used to carry the luggage and equipment between the camps and your tents are set up by the camp crew.
JOIN MORE THAN 70,000 FELLOW WANDERERS