The 19 Best Luxury Hotels
in Tanzania
At Butterfield & Robinson, our hotels aren't prosaic—they're pure poetry.
From castles and riads to ryokans and monasteries, we source lodgings that aren't just places to crash, but one-of-a-kind spots as intimate, authentic and sublime as the rest of your journey—and packed with personal touches from our hotelier friends.
Below we've rounded up a few of the best luxury hotels in Tanzania, where you can do so much more than simply rest your head.
But be warned: there may be tears when it's time to say goodbye!
---
Gibbs is a working farm on the forested slopes of the Ngorongoro Conservation Area. It embodies warm, rustic luxury; featuring 20 ensuite cottages, complete with cozy living rooms and reading nooks.
Organic coffee is produced onsite, and a 10-acre organic garden provides 90% of the ingredients needed for their fresh, home-cooked meals.
---
The remote landscape of the Northern Serengeti inspired the design of Sayari's 15 tented suites, which are subtle nods to the iconic flat-topped volcanic Turner Hill nearby. The rich mahogany floors and delicate tones of sand, stone, and acacia reflect the hues and textures of the natural terrain.

Your suite is the ideal place to relax after a day of safari (might we add – some of the best safari viewing in the world), as is the rim-flow swimming pool that overlooks the northern plains. Unsurprisingly, Sayari is consistently awarded as one of the top safari escapes on the planet.
---
This exclusive tented camp is located in one of the most unspoilt and game-rich areas of Kenya and offers a wide range of activities including game drives, walking safaris, night drives, off-roading, and fly-camping.
The eight spacious tents have been designed to combine the traditional bush style with a fresh modern feel. High levels of personalized service, along with a team that has worked together for many years, make for a warm and inviting atmosphere.
Experience Tanzania With B&R
Scheduled Group Walking Trip
Walk on the wild side in Tanzania, as you dine in the Ngorongoro Crater, witness thousands of animals in the Serengeti, and greet a sea of flamingoes at Lake Natron. Our Tanzania Walking Safari gives you time to soak up the simple pleasures, step by step.
DETAILED ITINERARY
Private Family Safari
Not just your "standard" old safari, you'll drive and walk your way to see the Big Five and more…through different habitats, including the legendary Serengeti, the Ngorongoro Crater and the Great Rift Valley. Our Tanzania Family trip allows you more time and access to firsthand experiences.
DETAILED ITINERARY
Set in lush tropical gardens on a working coffee farm just outside Arusha, the Legendary Lodge features six beautiful garden cottages, each with an inspiring view of Mount Meru from its own private veranda.
Designed with a unique blend of African arts and crafts, and colonial-style luxury, the cottages offer king size beds, a separate lounge with fireplace and ensuite bathrooms with deep tubs and refreshing showers.
---
As the only lodge in Lake Manyara National Park, Lake Manyara Tree Lodge is romantically exclusive with intimate stilted tree house suites. Located in a remote corner of the reserve, Lake Manyara Tree Lodge is cradled within the boughs of an ancient mahogany forest.
Furnishings and decor compliment the natural beauty of this breathtaking reserve and blend perfectly with the cool leafy area that surrounds it.
---
Perched high on the wild side of the Ngorongoro Crater rim, Nomad's Entamanu Ngorongoro is a thoughtfully designed refuge in this elemental place. There is nothing tame about this location—the high altitude sun and the wind can be biting.
Not to worry though, the camp makes the most of the extraordinary view while providing shelter from the elements (fun fact: it's entirely removable!).
---
Serengeti Safari Camp is about great company and relaxed comfort. It was designed with a purpose in mind; to provide the best possible location to view the wildebeest migration as it covers hundreds of miles of the Serengeti National Park each year.
With just 6 open-plan, walk-in Meru-style tents including en-suite bathrooms, you're guaranteed an authentic experience.
---
Few places offer the freedom and variety that Selous does. The camp has 6 open-plan walk-in Meru tents, with an ensuite bathroom at the rear.
With new eco-flush toilets and safari-style bucket showers, as well as a wash-basin with cold running water, and hot water delivered by the camp crew on demand—this is the true safari experience as it was meant to be.
---
With views over Ruaha from every corner of the room, guest suites are designed to maximize the stunning landscape beyond. Be it from the bed or desk, every space is a viewpoint and open to nature.
Louvered shutters can be opened, blurring the lines between building and nature, or closed for privacy. King beds are found in all rooms. Bathrooms are fully equipped with rain showers and flushing toilets.
---
Rivertrees is a charming country estate that once functioned as a working coffee farm. The property retains the nostalgic air of a well-loved homestead; rustic cottages dot the riverbank and appear in the thickets of the tall trees, while birdsong fills the air.
Set in the heart of an area rich in nature reserves, montane forests and vibrant village culture, the scope for exploration is endless.
---
Enjoy two nights at Mwiba—a secluded, sophisticated haven set among massive stone boulders, ancient coral trees and acacias, overlooking a rocky gorge on the Arugusinyai River.
The 10 tented suites mix both traditional and modern design elements, creating a warm and welcoming home away from home.
---
Lamai Serengeti is a lovely, permanently tented camp wedged within a stunning kopje.
It serves as the perfect base from which to witness the migration and explore the Serengeti… plus there's a swimming pool for the kids!
---
Katambuga House is an elegant 'home away from home.' The main house welcomes guests with a roaring fireplace and cozy, blanket-draped sofas. Joining it are six, bright and spacious guest rooms with modern amenities. 
The surrounding coffee estates, the perfectly tended tropical gardens and an outdoor pool make it the ideal setting for rest and relaxation.
---
The Highlands strikes the perfect balance between a wilderness experience and a stylish tented retreat with all the desired creature comforts.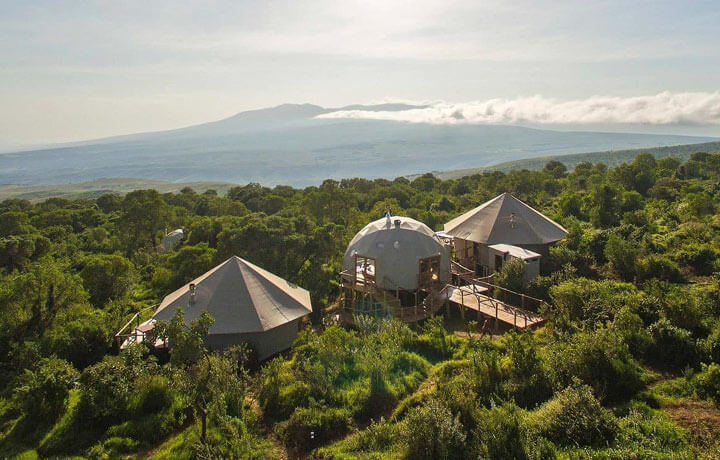 The seven luxurious tented suites offer king size beds with bay windows so you can enjoy the endless views from the comfort of your bed. Wood burning stoves will keep your domed suite warm throughout the night.
---
Mobile Camp
This lightweight mobile fly camp is set up exclusively for you; the tents are simple, however, they afford all the necessary amenities for a beautiful and comfortable one-night camping experience in the bush.
---
Each private tent in this authentic permanent safari camp is furnished with full-size beds, quality linen and blankets, bedside tables, reading lamps, tables and chairs. Each has its own running water, shower, and separate bathroom tent.
A private path leads from each tent to a natural swimming pool in the spring-fed stream.
---
Set in Grumeti Reserves, Singita Faru Faru Lodge is a true slice of paradise. The 7 one bedroom suites are built on a gently sloping hill positioned on the renowned migratory route.
Informal and unconventional, the lodge is a mix of contemporary, organic style with a twist of luxury. With such close proximity to the river and plains, guests have the unique opportunity to experience a very close connection with the wilderness.
---
The Lodge lies in a 4000 hectare privileged Wildlife Management Area between Tarangire National Park and Lake Manyara in northern Tanzania.
Eight stylish and secluded tent-style suites evoke the spirit of a vintage contemporary safari lodge.
The principle house of the Lodge offers a full service gourmet restaurant, a lounge bar complete with outdoor fireplace and a fully stocked library.
---

Comfortable safari tents all equipped with their own en suite bathrooms with flushing toilets and open air showers with running water.
Soak up the vibe of 1920s safari life surrounded by creature comforts such as a dressing table, a Hemingway style-hanging cupboard, bedside tray stands and a nostalgic lockable trunk for personal belongings.
JOIN MORE THAN 70,000 FELLOW WANDERERS