The 6 Best Luxury Hotels
in Sicily
At Butterfield & Robinson, our hotels aren't prosaic—they're pure poetry.
From castles and riads to ryokans and monasteries, we source lodgings that aren't just places to crash, but one-of-a-kind spots as intimate, authentic and sublime as the rest of your journey—and packed with personal touches from our hotelier friends.
Below we've rounded up a few of the best luxury hotels in Sicily, where you can do so much more than simply rest your head.
But be warned: there may be tears when it's time to say goodbye!
---
In the heart of historic Noto, Seven Rooms Villadorata is an exclusive Sicilian guesthouse, occupying part of a 17thC palazzo.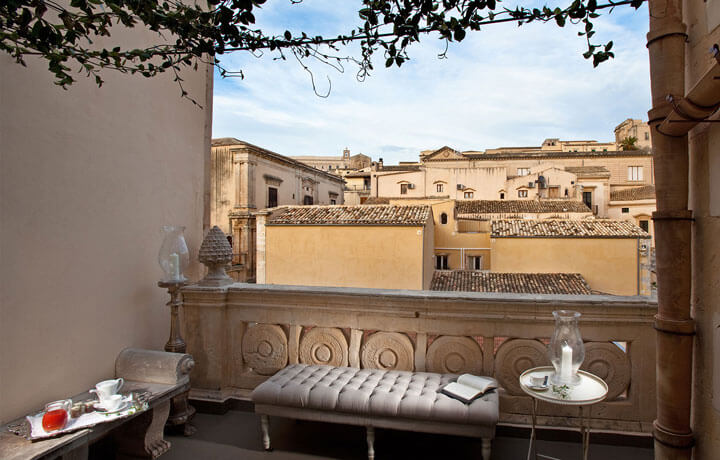 Decorated with precious textiles and exquisite items of furniture by Italian and French designers Villadorata's bedrooms offer a charming combination of old world luxury and contemporary comfort.
---
This property offers guests an unforgettable time in a place where the old traditions combine with modern comforts.
With just 10 rooms and the characteristics of a noble Sicilian building, its intimate scale and exquisitely attuned staff make guests feel pampered and at ease.
Experience Sicily With B&R
See For Yourself
Sicily has long extended a welcoming hand to visitors throughout the ages, and on this Sicily Walking trip, you'll experience the pure indulgence that has drawn people to this island for centuries. Legends loom large here—and so will you.
DETAILED ITINERARY
Savour Sicily's Flavours
On our Sicily Culinary Journey, we get to the heart of it, visiting Siracusa, Noto and Modica, and even our friend Concetto's almond orchards. Savour seafood, pasta, caponata and Sicilian wines on this kaleidoscopic food journey.
DETAILED ITINERARY
Set in the high rocky hills on the coast of Sicily, this glamorous retreat has it all: views of the ocean coastline from above, a private beachfront, a nearby ancient Greek theatre, and all the amenities of a luxury hotel.
The bright, spacious rooms are designed with Italian flair, and most showcase views of Mt. Etna in the background.
---
Located in the center of the UNESCO protected town of Siracusa, Algilà Ortigia has charming written all over it. From the antique furniture, the canopied beds, the local handicrafts and the precious fabrics, this former palace is the place to stay in Siracusa.
The refined historic building that houses the hotel is the result of a fusion of two buildings with recent restoration.
---
Nestled in a large plant nursery between the sea and the foot of Mount Etna, between Catania and Taormina, Donna Carmela is an elegant resort. Generous hospitality, creative décor and quality materials make the 18-room boutique hotel come alive.
Its imminently tasteful contemporary aesthetic with many elegant touches (fresh roses here, bold art there, beautiful breezy views throughout) make it a one-of-a-kind experience in Sicilian hospitality.
---
Villa Neri is a stunning five-star hotel tucked into the lower slopes of Etna, amid pristine natural surroundings.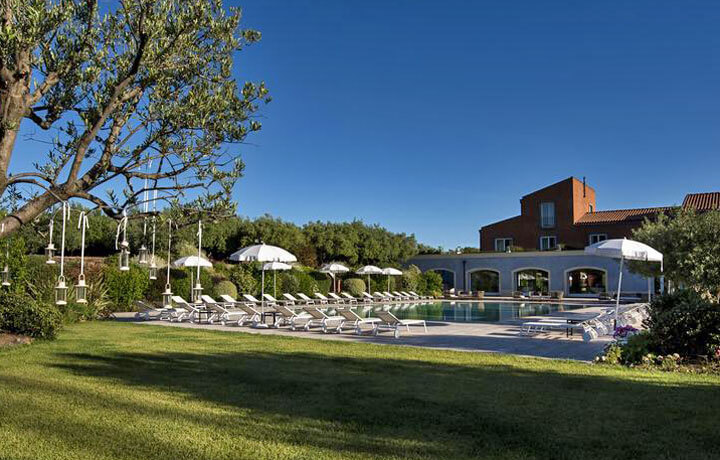 The décor is sleek and modern, while the spa offers excellent wellness options to unwind after a volcanic hike.
JOIN MORE THAN 70,000 FELLOW WANDERERS