The 12 Best Luxury Hotels
in Patagonia
At Butterfield & Robinson, our hotels aren't prosaic—they're pure poetry.
From castles and riads to ryokans and monasteries, we source lodgings that aren't just places to crash, but one-of-a-kind spots as intimate, authentic and sublime as the rest of your journey—and packed with personal touches from our hotelier friends.
Below we've rounded up a few of the best luxury hotels in Patagonia, where you can do so much more than simply rest your head.
But be warned: there may be tears when it's time to say goodbye!
---
This comfortable country lodge pays tribute to ancient Patagonian estancias and provides guests with the modern comforts of 17 spacious suites, each offering amazing views.
Strategically located in La Anita valley, Eolo stretches over a 3,000 hectare property, creating a unique retreat embodying the spirit of Patagonia.
---
The Singular is a five-star hotel located in the heart of Santiago's arts district, Lastarria. Inside, it combines early 20th century and Neoclassical design with modern amenities including a spa, a rooftop bar and pool.
It's within walking distance of most of the city's key sites.
---
Inspired by the pre-Incan ruins, Awasi Atacama is built with adobe, local stone and wood in the manner of the land's ancestors. Each suite boasts a private patio and outdoor shower.
It's the perfect base for exploration of the stunning desert that surrounds, creating a space that feels like home in the midst of vast expanse.
A truly stunning and painstaking conversion turned this former meat processing plant into a national historic monument and an incredible hotel.
The end result is truly remarkable, a history lesson complete with excellent food, impeccable service, well appointed rooms and gorgeous public spaces.
---
The most exclusive resort in Argentine Patagonia, Llao Llao boasts breathtaking views of the surrounding lakes, forests, and Andes mountains.
A magnificent indoor/outdoor pool, 18 holes of golf, and an amazing spa are just some of the amenities on offer at this grand hideaway.
---
The prestige of this Relais & Chateaux property set amidst the breathtaking Patagonian landscape is an opportunity to encounter Argentina at its natural best.
Las Balsas is a haven for those who seek the serenity of wide open spaces, whether finding refuge in the hotel's spa or pursuing a more active agenda in the surrounding countryside.
---
The charming Paraiso Patagonia is mere minutes from the town of San Martin de los Andes. A boutique hotel with only 10 rooms, it overlooks the Patagonian Andes and beautiful Lake Lakar.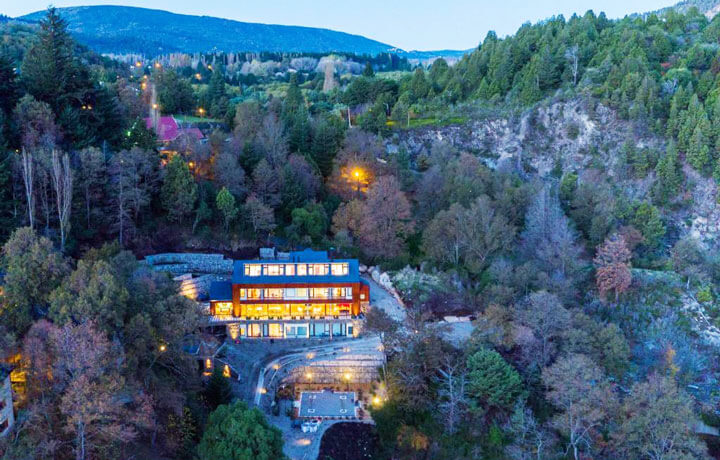 Enjoy the heated pool or the sauna and unwind in your home away from home.
---
Set in a marvelous park and surrounded by stunning volcanoes, Vira Vira sits proudly on the shores of the peaceful Liucura River. Its gourmet restaurant uses wonderfully fresh produce from the property's farm to design the daily menu.
The cozy fireplace is the perfect spot to curl up with a glass of Chilean Carmenère in the evenings.
---
A cherished escape amidst an epic landscape, this Andean lodge is a glorious hub for endless activities, from glacier hikes to beach excursions.
Active days are met by restful nights, dining on exemplary regional cuisine and getting acquainted with superb Argentinian vintages.
---
In Mapuche, 'Peu ma Hue' means 'place of dreams' and there is no better way to describe this eco lodge.
Nestled in 500 acres of wilderness on Lago Gutiérrez, the charm of Peuma Hue comes not only from its unbeatable setting, but also from the thoughtfulness and attention to detail by the owner and her caring team.
---
The complex of cabins and main lodge that make up Awasi is truly magical, featuring stunning views across to Torres del Paine and yet sheltered from the winds that whip through the plains here.
The individual cabins are tastefully decorated in local wood and are complete with a fireplace and an outdoor hot tub; the perfect retreat after a day of activities.
---
Located on the northwest shore of the Argentine Lake, Estancia Cristina provides exclusive access to the most stunning sights of the Upsala Glacier.
It offers 20 elegant rooms distributed throughout 5 cabins, exquisite Patagonian gastronomy, a museum and a variety of activities to enjoy of this wonderful region.
JOIN MORE THAN 70,000 FELLOW WANDERERS