The 7 Best Luxury Hotels
in Tuscany
At Butterfield & Robinson, our hotels aren't prosaic—they're pure poetry.
From castles and riads to ryokans and monasteries, we source lodgings that aren't just places to crash, but one-of-a-kind spots as intimate, authentic and sublime as the rest of your journey—and packed with personal touches from our hotelier friends.
Below we've rounded up a few of the best luxury hotels in Tuscany where you can do so much more than simply rest your head.
But be warned: there may be tears when it's time to say goodbye!
---
Carefully restored over the course of a decade, Hotel Le Fontanelle blends classic medieval Tuscan architecture with thoroughly modern amenities and exceptional service.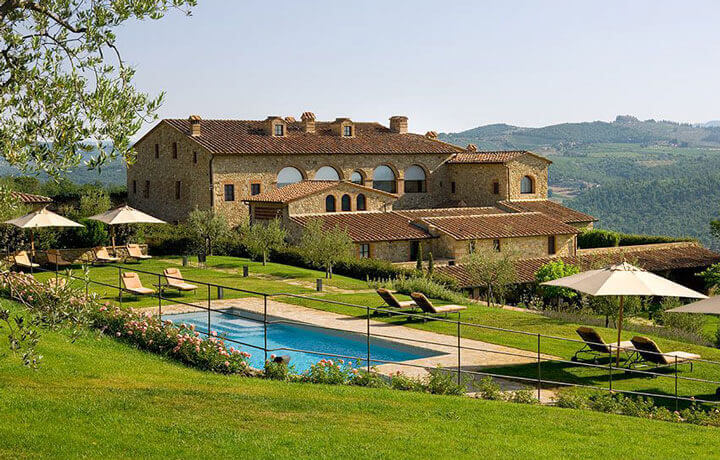 The guestrooms are comfortable and spacious, and downtime options at the hotel include a full spa and tranquil indoor and outdoor pools, all of which afford scenic and splendid views of the Chianti hills.
---
Nestled in the very heart of Assisi, this hotel seamlessly blends archaic 1stC Roman pillars with state-of-the-art amenities for a luxurious pampering experience. The dining area features cross-vaulted ceilings and décor that also echoes the ages.
Each guest room in this reconstructed Saint Catherine's convent is unique and is a masterful blend of design and history.
See For Yourself
On our Tuscany Self-Guided Biking trip, there's something eminently peaceful about riding through hilltop towns that have stood watch since the Middle Ages, passing vines tended by generations of winemakers, and savouring traditional cuisine—all at your own pace.
DETAILED ITINERARY
Sitting proudly on a hilltop in the Tuscan countryside, Podere Panico is surrounded by sweeping vistas and rolling medieval hills. Restored to perfection, each cotto floor tile, clay roof tile, and wooden beam in Paníco has been saved and brought back to life from the original structure.
The generous kitchen, original forno oven, and traditional Tuscan fireplace make this farmhouse ideal for culinary adventures, while the outdoor swimming pool is perfect for relaxing and soaking up the stunning landscapes.
---
Villa Laura is a beautifully restored 17th century estate just outside the walls of Cortona, Tuscany. (You may recognize it from the 2003 film, "Under the Tuscan Sun"!). It's a luxurious, airy countryside retreat and the perfect base from which to explore the Tuscan countryside.
After an active day out, come home for a dip in the pool, a round of bocce ball and sip wine from the wine cellar on the patio before dinner.
---
This 17th-century Baroque villa was originally built by Cardinal Flavio Chigi for Pope Alexander VII. The property boasts gorgeous interiors with a grand fireplace in the sitting room and some of the most highly regarded gardens in Tuscany.
Located within easy reach of Florence, Siena, Pisa and Rome, Villa Cetinale is the perfect place from which to sightsee, shop, eat and simply relax amid the beautiful Tuscan landscape.
---
This Tuscan 11thC estate has been through the ages renowned as "the" meeting place for scholars and politicians. Since being brought into the modern era in 2005—it is today a place of tranquil and classic Tuscan beauty.
You are sure to enjoy the elegance and comfort of the rooms, the superb traditional Tuscan cuisine, beautiful pools and incredible grounds—over 5,000 hectares of Chianti vineyards.
---
A simply stunning estate overlooking a quiet corner of Tuscany's Montalcino area, the beautifully restored village is comprised of 23 suites, two restaurants, an infi nity edge swimming pool, spa and fitness centre.
The stylish touch of Massimo Ferragamo and his wife Chiara is apparent in all aspects of the design and layout of the property, ensuring an elegant yet authentically Tuscan experience.
JOIN MORE THAN 70,000 FELLOW WANDERERS