The 30 Best Luxury Hotels
in United States
At Butterfield & Robinson, our hotels aren't prosaic—they're pure poetry.
From castles and riads to ryokans and monasteries, we source lodgings that aren't just places to crash, but one-of-a-kind spots as intimate, authentic and sublime as the rest of your journey—and packed with personal touches from our hotelier friends.
Below we've rounded up a few of the best luxury hotels in the United States, where you can do so much more than simply rest your head.
But be warned: there may be tears when it's time to say goodbye!
---
Nestled at the foot of Whistler's twin giants, this luxury hotel and resort combines rustic mountain charm with modern elegance.
Under its peaked roofs, the hotel houses luxury lodge-style guest rooms, hotel suites and townhouses with open-sky spaciousness and European refinement. Indulge in the award-winning spa or take a dip in the free-flowing outdoor pool.
---
With views of Cook Inlet and the Chugach Mountains, the Hotel Captain Cook is the place to stay in Anchorage.
It's perfectly located in the heart of downtown and provides an ideal introduction to Alaskan hospitality—it's also a member of the Historic Hotels of America.
---
Tordrillo Mountain Lodge is one of the few places in the world that truly manages to marry luxury and remoteness on a grand scale.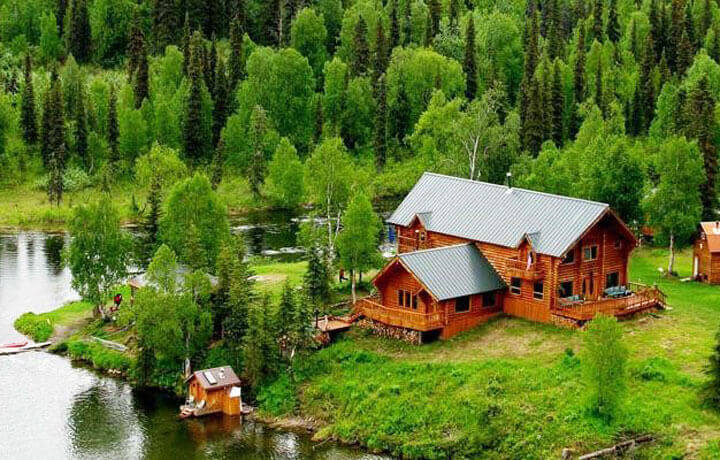 After a 40-minute flight from Anchorage, you will find yourself looking out across Judd Lake and the Alaska Range, in a place of quiet beauty. Enjoy a variety of activities offered by the lodge including canoeing, stand-up paddleboarding, yoga, and biking.
---
A gorgeous hideaway near the town of Homer, this lodge takes advantage of its prime natural real estate and offers a vast array of water and hiking based activities, along with award-winning cuisine.
Tucked away in a private cove, the family-owned property provides luxurious seclusion and spacious family suites.
See for Yourself
Northern California combines rolling landscapes of tidy vineyards with backdrops of golden hillocks, making it a great place for bikers. On our Napa & Sonoma Luxe Biking Journey, scenic bike routes wind through small towns and meandering walking trails exist only a few hours from bustling San Francisco.
DETAILED ITINERARY
Located in the heart of Fairbanks overlooking the Chena River, your spacious Marriott suite will keep you cozy during your Alaskan winter stay.
Enjoy a float in their heated indoor pool or take advantage of the on-site gym.
---
This remote lodge is the epitome of rustic luxury and the perfect setting for an authentic Alaskan experience.
Free of light pollution and framed by the Alaska Range, Chelatna Lake Lodge is one of the best Northern Lights viewing destinations in the world.
---
This 21 m (68 ft.) state of the art yacht comes fully equipped and staffed to make your stay truly memorable. Captain Al and the crew each have a vast amount of local knowledge to share. 
Onboard you will find a spacious salon, formal dining area, five-star quality galley, spotless glassed-in viewing deck, top deck with fire pit and three luxurious staterooms, each with its own private ensuite bath.
---
Nestled on the shores of Karluk Lake, in the middle of a 210,000-acre private reserve, settle into your luxury one bedroom cabin, with wind-powered amenities and well-appointed decor.
Enjoy the relaxing dining space in the Commons House as you watch the wildlife frolic on the front lawn.
---
Surrounded by the natural beauty of the Catalina Mountains, the Loews Ventana is a great choice for a family vacation. Only 16 miles from downtown Tucson, its pristine 93-acre property is a natural habitat for saguaro cacti, coyotes and great horned owls.
You'll have a chance to gaze at the starry Sonoran sky from your private patio or balcony, the perfect way to wind down from the day's adventures.
---
Blending flawlessly with the surrounding environment, the Four Seasons Resort Scottsdale at Troon North encompasses generously sized guest rooms, including luxury suites, in mostly one or two-storey adobe casitas.
Capturing the vibrant tones of the desert in bloom and the purples, pinks and oranges of a Sonoran sunset, accommodation interiors feature custom furnishings—many sourced from local artisans.
---
The Whitley Buckhead has perfected the art of quiet luxury. Ideally located in the neighbourhood of Buckhead, this property offers access to the city's finest shopping, dining and entertainment.
Here, you can experience traditions both timeless and new that leave indelible memories. This hotel has realized a luxury that is elegant, understated, and truly timeless.
---
Just 70 miles east of Atlanta in Georgia's verdant Lake Country, this lodge sits serenely on the shores of the spectacular 20,000-acre Lake Oconee. Its country-retreat sensibility is a superb balance of rustic elegance with gracious southern hospitality.
In addition to golf on the Reynolds Plantation (a top resort golf destination in North America), activity choices include world-class bass fishing, kayaking, tennis and swimming.
---
Scattered across a 500-acre playground on the rolling hills of the oak-studded Santa Lucia mountain range, Carmel Valley Ranch offers a variety of guest suites with stunning tree-lined views of the valley, sun-soaked bluffs and golf course.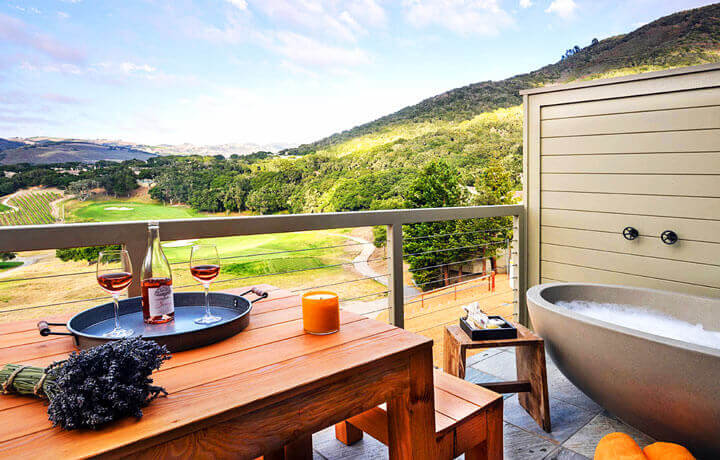 The onsite honey bee apiary is a must-see!
---
Located in the charming town of Los Olivos in the heart of Santa Ynez Valley, Fess Parker Inn & Spa provides the perfect refuge from your daily routine.
With elegance and an unsurpassed attention to detail, these luxurious accommodations allow you to relax and rejuvenate while exploring the surrounding Santa Barbara Wine Country.
---
Located a stone's throw from one of the most picturesque beaches in California, The Biltmore is known for its imposing Spanish Colonial Revival architecture and gardens.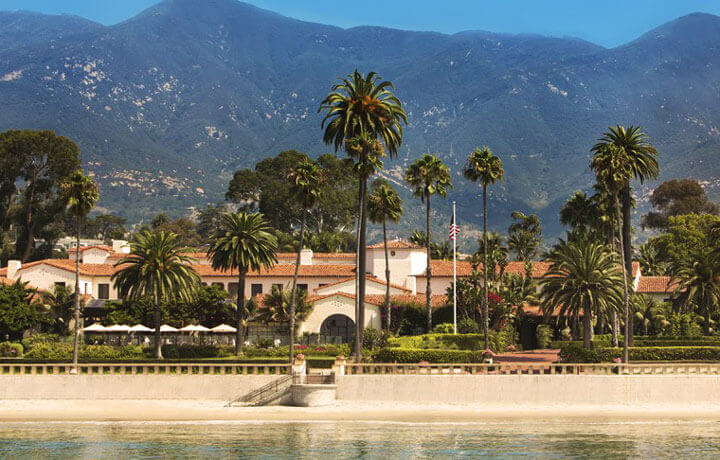 The resort epitomizes the casually sophisticated California lifestyle that you will indulge in while its friendly staff caters to your every wish.
---
Built in 1847, Volcano House is Hawaii's oldest hotel. The rooms feature rustic island décor and stunning volcano views of Halemaumau Crater at the rim of Kīlauea Caldera or the lush foliage on the park grounds.
At night, grab a window seat at hotel's The Rim restaurant and watch the "red glow" come alive over a glass of wine.
---
Nestled on a white sandy beach along the sunny Kohala Coast, Mauna Lani Bay Hotel offers luxury accommodation with a world-class spa and exciting dining options.
Rooms boast breathtaking ocean views and the grounds are a tropical paradise—take time to explore the surrounding lagoons, keeping an eye out for turtle and colourful fish.
---
Located just outside Calistoga and framed by the soft ridges of the nearby Palisade Mountains, Solage is modern, thoughtfully-appointed and private, offering an unforgettable resort experience.
Amenities include one of the best spas in North America with a Geothermal water Bathhouse, a 130-foot landmark adult pool and hot tub, a state-of-the-art fitness center, as well as a delightful gastronomic restaurant – The Solbar.
---
Located in the heart of North Sonoma Wine Country, Hotel Healdsburg emanates the simplicity and charm of the region.
Beautifully appointed guest rooms, country gardens, a pool, and the luxurious spa provide a tranquil setting to relax at day's end.
---
Tucked away on the second floor, this inn has five thoughtfully appointed guest rooms. Each space is designed to create a timeless, yet luxurious and contemporary feel.
All rooms host an assortment of well-curated amenities to make each moment of your stay unique.
---
Its renowned restaurant has made Auberge du Soleil a destination in itself in Napa. One feels as though they are at a Mediterranean hideaway nested amongst the olive groves.
All rooms offer lavish amenities and every creature comfort imaginable.
---
Turtle Bay Resort is a Hawaiian landmark, the only one of its kind on the North Shore. With the more than 800 acres of property to roam, it is an excellent base to immerse yourself fully in an authentic island experience.
Casually sophisticated island-appointed rooms with private lanais are the perfect place to enjoy the crashing surf and swaying palms that surround you.
---
The Royal Hawaiian is one of the few luxury Waikiki resorts internationally recognized as among the world's finest. Its magnificent Spanish-Moorish architecture, spectacular setting and celebrated history make for an incredible stay.
The views over Waikiki are fantastic and the on-site restaurants and bakery are superb—be sure to sample the fresh pineapple juice!
---
Nestled in the lush Montecito foothills of Southern California, San Ysidro Ranch has provided a tranquil retreat for tasteful travelers for over a century. Guests are drawn to this legendary hideaway for its blend of natural beauty, romantic heritage and classic luxury.
Myth and history mingle in the fragrant gardens where Vivien Leigh and Sir Laurence Olivier exchanged vows and in the setting of John and Jackie Kennedy's honeymoon retreat.
---
A haven in the western desert for family vacations and romantic getaways nestled beside the Virgin River and the majestic cliffs of Zion National Park in Springdale, Utah.
The Inn is more that the experience of seeking sunny days, breathtaking outdoor recreation. And starry nights framed within a deep canyon of stony copper.
---
The Stone Canyon Inn is perfectly located near Bryce Canyon National Park and offers guests a warm welcome as the owners invite guests to make themselves right at home.
---
Pure luxury in remote Torrey, Cougar Ridge Lodge is the perfect place to unwind after a day of adventures exploring.
The sheer beauty of this unique 42-acre property will mesmerize you, while owner Gary Bagley personally ensures that you fall in love with the serenity and natural splendour of his little piece of paradise.
---
Tucked into a private canyon in the Upper Napa Valley among ancient oaks, majestic hills, a rock-hewn stream, and a private lake lies Calistoga Ranch.
Designed with relaxation in mind, lodges offer guests the ultimate experience with a collection of indoor and outdoor spaces that allow you to fully experience the pristine setting amidst luxury amenities.
---
Amangiri (peaceful mountain) is located on 600 acres in Canyon Point, Southern Utah, close to the border with Arizona.
Built around a central swimming pool with spectacular views, Amangiri blends into its dramatic surrounds where deep canyons and towering plateaus create a raw landscape of immense power. Amenities include a pool and spa, and ample opportunity for activities.
---
Where else could you find a relaxing jungle retreat on the Pacific that boasts tennis courts, a spa and an infinity pool?
The outdoor dining area is covered by a thatched roof and features elegant and delectable international cuisine. Best of all, you can listen to the sounds of the rain forest as you sway in a hammock on the terrace of your luxurious and spacious room.
JOIN MORE THAN 70,000 FELLOW WANDERERS