The 8 Best Luxury Hotels
in Normandy & Brittany
At Butterfield & Robinson, our hotels aren't prosaic—they're pure poetry.
From castles and riads to ryokans and monasteries, we source lodgings that aren't just places to crash, but one-of-a-kind spots as intimate, authentic and sublime as the rest of your journey—and packed with personal touches from our hotelier friends.
Below we've rounded up a few of the best luxury hotels in Normandy & Brittany, where you can do so much more than simply rest your head.
But be warned: there may be tears when it's time to say goodbye!
---
This boutique hotel lies in the heart of Bayeux, neighbouring the town's 11thC cathedral. Stylish, air-conditioned guestrooms see a blend of classic and contemporary, featuring handmade furnishings, plush fabrics and marble bathrooms.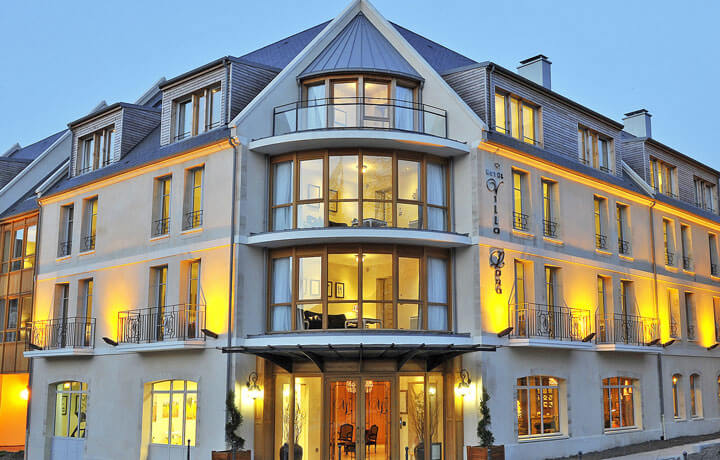 With many famous World War II sites close by, Villa Lara is the perfect base for revisiting the events of June 6, 1944. The owner, Rima Hebert, always offers her guests a personalized welcome.
---
Originally a 19thC castle, this stunning five-star boutique hotel with a chic contemporary aesthetic offers incomparable sea views, two restaurants and a warm welcome.
---
This elegant 18th century chateau, nestled in the Norman countryside and surrounded by 12 hectares of landscaped grounds, is an ideal hideaway to experience calm relaxation and invigorating moments.
It combines luxurious rooms with the quaint warmth of an English country house and outstanding French cuisine served in the chic hotel dining room overlooking the lush park.
Experience Normandy With B&R
Scheduled Group Biking Trip
On Normandy & Brittany Biking, the locals speak of their love for the land as they speak of their attraction to the sea—a feeling you will share as we bike the Channel coast, pass historic beaches and visit the magical Mont Saint-Michel in Brittany.
DETAILED ITINERARY
Private Group Biking Trip
Choose your own crew to travel with on a private Normandy Biking trip, where you'll experience the seaside beauty of Honfleur, elegant Deauville and the Parisian Riviera, stopping by historic monuments and remnants of Normandy's recent history from the Second World War.
DETAILED ITINERARY
A true art of living where the sky meets the sea. Each room is a restful oasis ideal for relaxation and contemplation. Some of the furniture here belonged to the original house while other pieces were unearthed by antiques dealers.
Choose from décors in soft or vivid colours: all the comforts of home are provided to inspire you to weightlessness as your mind floats out to the omnipresent sea.
---
This charming and beautiful 5-star luxury hotel is perched on the heights of Honfleur, close to Satie Museum, Eugene Boudin Museum, and 200 metres from the Normandy coast.
Ferme Saint Simeon features individually decorated guestrooms, a relaxing spa and a stunning garden and terrace.
---
This stately seaside Grand Hotel features fully renovated rooms furnished in a contemporary style, while maintaining the romantic atmosphere that comes with channel views and flowers-filled gardens.
During your stay you may want to enjoy dinner at the hotel's gastronomic restaurant, enjoy a spa treatment, or take a sunset walk along the beach.
---
The S.S. Joie de Vivre is essentially a floating representation of all things Parisian: a glitzy supper club that doubles as an intimate cinema; an open-kitchen haute cuisine experience; a sidewalk-café-style Bistrot; and an extensive spa and wellness centre.
These unique elements complement Uniworld's usual hallmarks of tasteful design, original artwork, and wonderful staff.
---
Set in one of the most stunning locations in Brittany, the Maisons de Bricourt's most prominent building is a 1920's villa overlooking the Mont St Michel.
The property oozes charm and the décor is simple and elegant. This is the perfect stay to your trip!
JOIN MORE THAN 70,000 FELLOW WANDERERS