The 5 Best Luxury Hotels
in Piemonte
At Butterfield & Robinson, our hotels aren't prosaic—they're pure poetry.
From castles and riads to ryokans and monasteries, we source lodgings that aren't just places to crash, but one-of-a-kind spots as intimate, authentic and sublime as the rest of your journey—and packed with personal touches from our hotelier friends.
Below we've rounded up a few of the best luxury hotels in Piemonte, where you can do so much more than simply rest your head.
But be warned: there may be tears when it's time to say goodbye!
---
Set among sloping vineyards in the heart of the Langhe, this 10 room boutique retreat offers an ideal resting point following a day in the saddle. The intimate spa and contemporary designed green spaces provide a tranquil environment in fitting with its overall atmosphere.
Its Osteria and deeply stocked Enoteca is sure to please gastronomes in search of classic Piemontese specialties.
---
A superb renovation of an 18th century estate situated in the heart of the Langhe region, Villa d'Amelia offers the perfect balance between Piemontese hospitality and modern elegance.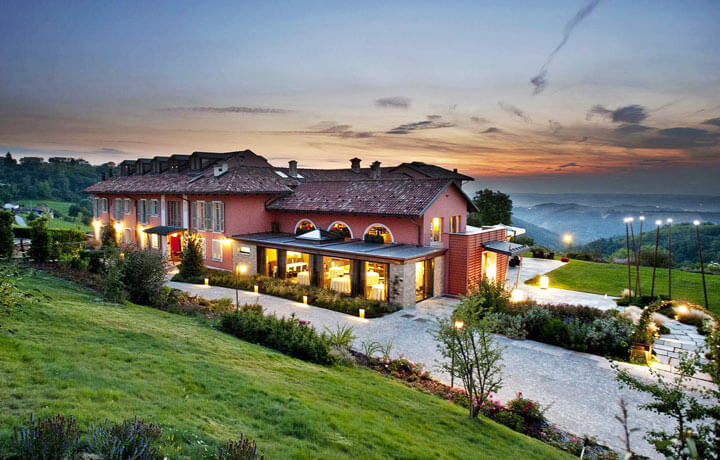 The elegant and warm interior décor and the delicate flowered gardens of the villa, design the charming atmosphere of a private home, in which each guest receives personalized assistance.
Experience Piemonte With B&R
Scheduled Group Biking Trip
As the home of Barolo, Barbaresco and Slow Food, Piemonte tastes as good as it looks. On Piemonte Biking, we'll hunt for truffles and get a firsthand pasta-making demo from an expert chef. Delizioso.
DETAILED ITINERARY
Scheduled Group Walking Trip
Slow down,  sip and stroll your way from the well-heeled wine hub of Piemonte all the way to pastel-hued Portofino. We traverse to each side of the Apennines on an epic Piemonte to Portofino Walking trip!
DETAILED ITINERARY
La Villa hotel is a hidden gem surrounded by vineyards in the rolling Piemontese countryside, and framed by the Alps. Built in 1600, La Villa has been transformed into a stylish retreat with a unique atmosphere.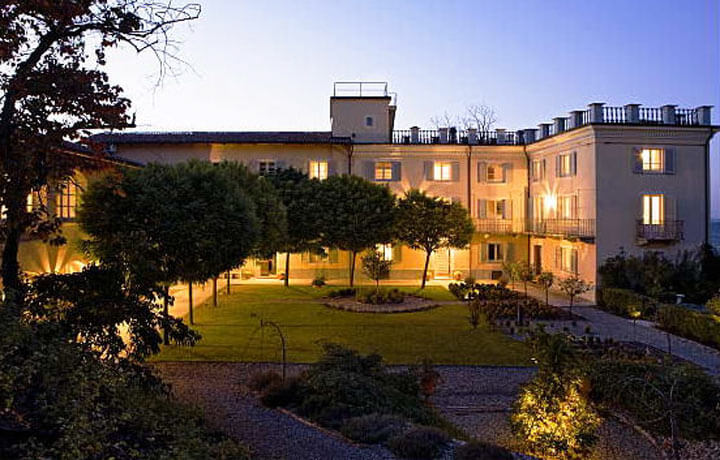 Guests are invited to relax in the elegant, creatively decorated suites, in the welcoming bar, or around the tranquil pool before enjoying a divinely fresh and local dinner.
---
This exquisitely restored farmhouse in the heart of the Trinita vineyards blends the feel of centuries past in its décor, with modern comforts and amenities. Charming and elegant, every detail is meticulously noted, from the furniture to the fabrics.
The rooms are spacious and comfortable and offer a private terrace from which guests can enjoy the magnificent views.
---
In Upper Piedmont discover the hidden gem that is the Vistaterra Hotel. Highlighting both sustainability and beauty, Vistaterra offers travelers an array of different activities from golf to water sports to skiing in the winter. Oh, and did we forget to mention the world-renowned wine that comes from the area?
With the UNESCO World Heritage site of Ivrea only a short distance away you can step back in time and admire the rich culture of Piemonte. There are no shortages of castles and villas in the region. The Vistaterra is an incredible renovation of a medieval and Renaissance château into one eco-friendly (think geothermic heating) luxury hotel.
JOIN MORE THAN 70,000 FELLOW WANDERERS