The 13 Best Luxury Hotels
in Provence
At Butterfield & Robinson, our hotels aren't prosaic—they're pure poetry.
From castles and riads to ryokans and monasteries, we source lodgings that aren't just places to crash, but one-of-a-kind spots as intimate, authentic and sublime as the rest of your journey—and packed with personal touches from our hotelier friends.
Below we've rounded up a few of the best luxury hotels in the Provence, where you can do so much more than simply rest your head.
But be warned: there may be tears when it's time to say goodbye!
---
This elegant country residence is located in the heart of the Luberon, and although some of the walls date back as far as the 11thC, the restructured hamlet is pure luxury.
The unique hilltop setting is surrounded by 22 hectares of the Aureto Vineyards, home to the estate's gold medal winning wine. From the large heated pool outside you can spy every little Luberon village.
---
Le Mas de Pierre is perfectly positioned to visit nearby Saint-Paul-de-Vence. This Relais & Chateaux property offers complete relaxation and tranquility as you lose yourself in their vast gardens and olive groves.
With Provencal décor including a few separate bastides and top notch service, don't forget to take time to discover the swimming pool, spa, and greenhouse with orchids.
---
A stunning enclave perched high atop the Cote D'Azur with rambling stone terraces that offer sweeping views, manicured gardens to amble through and a pool that sits beneath the endless blue of the Mediterranean sky.
Located between Monaco and Nice, this five-star Château is a refuge of tranquility that includes two celebrated Michelin-starred restaurants.
Experience Provence With B&R
Go Bespoke
The fabled glow that bathes Provence & the Cote d'Azur's stunning coastline has entranced painters, poets and cyclists for centuries. Find out how we can design a custom trip that's a work of art in and of itself.
Get Inspired
An idyllic location in one of the Luberon Valley's most treasured towns, this 16th century bastide captures the pure romance of southern France.
From the lofty terrace views of the valley to stately rooms awash in light, gracious dining and a phyto-aromatic spa on site to soothe your senses, this is truly unforgettable experience.
---
Next to the Musée des Alpilles in the historic old quarter of Saint Remy de Provence, this stylish boutique hotel is housed in an absolutely gorgeous 17th-century mansion.
With a chic restaurant, wine bar and a cozy rooftop pool, this architectural standout is the perfect base for exploration.
---
This beautifully restored, centuries-old "farmhouse" is set among 37 acres of the inn's own vineyards in the heart of the Lubéron Valley. With two pools and terraces that run the length of the house, you will be hard pressed to get up from your lounge chair.
Fortunately, the chef, Laurent Houdart , is on hand to lure you to dinner with his acclaimed Provençal cooking.
---
This five-star retreat is one of the best hotels in Provence. Positioned in a wondrous location overlooking the Luberon Valley, Les Bories also boasts a poolside casual restaurant, full-service spa, and Michelin-starred restaurant.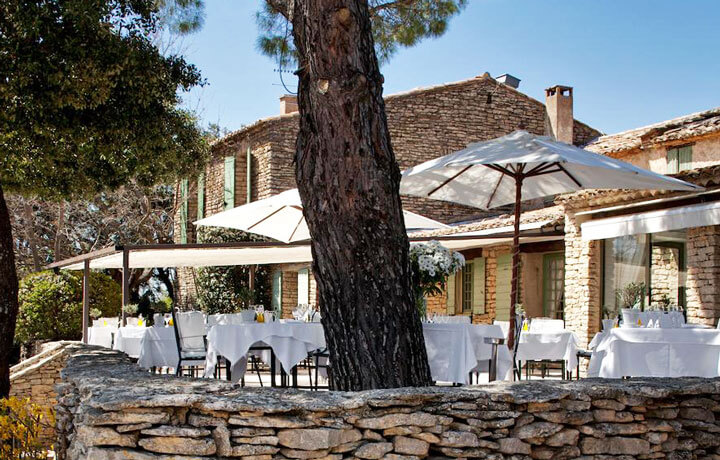 ---
Hotel Crillon le Brave is a relaxed and informal accommodation located about 25 miles northeast of Avignon. The 32-bedroom hotel is perched on top of a tiny hill village surrounded by vineyards and olive groves, providing stunning views from guestrooms, terraces and gardens.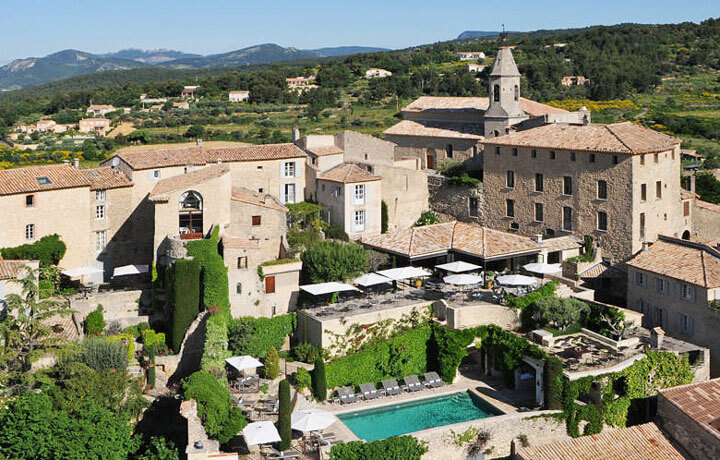 Each of the houses has its own charm and character that reflect the rich history of the village.
---
The 80-stateroom S.S. Catherine features everything from an indoor splash pool to a self-service laundry, as well as an impressive collection of original works of art. Suites are individually decorated; all B&R cabins boast French balconies affording wide views of the riverscapes.
The vessel is fully air-conditioned and features high-quality beds and linens, marble bathrooms with Hermes and L'Occitane accessories, and a knowledgeable, professional crew of 50-plus.
The restaurant (often resupplied with fresh regional ingredients en route) offers an array of beautifully prepared starters and entrees, as well as a sumptuous buffet breakfast.
---
Hidden away off the road leading to the 13th century fortress village of Les Baux, this lovely hotel has been a destination for the discerning traveller for decades.
Owned and run by two-star Michelin chef André Charial, the hotel is renowned for both its restaurant and the beautiful views, not to mention the newly open luxurious spa.
---
La Bastide de Moustiers is a house full of charm situated at the heart of the Alpes de Haute Provence region.
Former property of an earthenware master, it offers a splendid view on Moustiers-Sainte-Marie "cliff". The main building was restored by local artisans.
---
Situated halfway between the historic town of Aix en Provence, home of Cezanne, and the famous Luberon Nature Park, Villa La Coste is set amid gorgeous Provencal landscape, in the heart of the biodynamic vineyard Château La Coste.
Each of its stunning 28 villas is surrounded by gardens, herbs and flowers and opens onto a spacious terrace offering expansive views over the valley.
---
Located in the heart of the wild and secret Camargue region, this elegant 17th century building is a subtle compromise between the generosity of a guest home and an attractive privately-run hotel.
JOIN MORE THAN 70,000 FELLOW WANDERERS