Namibia Bespoke
Conservation Safari
Spend a morning tracking the largest population of free-roaming black rhino in Africa then retreat to your private camp where conservation and design converge.
Grand (bird's eye) Journey
Charter a small plane to make sure you cover everything Namibia has to offer: spend time with the Herero people, meet magnificent creatures great and small, and amble around myth-making boulders.
Namibia Bespoke
Tracking history
Understand the wonders of this vast land by foot (by which we mean yours): Combine must-see dunes with off-the-beaten-track locations such as Damaraland where desert-adapted elephants saunter about.
START PLANNING
Meet Our Expert Trip Designer
Michele Harvey
The only thing South Africa native Michele Harvey loves more than traipsing across her continent? Helping others do the same.
Read more
Regional Overview
Talk about surreal. This stunning region is where escape artists go to escape. Wander through landscapes of persimmon-hued sand dunes, white salt pans and burnt mountains. Immerse yourself in a land where lions and elephants thrive. Then, ease yourself back into urban life with boutiques and bistros (and a town fondly known as "Little Bavaria").
Click here to learn more.
What People Love About it
Desert-adapted elephants
Nomadic tribes
Ancient rock-art
What We Love About it
Infamous Skeleton Coast
Conservation Safaris
Dunes at Sossevlei
Incredible Accommodations
We pride ourselves on going the extra mile to find hotel properties that
truly reflect the region. A few of our favourites include...
Serra Cafema, Hartmann Valley
Serra Cafema is located in the north-west of Namibia on the banks of the Kunene River in the Hartmann Valley. Amongst the most remote camps in Southern Africa, Serra Cafema is intimate and peaceful with a unique mix of rustic and luxury elements nestled amongst the shady Albida trees. The accommodation consists of 8 riverside villas on elevated decks blended into picturesque surroundings. View hotel website »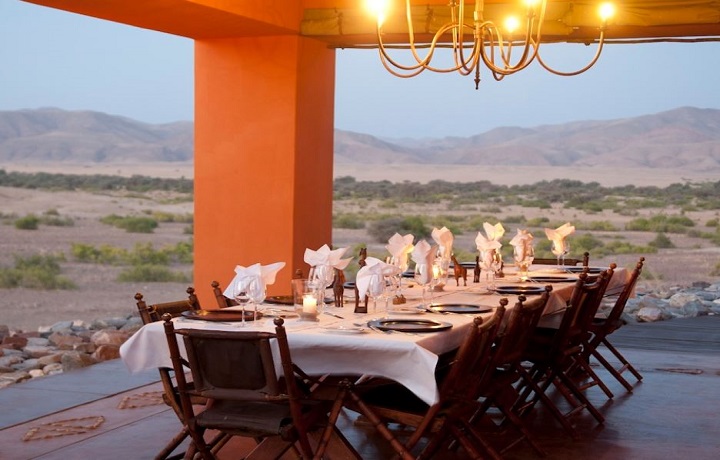 Okahirongo Elephant Lodge, Purros
Okahirongo Elephant Lodge is located in the Purros Conservancy and is often described as one of the last true wilderness areas in Namibia. Perched on a hill above the banks of the Hoarusib River, the lodge offers an unforgettable safari experience, an infinity pool and seven terracotta bungalows, each looking out over the boundless wilderness and offering rich, natural décor. View hotel website »
"B&R provided an incredible experience! No detail was overlooked and our guides were exceptional in every aspect."
— Patsy Walker
Looking for more ways to explore Namibia? Find a few of our (expertly crafted) journeys below.
Go Bespoke
We craft extraordinary experiences, tailor made to meet your every need,
with every stitch of every day crafted just the way you want it.
Notes from the road, on the
B&R blog

.
Subscribe
Slow down to see the world
© 2021 Butterfield & Robinson Inc. All Rights Reserved