Biking & Walking Tours in
Spain
Popular Tours
Costa Brava Biking
Signature Hotels
6 Days / 5 Nights
Enthusiast
Guided
Price from: $4,995 USD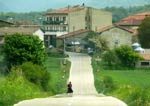 Rioja Biking
Signature Hotels
6 Days / 5 Nights
Enthusiast
Guided
Price from: $5,995 USD
Mallorca Walking
Signature Hotels
6 Days / 5 Nights
Avid
Guided
Price from: $6,795 USD
Ready-to-Book
Camino de Santiago Biking Private
Signature Hotels
8 Days / 7 Nights
Expert
Locally-Supported
Price from: $5,995 USD
Mallorca Biking Private
Signature Hotels
6 Days / 5 Nights
Recreational
Locally-Supported
Price from: $6,895 USD
Andalucia Walking Private
Signature Hotels
8 Days / 7 Nights
Enthusiast
Locally-Supported
Price from: $6,995 USD
Bespoke Tours
Andalucia Bespoke
Find the essence of Spain at every turn on your adventure through the olive groves and ancient mountains of Andalucia.
Catalonia Bespoke
Experience the allure of Barcelona, the mystery of Dali and peaceful countryside of this unique Spanish region.
Rioja Bespoke
Explore this little-known region of Spain brought to the spotlight by its fertile soil, tasty tempranillos and expansive countryside.