Natural Beauty
Beaches, fjords, vineyards, glaciers, rain forests, plains, meadows, mountains…New Zealand offers it all! Beauty is served raw down here. You see it carved in the face of mighty Mt. Cook, shimmering in the turquoise waters of Lake Tekapo and spread across the sheep-sprinkled farmlands that line the South Island. It's just as impressive indoors, too: luscious salmon, distinctive sauvignon blanc and stunning views from exclusive lodges.
Trips in New Zealand
New Zealand Walking Private
9 Days / 8 Nights
Enthusiast
Wellington / Queenstown
Price from: 12295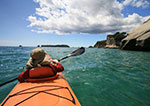 New Zealand Family Private
11 Days / 10 Nights
Enthusiast
Christchurch / Queenstown
Price from: 12245
New Zealand Bespoke
Take in the stunning scenery, bike along turquoise canals, admire the beautiful Maori culture, or indulge in the award-winning wines of this remarkable country.