Structured independence in B&R style.
None of our scheduled dates fit your schedule? Like the idea of taking the reins yourself? Love your independence but don't want to be totally on your own? A B&R self-guided biking or walking trip is just the ticket. They combine the hallmarks of any B&R itinerary—excellent hotels and beautiful routes—with the freedom of pacing each day exactly the way you like. We arrange some can't-miss meals and events, transfer your bags and equip you with all the information you'll need to craft the trip you desire.
What's your perfect trip?
Bestseller
Tuscany Self-Guided Biking
Signature Hotels
6 Days / 5 Nights
Avid
Self-Guided
Price from: $3,295 USD
For Walkers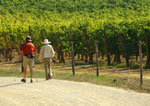 Tuscany Self-Guided Walking
Signature Hotels
6 Days / 5 Nights
Enthusiast
Self-Guided
Price from: $2,995 USD
Burgundy Self-Guided Walking
Signature Hotels
6 Days / 5 Nights
Recreational
Self-Guided
Price from: $2,995 USD
For Bikers
Burgundy Self-Guided Biking
Signature Hotels
6 Days / 5 Nights
Enthusiast
Self-Guided
Price from: $3,295 USD
Provence Self-Guided Biking
Signature Hotels
6 Days / 5 Nights
Enthusiast
Self-Guided
Price from: $3,595 USD