The Bistro Experience.
If B&R were a Michelin-star restaurant, these trips would be our spin-off bistro next door. Same brilliant service, same renowned chefs—it's just a little more casual. Bistro trips offer more independence (more meals on your own), and the hotels are likely to be stylish 4-stars instead of off-the-chart. There may not be turn-down service, white-tablecloth lunches or 24/7 concierge, but these accoutrements aside, the heart of every Bistro trip is exactly the same as our marquee trips—incredible scenery, events, insider access and B&R guides. And the wine is included, of course!
What's your perfect trip?
Perfect First Trips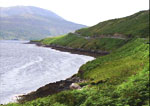 Ireland Bistro Biking
6 Days / 5 Nights
Moderate
Galway / Castlebar
Price from: $4,495
Bestseller
Morocco Bistro Biking
6 Days / 5 Nights
Easygoing to Moderate
Marrakech / Marrakech
Price from: $4,495
For Foodies
Burgundy Bistro Biking
6 Days / 5 Nights
Moderate
Dijon / Dijon
Price from: $3,995
Puglia Bistro Biking
6 Days / 5 Nights
Easygoing to Moderate
Brindisi / Bari
Price from: $3,995