Sicily Bike Tours
Experience Sicily
Sicily has long extended a welcoming hand to visitors throughout the ages. It is a cultural crossroads where Greeks and Romans, Phoenicians and Arabs, French and Spanish civilizations have all left their mark over the centuries-artistically, architecturally and gastronomically. Our journey focuses on travelling through the southern side of the island visiting the baroque towns of Ragusa, Modica and Scicli and across the Val di Noto. During our explorations, we are rewarded with an exclusive gourmet experience and immersion in local gastronomy. The entire experience is pure indulgence for the senses: admire the island's rich culture, savor fresh seafood, handmade pasta, arancini, pasta with sardines, and caponata, and enjoy the wine journey around the finest vineyards in Sicily.
B&R's newest way to travel! This itinerary is one of our new locally-supported, private trips. We've applied the hallmarks that we're known for to our Sicily bike tours: great hotels, friendly and talented local guides plus memorable experiences but it's just your group and on the dates that work best for you.
Trip Details
Enthusiast
Catania to Catania
7 Days / 6 Nights
Price per person from: $6,050
Request your date for exact pricing
Best Time to Visit
Jan

Feb

Mar

Apr

May

Jun

Jul

Aug

Sep

Oct

Nov

Dec
Day by Day
Welcome to Sicily! Arrive to Castello Camemi Resort, once a 15th century fortification and now a charming hotel nestled in the hills of Val di Noto. After you are settled, head over to the hotel's restaurant for a proper introduction to Sicilian hospitality.
Head to the UNESCO World Heritage Site Villa del Casale, a 3rdC Roman villa containing world-famous mosaics. Later, ride up to Piazza Armerina and its imposing Baroque cathedral before enjoying a bountiful picnic lunch amongst the scenery.
Take a short drive to Caltagirone, yet another UNESCO World Heritage Site on the island. The town, nestled amongst the Erei and Iblei hills, is best known for its ceramics which can be seen everywhere you look. Dinner this evening is in a truly local setting.
Ride through a myriad of villages dotted across the countryside towards the Azienda Agricola Fagone. Explore Ragusa, boasting a splendid setting on a plateau between ravines and roll up your sleeves this evening to help prepare homemade ricotta ravioli.
Pedal downhill to the town of Modica, offering some of Sicily's finest examples of Baroque architecture and famous for its chocolate! Wind downhill to UNESCO World Heritage site Scicli, and pedal onwards towards the beautiful beach of Sampieri for a swim.
Ride to Noto and indulge in a dessert lovers' delight at Caffe Sicilia while assisting in the creation of chocolates, pralines, cakes and ice-cream! Bike to the island of Ortigia where we'll celebrate our final evening together with a unique fusion dinner.
After a farewell breakfast at the hotel, you'll have a private drive to the Catania airport based on your flight time.
Hotels
Castello Camemi Resort, Catania
Once a 15th century fortress and summer residence of the Viceroy family the Castello Camemi Resort is now a charming hotel nestled in the hills of Val di Noto, in the heart of eastern Sicily. Stepping into the castle is like taking a journey into the past. The 14 suites have been individually designed in order to maintain not only the original charm of the castle, but also to offer maximum comfort and privacy. View hotel website »
Hotel Eremo della Giubiliana, Ragusa
This erstwhile monastery is part of the historical group of Abitare La Storia hotels, dedicated to preserving the look and feel of ancient and historic structures while incorporating modern amenities and top of the line service. Hotel Eremo della Giubiliana sits quietly in splendid solitude on its own private estate among the stonewalled fields outside of Ragusa. View hotel website »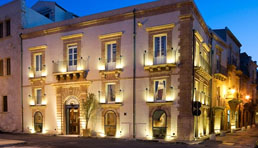 Algila Ortigia Charme Hotel, Siracusa
Located in the center of the UNESCO protected town of Siracusa, Algilà Ortigia has charming written all over it. From the antique furniture, the canopied beds, the local handicrafts and the precious fabrics, this former palace is the place to stay in Siracusa. The refined historic building that houses the hotel is the result of a fusion of two buildings with recent restoration. View hotel website »
Activity Level
Enthusiast
Our daily rides are between 34 and 44 km (21-27 mi.) over rolling terrain, with the occasional long climb. There is variation in the difficulty of the days' rides, with some significantly more challenging than others; the moderate rating is an average of these differences.
Gear
The Bikes
You can't enjoy a great biking trip without a really great bike. On this trip, we'll use well-tuned, high-quality, local bikes that provide a good fit to your size and weight.
What's Included
6 nights' hotel accommodation
All breakfasts, lunches and dinners with wine (as selected by B&R)
Biking support with guide & private vehicle
Maps, route suggestions and water bottle
All special events and private tours as described
All transportation from start to finish
All baggage transportation
At Your Service
We take pride in choosing guides who are not only exceptional travelling companions, but who'll go far beyond the call of duty to ensure an unforgettable experience.Learn more about our guides »
Accolades
"This was our 6th B&R trip. We love the experience of biking around Europe and seeing the world from that perspective. We have always had great experiences, met wonderful new friends and thoroughly enjoy the travel with you. Keep up the great work!"
— Cynthia White,
Sicily Biking
Notes from the Road
We gave you a brief intro to Sicily wine in Vines 101. Here, we tantalize you with the white wines and varietals on offer.
more »
Related Trips
Tuscany Self-Guided Biking
6 Days / 5 Nights
Avid
Sinalunga / Florence
Price from: $3,295
Sicily Bespoke
Take in the artistic, architectural and culinary mementos of charming of Sicily.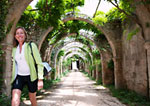 Puglia Bespoke
Experience incredible food, surprising wines and a bottomless supply of memorable moments on this journey through Puglia.