Our Little Secret in Italy
Piemonte feels like our little secret. Good thing, because if word got out, we'd have to share it. Out here, charming inns act like mile markers along spectacular bike routes through rolling hills of vines, hazelnut groves and secluded villages. As the home of Barolo, Barbaresco, great pasta (which we'll learn to make with an expert chef), the region tastes as good as it looks. Then, it's off to an unforgettable afternoon with a real trifulao (truffle hunter) in search of the prized white truffle of Alba.
Piemonte Biking is a signature B&R Biking trip—expertly guided, small groups, premium hotels.
Trip Details
Moderate
Turin to Turin
6 Days / 5 Nights
Price per person from: $5,495
Single supplement: $700
See departure dates for exact pricing
Choose a Date
Day by Day
Bike among orchards and forests in the Roero hills before heading to the hotel for an afternoon of relaxation or a hands-on cooking lesson with the hotel's young chef Alberto Macario.
Embark on a loop ride to the city of Bra—famous for its cheese and sausage and home of the Slow Food movement.Visit our hosts' Malvirà winery and learn about the delicious local grapes with the winemaker!
Cycle to the stunning Barolo Langhe and through its charming villages. Relax in the stunning local spa, then head into Alba for a lively tour and some exploration on your time.
Start the day with a truffle hunt led by our local friend Beppe in the hazelnut groves. Pedal past Barbaresco vineyards and stop for a picnic en route to our villa hotel.
Loop through winding roads in the Monferrato, the even-lesser-known part of Piemonte, and stop for lunch made with love at Carlo and Anna's trattoria.
Enjoy a farewell breakfast in the peaceful hills, then arrivederci in Turin.
Hotels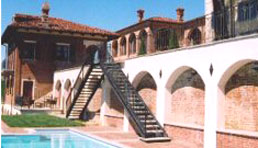 Villa Tiboldi, Canale
This exquisitely restored farmhouse in the heart of the Trinita vineyards blends the feel of centuries past in its décor, with modern comforts and amenities. Charming and elegant, every detail is meticulously noted, from the furniture to the fabrics. The rooms are spacious and comfortable and offer a private terrace from which guests can enjoy the magnificent views. View hotel website »
Villa Beccaris, Monforte d'Alba
Nestled in a centuries old park and surrounded by gently sloping hills and vineyards, the Villa Beccaris lies just outside the small town of Montforte d'Alba, providing a classy and atmospheric hotel in the heart of Piemonte. The villa, dating back from the end of the 1700's, has been carefully restored as a charming hotel with 23 elegant rooms, each with unique characteristics. View hotel website »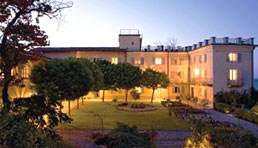 La Villa Hotel, Mombaruzzo
La Villa hotel is a hidden gem surrounded by vineyards in the rolling Piemontese countryside, and framed by the Alps. Built in 1600, La Villa has been transformed into a stylish retreat with a unique atmosphere. Guests are invited to relax in the elegant, creatively decorated suites, in the welcoming bar, or around the tranquil pool before enjoying a divinely fresh and local dinner. View hotel website »
Activity Level
Moderate
This trip is rated Moderate. We begin with two days of gently rolling riding in the Roero, then encounter more up and down routes in the Langhe hills. The climbs are not steep, but can be on the long side. Daily distances are generally short, ranging from 40 to 56 km (25 to 35 mi.), with options for more riding up to a metric Century Ride. The biking is on sparsely trafficked roads, with spectacular scenery.

Gear
The Bikes
You can't enjoy a great biking trip without a really great bike. On this trip you'll be riding a customized hybrid or a racing bike with drop bars. Click here for a detailed description. We also equip you with handlebar bag, helmet and water bottle.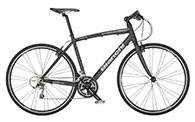 Check out our bikes »
What's Included
All hotel accommodation
All breakfasts, four lunches and four dinners, including wine
Services of B&R guide(s) and support van
All special events, private tours, guest experts and entrance fees
Use of a customized hybrid or a racing bike with drop bars, equipped with handlebar bag and helmet
Detailed maps, route suggestions and water bottle
All transportation from rendezvous to drop-off
All baggage transportation
All gratuities for baggage, porters and hotel service
At Your Service
We take pride in choosing guides who are not only exceptional travelling companions, but who'll go far beyond the call of duty to ensure an unforgettable experience.
Accolades
"B&R travel is seamless. The pre-trip informational packet was amazing, the guides were awesome, the food was delicious, the wine was flowing and our fellow riders were great! We loved our experience and would definitely return to ride skinny tires with your company again."
— Julianne Major,
Piemonte Biking 2013
Notes from the Road
Rave Reviews: PiemonteWhether you've been working at something for five minutes or five decades, it's always nice to hear an encouraging word (or two). And thanks to our amazing travellers, we frequently find ourselves feeling very encouraged indeed. Check out what some o …
Lost in the Land of BaroloJust when we think we have our guides figured out, they go and surpass our expectations—again. We knew they have character in spades, but we had no idea there was a budding Spielberg in our midst until we saw this great clip Alex Gräfe put together a …
Barolo, The King of Wines"The King of Wines and the Wine of Kings" isn't just a brilliant 18th-century marketing tagline. Italy's first (and last) kings, the Savoys, really did love Barolo. Barolo reds feature infinite complexity in a rich palate of dark fruits. Barolo reds …
related trips
Piemonte Walking
6 Days / 5 Nights
Moderate
Turin / Turin
Price from: $5,495
Catalonia Biking
6 Days / 5 Nights
Moderate
Barcelona / Barcelona
Price from: $5,295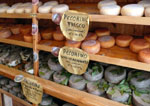 Tuscany Biking
6 Days / 5 Nights
Moderate
Florence / Florence
Price from: $5,295